1899 - Clark Building is Constructed
Home of the new "Fry and Herzog" Cash Store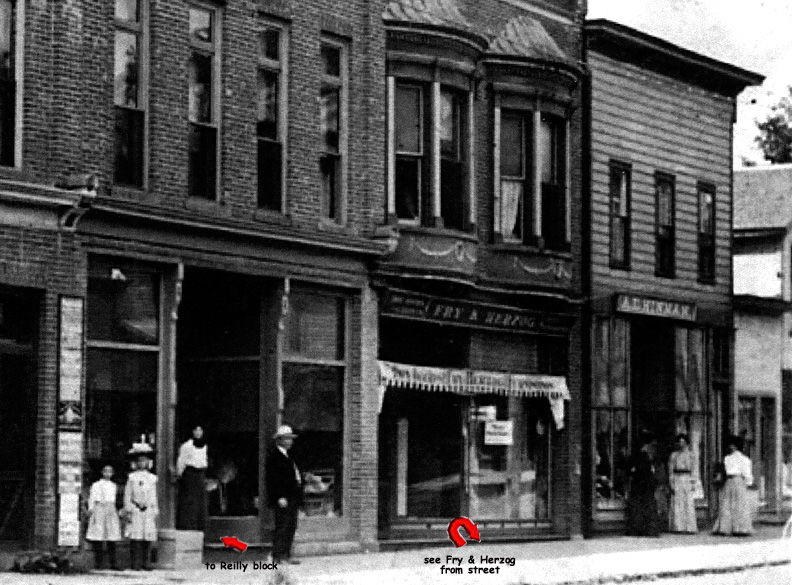 photo credit: Harold Lindgren Collection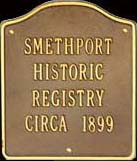 Click here to visit The Smethport Historic Registry!
DOWNLOAD the plaque awarded to this property!
Lindgrens' Variety Store building added to Smethport Historic Registry
Bradford Era April 19, 2008

The Clark Building at 311 West Main St., constructed in 1899 and currently the home of Lindgrens' Variety Store, a mainstay in the towns business district for 68 years, was officially added to the Smethport Historic Registry during a brief ceremony Thursday afternoon in the front of the store.

Mayor Ross Porter, a Smethport Area High School teacher and local historian, conducted the ceremony and presented a cast registry plaque and framed history of the building to the current owner, Harold Lindgren. Lindgren's two daughters, Chris Lindgren and Kim Cavallaro, were also present for the event.

The plaque and history are attached to the building's exterior, but out of the weather.

According to Porter, "Dr. John Clark, a physician who was born in Scotland in 1860, moved to Smethport in 1894 and opened his medical practice." He constructed the building and opened his practice on the second floor. Occupying the street-level floor was the Fry and Herzog Co., that specialized in dry goods, carpeting and gents' furnishings, and was known as the "Cash Store."

A Feb. 22, 1900, news item about the store stated, "Our terms will be 'cash or no sale' and our prices will be adjusted on the narrow margin of profits that only this system of doing business will allow."

From 1916 to 1940, Lindgren's Variety Store operated as Gregory and Gregory, 5 Cent to $1.00 Economy Store.

In November 1940, Malcolm Lindgren of Kane, who had spent many years in the merchandising business as he traveled across Pennsylvania opening and managing "five and tens," purchased the building. After 10 years, the building was enlarged and the downstairs merchandise area was added later.

The current owner, Harold Lindgren, joined the family business in 1952, after graduating from high school.

Well known to shoppers throughout this area, Lindgren's is still a "variety" store in every sense of the word. Now and over the years, its shelves and display tables have been lined with yarn, clothing, hardware, housewares, candy, jewelry, stationary, all occasion cards, games, toys, dishes, small appliances, window shades and grooming products.
Fry & Herzog Opening


The fixtures are being placed in the new store of Dr. John Clark, and when Messes. Fry & Herzog open their dry goods and carpet establishment there about the first of march, they will have a very complete store. Mr. Fry, in speaking of the new quarters, said that the firm would put in a complete stock and endeavor to make this the best dry goods store outside of the large cities. Both Mr. Fry and Mr. Herzog are experienced salesmen and we have no doubt that they mean what they say.

John Clark and Caroline Reilly Wed
Honeymoon Trip to New York city
Democrat Sept. 22, 1899
One wednesday last at St. Elizabeth's parochial residence, occurred a quiet wedding in which two of Smethport's best known and most popular citizens were united in the holy bond of wedlock. At one o'clock p. m. Rev. Father Cosgrove said the words that united the destinies of Dr. John Clark, one of Smethport's best known and most successful physicians, and Mrs. Caroline Reilly, one of Smethport's most popular and accomplished ladies. The wedding was a quiet one, only a few of the most intimate friends of the high contracting parties being present. At the conclusion of the ceremonies at the parochial residence Dr. and Mrs. Clark repaired to their rooms in the Reilly block, where they received the congratulations of many of their friends. At 2:30 Dr. and Mrs. Clark left on their honeymoon trip. Which will include New York city and other points of interest. This justly popular couple embark on life's voyage under the most favorable auspices. Both the bride and the groom are among Smethport's most popular citizens, and their lines may always be cast in pleasant places is the heartfelt wish of the Democrat.

The carriage that conveyed Dr. and Mrs. John Clark to the depot last Wednesday afternoon was quite elaborately decorated with sleigh bells, old shoes, eggs, and white and yellow. On the back curtain was printed "Sept. 20 1899. We are won. Dr. and Mrs. Clark." The happy couple entered the gaily bedecked carriage amid a shower of rice.


BUSINESS PLACES MOVE AND WORK STARTS ON A. & P. STORE

This week the Fry Company Department Store has vacated one of the store rooms of the Reilly block, on Main street, owned by Miss Tressa O'Connell, which it has occupied as an annex for a number of years, and now has its entire stock placed in the main store in the Clark block, adjoining.
Mrs. Carrie Clark, who occupied the other store room in the Reilly block, has moved her millinery store upstairs over the Fry Store.
A force of carpenters started work yesterday converting the Reilly double business block into one large store room which, when completed, will be occupied by an Atlantic & Pacific chain grocery store.
The Fry Company will move into the Grand Central hotel building, which was recently purchased by S. L. Fry, as soon as carpenters complete the extensive job of altering that building into a business block.
W hen the Fry Company vacates its present quarters in the Clark block, the Clark Millinery Store will occupy the splendid location. Mrs Clark expects to conduct her Easter opening in this stand.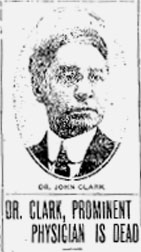 DR. CLARK, PROMINENT PHYSICIAN IS DEAD

Smethport residents were saddened Tuesday morning by news of the death of Dr. John Clark, 64, one of Pennsylvania's most eminent physicians, which occurred at his home on Main Street, Smethport that morning.
Dr. Clark had been in failing health for several years past. Before the World War he had Practically limited his large practice to office calls of his patients due to the inroads of ill health. When the Spanish influenza epidemic scourged the town in 1918 this splendid physician, despite the feeble condition of his health, again took up active practice to unstintedly do his wartime bit in response to a most serious emergency when, due to the fact that several local members of the medical professions were in the military service, there was shortage of physicians. Day and night Dr. Clark by strength of indomitable will power alone made the arduous round of calls ministering to the ills of his fellow townsmen, putting the remarkable skill that was his against the insidious pestilence which seized scores of local residents. His service in that crisis was of noble proportions. Since 1919 Dr. Clark's health had declined rapidly. Repeated attacks of illness of a most serious nature had under minded his vitality to an alarming degree, but the constant ministrations of his faithful wife who has been his indefatigable attendant during her husband's long illness, coupled with the patient's rare power of mind, had been responsible for Dr. Clark putting up a valiant resistance to the onslaughts of illness. He was last stricken with a serious attack over a week ago, but for a time appeared to be rallying. Tuesday morning Mrs. Clark had ministered to the patient, and expecting that he would arise later, as was his want, went down stairs to her millinery establishment. About 11:00 o'clock she went up stairs to visit her husband and found him in bed, cold in death. Tired Dr. Clark has quietly slept into his eternal reward of rest. Dr. John Clark was born in Scotland March 11, 1860. When 7 years of age his parents came to Canada and resided in Troy. Ont. The son received the advantages of public school education and attended McGill medical college in Montreal, graduating with high honors. About thirty years ago Dr. Clark came to Smethport and opened offices for the practice of his profession. His skill in medicine was exceptional and not only gained him the reputations of being of the most skillful practitioners in this section of the state but brought him a tremendous practice. He was a noble member of a noble profession and no call of duty ever went unheeded by him. Dr clark was a scholar of rare attainments and his library was one of the finest in this section of the country. He took a keen interest in educational matters and for many years served as a member of the local school board. Giving the borough schools service of immensurable value. Any movement of a public nature was sure to enlist his active support. When the town was without a theater it was due to Dr. Clarks's unceasing efforts that a splendid playhouse was provided by the erection of the Smethport Lyceum. He gladly gave his time to the duties of managing the theater and for a number of years provided Smethport amusement lovers with a high grade of city attractions seldom, it ever seen in a town of this size. He was a keen lover of athletics and took an active part in the management of baseball clubs during the years this town boasted of one of the fastest amateur teams in the entire country. For many years Dr. Clark was a regular attendant of the Methodist Episcopal church, being a valued member of the church choir. Today many a Smethport family mourns the passing of Dr. Clark as it would a member of its circle. He was their family doctor, a great physician who grimly fought illness entering the household and usually was a real man and a practitioner who was faithful to a trust and whose life was one of real service to his fellow men. On Sept. 9 1900, Dr. Clark married Carrie Riley of Smethport, the noble helpmate who so nobly assisted him during his career and through his trying years of illness. Dr. Clark was a member of McKean lodge F. & A. M. of Smethport, having passed through the higher degree of masonry, being a member of the Coudersport Consistory and of Zem Zem Temple, Nobles of Mystic Shrine of Erie. Besides his wife he is survived by two brothers, Rev. William Clark of Berkeley,California., and Robert Clark of Toronto, Ont. The funeral will be held at the family home to the Clark Building on Main street, Friday afternoon at 2:00 o'clock. Services will be under Masonic auspices and Rev. Chris Whelan, master of the Methodist Episcopal church will officiate. Interment will be in Rose Hill cemetery.
Mrs. Carrie Clark Succumbs To Illness
Smethport residents were saddened by the passing of Mrs. Carrie Clark, prominent local lady and widow of the late Dr. John Clark, whose death occurred at her home on Main Street last Friday morning at 10:00 o'clock.
Mrs. Clark was seized with a severe attack of illness last summer but had courageously continued to follow her business pursuits until fall, when a recurring attack of illness forced her to bed and her condition steadily grew weaker.
For over 40 years Mrs. Clark had conducted Smethport's leading millinery establishment, a venture which was highly successful due to the owner's recognized artistry and exceptional good taste.
Mrs. Clark, in addition to her active business career, was an ideal homemaker, a devoted wife and at the same time found time for many public activities. Possessed of rare beauty and numerous accomplishments, she occupied, naturally, a prominent social position in the town.
Endowed with a beautiful singing voice, she trained and directed the splendid choir of St. Elizabeth's church, of which she was devoted member, for many years. Her musical talents were also generously given to aid numerous artistic public entertainments.
She was a member of the Smethport Travelers Club and of the Catholic Daughters of America. Her gracious presence will be sadly missed in many local public activities.
She was a charming cultured lady whose popularity came naturally. In desire when she was able to enjoy an extended European tour.
During the long illness of her husband, Dr. John Clark, one of the leading physicians of this section, which preceded his death in 1924, she was his constant aid and companion, a cheerfully-exerted physical strain which made serious inroads upon her vitality.
Mrs. Clark was born in Buffalo, N. Y., March 17, 1859. In 1879 she married Joseph Reilly of Smethport, who died in 1887.
In September, 1900, she was united in marriage to Dr. John Clark.
Deceased is survived by one sister, Mrs. Julia Tumser of Buffalo, and two brothers, Fred Schoenemann and Michael Schoenemann, of Rochester, N. Y.
The funeral was held at St. Elizabeth's Catholic Church Monday morning at 10:00 o'clock, solemn requiem high mass being conducted by the Rev. Fr. P. J. Donohue of Kane. Former pastor of the local church, assisted by the pastor, Rev. Fr. Urban S. Barrett, and Rev. Fr. Downing of Kane.
The church choir rendered a beautiful musical accompanied to the service, soloists being Mrs. Matthews and Mr. Braccachini of Bradford.
Burial was made in the family mausoleum in St. Elizabeth's Cemetery.
Pall bearers were Chas. Schott, Albert Schott, Clarence Schoenemann, Walter Schoenemann, Edmond Schoenemann and Chris Patton, nephews of the deceased.
Out-of-town relatives and friends in attendance at the funeral were Fred Schoenemann, Michael Schoenemann, Clarence Schoenemann, Walter Schoenemann, Edmond Schoenemann, Miss Carrie Langer, Mrs. Park Benson and Mrs. Anna Abel, all of Rochester, N. Y.: Mrs. Julia Trumser. J. Dinan, Mrs. Carrie Barbour, Jack Barbour, Wm. Hungiville, Chas. Pelton, Mrs. Julia Keane and Mrs. Howard Bischoff, of Buffalo, N. Y., Mr. and Mrs, Chas. Schott, Mr. and Mrs. Albert Schott, Mr. and Mrs. J. Wm. Sheehan, Mrs. Caroline Backus, Mrs. Chas. Reid, Miss Margaret Reid, Wilfred Reid, Miss Dorothy Schott, Mrs. Douglas Schott, Mrs. Margaret Schott, Lawrence Schott, Gerald Schott, Geo. Schott and Miss Rachel Sheehan, of Olean, N. Y.: Mr. and Mrs. A Edel and Mr. and Mrs. L. J. Kayes, of Portville, N. Y.: Mr. and Mrs. G. A. Taylorson, of St. Marys, Pa.: Mr. and Mrs. George Kinley and son and Paul Quintisk, of Corry, Pa.: Fred Hungiville, of Bradford, Pa.: Robert Clark, of Toronto, Canada: Miss Tressa O'Connell, of Kane, Pa.: Miss J, O'Connell and Frank O'Connell, of Mt. Alton, Pa.