1895 Inside the Gleason - Lemmler Harness Shop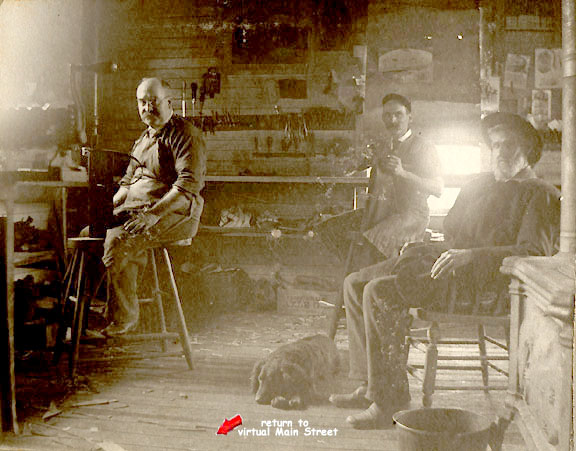 photo credit: R.C. Gleason Collection

The man by the stove is Isaac Gleason, the man in the background is Charles Lemmler, and the man left is unidentified. These two men ran a business important to the times. There were no cars only horse and buggy. Gleason and Lemmler were both well respected men who did a great service for the community. They ran their business out of an old section of Smethport referred to as "the stand."




Isaac S. Gleason

I. S. Gleason, harness maker, Smethport, is a son of Amos and Polly (Sias) Gleason, and was born in Livingston County, NY, in 1828. His parents removed to Warsaw, Wyoming County, same state, where his mother died in 1843, after which his father made his home with a daughter in Livingston County until his death. I. S. Gleason received but a limited education, laboring under difficulties common to many, and in 1844, when but sixteen years of age, he became an apprentice in a harness shop in Warsaw, NY, where he remained until January, 1851. He removed to Smethport January 11. 1851, where he was an employee of Steele & Johnson for three years; then went into the harness business for himself, and has occupied his present store since 1855. He married Emily A. Corwin in 1854, and they have had two children: Dora M. (deceased) and Ralph C. Mr. Gleason is a Republican in politics. He appreciates the desirability of affording proper educational advantages to children, and was a member of the school board in the borough during the erection of its very elegant school building, in which he justly takes great pride. The family attend the Methodist
Episcopal Church.

SOURCE: History of the Counties of McKean, Elk, Cameron and Potter, Pennsylvania, with Biographical Selections,
Vol. 1. Chicago: J. H. Beers & Co., 1890. P. 429-430.





CHARLES LEMMLER, ESTEEMED CITIZEN, IS CALLED BY DEATH
BOROUGH OFFICIAL DIES SATURDAY AFTER SIX WEEKS' ILLNESS -- WAS TERMED
"MOST DISTINGUISHED CITIZEN FOR 1937."
December 1938 McKean County Miner

The many friends of Charles Lemmler, borough treasurer and prominent resident of Smethport for 62 years, were grieved to learn of his death which occurred Saturday afternoon at 4:15 o'clock at his home on Church Street, where he had been seriously ill for the past six weeks, following surgery in a Buffalo hospital, and in failing health for several years, but bravely carrying on his duties in spite of his poor health as long as he was able.
The deceased was born in Boston, NY, March 14, 1854. He came to Smethport in 1876 where he established a harness making shop and conducted a thriving business until January of 1933, when his store was destroyed by fire with a number of other buildings. He was considered an expert in the art of harness making and commanded a trade over a wide area. Mr. Lemmler served as borough treasurer from 1904 on, and received his appointment consecutively for 33 years. He missed serving only one year, 1912, after first receiving appointment to the position.
During the many years in which Mr. Lemmler operated a harness shop, his place of business was the gathering place of many of Smethport's prominent citizens for the purpose of prominent citizens for the purpose of discussing issues of
importance to citizens of the community and county. they always found Mr. Lemmler in a genial mood for a friendly
discussion.
Members of the Smethport Conopus Club honored Mr. Lemmler at a testimonial dinner last year as Smethport's most
distinguished citizen for 1937, a well deserved honor. Up until the time of his illness, citizens of the borough virtually set their clocks by his punctual arrival and departure at the hose house, where the borough treasurer's office has been situated since the big Smethport fire in 1933.
The deceased was a man possessing many splendid characteristics, who will be greatly missed by his family and friends.