1895: Rubin Clothiers 410 W. Main Street, Smethport, PA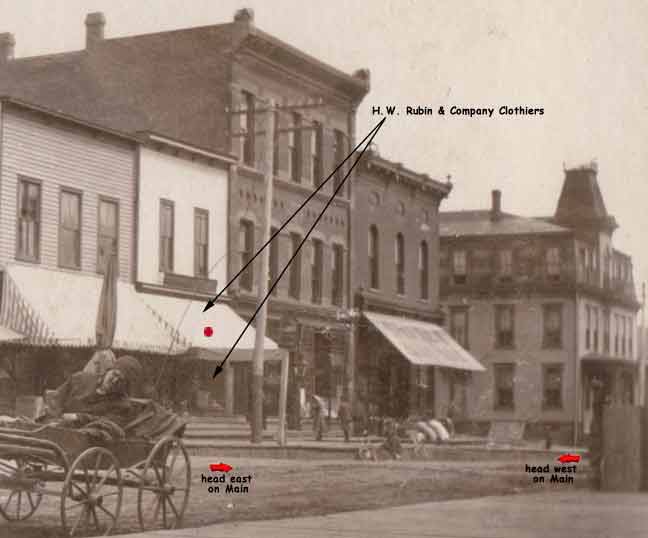 photo credit: R.C. Gleason Collection
H. W. RUBIN, merchant tailor and dealer in clothing, Smethport, was born in Germany, February 23, 1855, receiving his education in his native country. When fourteen years of age he came to Syracuse, N. Y., and -commenced business for himself by selling goods upon the road, coming in 1879 to Smethport, where he engaged in his present business. He married September 28, 1879, Miss Sarah Rosenson, of - Brooklyn, N.Y. and they are the parents of four children: Rachel, Harry, Ida and Estella. Mr. Rubin is now one of the largest and most successful business men in Smethport, . He is a member of McKean Lodge, No. 388, F &A.M.; also of Smethport Lodge, No. 389, I.O.O.F., and encampment No. 273.
(source: History of McKean, Elk, and Potter Counties, Penn. vol. I J.H. Chicago; Beers & Co. 1890)



Mr. Rubin's son, Harry S. Rubin, continued Rubin Clothiers until the business was sold to Mr. C. Russell Johnson in 1959. Mr. Johnson operated C. Russell Johnson Clothiers until operations were ceased due to his retirement in 1998.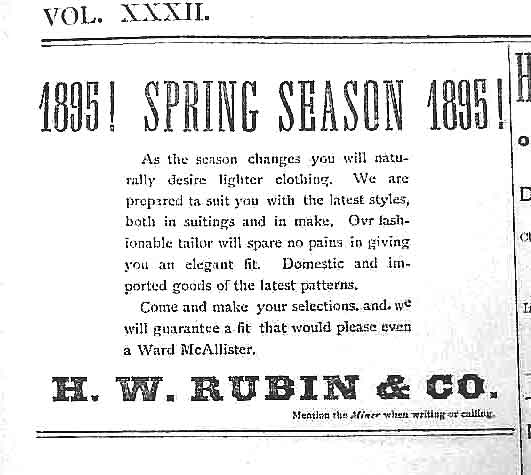 photo credit: Ross Porter Collection