"Smethport History Flying Off the Shelf" Bradford Era June 25, 2003
WHERE THE HECK CAN I BUY THIS BOOK?
©2003
Ross Porter, Editor; James Herzog; David Johnson; Les Jordan Jr.; Mary Pierotti
Order to ensure your copies:

T I M E L E S S H O M E
SMETHPORT, PENNSYLVANIA
Ross Porter, Editor; James Herzog; David Johnson;
Les Jordan Jr.; Mary Pierotti
100s and 100s of photos
278 pages 8.5 x 11 including 36 COLOR PAGES
PURCHASE DIRECTLY FROM
in Smethport, Pennsylvania

McKean County Historical Society at the old Jail
or
Mansion District Inn, LLC

905 W. Main Street Smethport, PA




C L I C K H E R E F O R O R D E R F O R M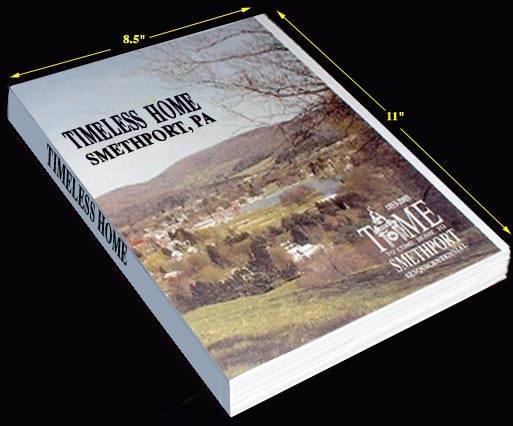 100s and 100s of photos
278 pages 8.5 x 11 including 36 COLOR PAGES
you can SEARCH the INDEX !

Timeless Home, the Sesquicentennial Celebration Book are now being taken. The price is $20, including tax.

The graphically stunning book, 278 pages in length, is worthy of being read and kept on your library shelf. More than that, it is a keepsake to hand down to your children and grand children.

Editor Ross Porter and team Jim Herzog, David Johnson, Les Jordan, Jr., and Mary Pierotti have assembled the most thorough history of Smethport ever written, tracing our origins from early 1800ís through the "Community in Reniassance".

The story is supplimented with 100s of historic photographs and dozens of exquisite modern color photographs by gifted Smethport photographer Les A. Jordan, Jr.

It also includes personal memories of various Smethport residents in a section entitled "Remember When" as well as congratulatory comments by the 141 patrons of the Sesquicentennial Celebration.