The famous Big Loop, Clermont, PA
Shawmut Railroad Between Kasson, PA & Clermont, PA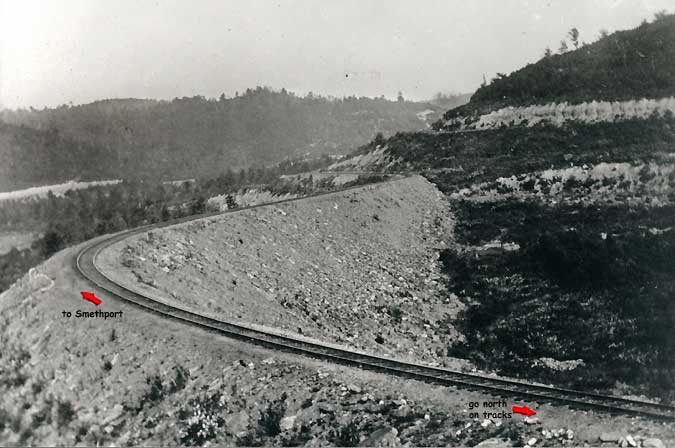 photo credit: Clermont Reunion 2000

In McKean County we look proudly to the engineering miracle of the Kinzua Viaduct near Mt. Jewett. But a far more obscure, yet equally impressive engineering feat , rivals that bridge in McKean County. Located off Pennsylvania Route 146, about two miles south of Route 6 at Marvindale, the "Loop-de-Loop" of the Pittsburg, Shawmut and Northern Railroad is even today regarded by railway buffs as a monument to the adage 'where there is a will, there is a way'. In 1899 the P.S. & N. Railroad was organized from seven small and unconnected railroads. Before a viable network could be put into service these joints had to be linked. Perhaps the greatest barrier was the space between low-lying Kasson, in the Marvin Creek Valley, and Clermont, on the Big Level plateau. Clermont was only six miles from Kasson, but the difference was 525 feet. A conventional grade would have mandated un unworkable incline. Shawmut chief engineer B.E. Wellendorf, who was to later have a station named after him south of Clermont, did a studt and proposed a route up Warner brook from near Marvindale. The rouite was to go across the valley above Palmersville and across the valley known as Rock Hollow with a giant hairpin loop. The route increased the mileage by two and one-half miles, but lowered the grade to an acceptable 1.3 percent. The studt was announced in the McKean County Miner April 24, 1902, and it is through that newspaper that the following story unfolds. On May 1, 1902 the Miner noted that a corps of engineers were at work on the right-of-way. It was optimistically believed the work would be done by Fall. On Septeber 25 of that year a major article appeared describing in great detail the project undertaken eight miles from the county seat. The contractor, Lathrop, Shea and Henwood, was employing 700 men in two 10-hour shifts daily. Aiding in the work were two 60-ton steam shovels, and four narrow-gauge work trains.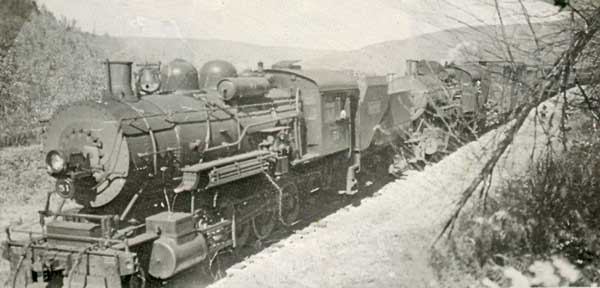 The shovels moved on portable sections of track, and filled a train car every 60 seconds. The largest fill was to be 103 feet high, and 300 feet wide at its base. Its length was nearly 1300 feet across the valley. The second fill was 800 feet long, and 90 feet high in its midsection. To make the two fills, nearly 500,000 cubic yards of dirt were moved. Additionally, sone culverts had to be built in each fill to accommodate Rock Run, which tumbled toward Warner Brook. The inside of each culvert was six feet high and four feet across, and that work alone required 300 stone masons and helpers. Winter brought no rest for the workers, who toiled day in and day out. But, on february 3, 1903 work was halted as 300 men went on strike, demanding higher wages. The strike didn't last long, as eight foremen and 125 men were discharged. By April the railroad was improving the roadbed between Smethport and Kasson. It must have been in quite a state of disrepair, as in May one of the large shovels was brought down to assist. As work progressed, trains were brought from Smethport full of admiring, and probably well-paying, passengers. The Erie Railroad had employed the same gimmick earlier in their building of the Kinzua Bridge. Whilemost of the trains came from Smethport, at least one backed down from Clermont. On October 1, 1903, as work was nearly completed, the Miner reported that Sheriff Mays and a possee quelled a riot by Italian workers at Palmersville, who apparently wanted to be paid earlier than payday so they could leave. It wasn't the first time the law had to clamp down on Palmersville; in August 1898 Justice Knapp held several individuals for assault, battery, and one for brandishing a pistol.
An advertisement in the Miner October 15, 1903 informed all of the readiness of the project:
- Ho! For the Shawmut Opening, Grand Low-Rate Excursion
- To St. Mary's, the Metropolis of Elk County via new
- Shawmut Line, including the Great Loop-de-Loop,
- Sunday, October 25, 1903.
- Trains would leave Olean at 9 a.m., Smethport at 10:41, and be at The Loop around 11:10. It would get to Clermont at 11:21 and arrive at St. Marys at 12:20. The fare from Olean was $1.25.
- It was a grand success. Five coaches were on the train from Olean, and four were on the train from St. Marys. At Smethport an
extra locomotive was added for the southerly trip, and it was reported the influx of tourists boosted business in Smethport that
day.
- The next day, regular passenger service on the completed route. With the exception of an 11-mile section between Coryville
and Portville, the route was complete. At that sectiopn still uncompleted, the Western New York and Pennsylvania tracks were
used.
- In 1947 the railroad, already working under receivership, went out of business, and the rolling stock and rails were sold for
salvage. The Loop remains, although now heavily forested and void of the view it was famous for. In earlier times, it was said one
could sit in the cab and look directly below to the caboose, only yards away.
- The culverts are still in excellent condition, and their pools make native tyrout fishing a joy. A power line and access road to a
hunting camp despoil the view today, but it is still an enjoyable hike.
- The Shawmut station in Clermont was the local tavern for several decades, and the railroad grade was a highway for
bar-hopping snowmobiles until it was closed to traffic by the Game Commission. The Loop area is a prime turkey hunting site,
especially in Rock Run Valley. And the gradual grade is great for hiking; this writer has walked it at least 40-times, once finding a
worker's pocket watch. The access road from Route 146 is fairly steep, but the grade from Clermont is gradual as it winds through
the Kaul Clay strip mines and heads toward Route 6.

story & photo credit: David Johnson