Main Street
looking east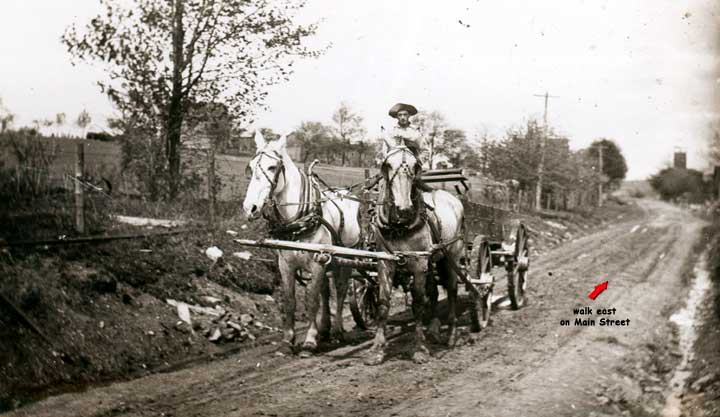 photo credit: Dave Johnson's Collection

Fred Anderson is seen here travelling west on the Milesburg-Smethport Turnpike just outside of Clermont. Born in 1863 as John Alfred
Anderson, he married Anna Morey and fathered 6 sons and 5 daughters. Twin daughters Ruby Almina and Adora Altina died in infancy.
Others were Mary, Herman, Willie, Carrie, Albert, Clifford, Murn and Olive. Willie died near the Pittsburg, Shawmut and Northern Railroad
station in Clermont when a train severed both his legs. Carrie gave birth to Glendora and Floyd; Floyd was better known as Huck and had a small gas station and store next to the Clermont Sportsmen Club?s Rifle Range, across the road from the Anderson homestead. Huck?s trailer store was a rite of adolesence for Clermont young men. Albert married Edith Johnson, who was the last Postmaster in Clermont. And Olive married Smethporter Paul Connors.

Fred also had a coal mine on his farm, in the southeast corner. It tunneled into the side of the hill, and those who worked it recall it
wasn't tall enough to stand up in. The carts were pushed by hand.

In 1939 a chimney lamp factory was built between the mine and the farmhouse, about where the Tennessee Gas Pipeline crosses the
property. It only lasted a few months, burning in November of that year. It employed 18 workers, who blew the globes by hand.
Like many Clermonters Fred was active in politics; in 1918 he assumed the position of Sergeant Township Tax Collector.
The farm is still in the family, occupied by Bob Radosevich.