Maloney Family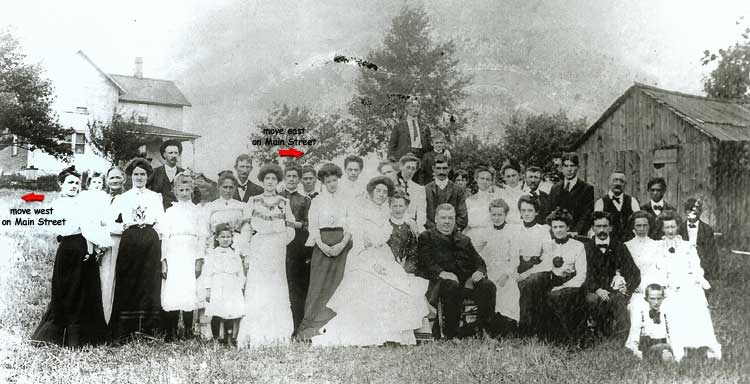 photo credit: Brian Powers Collection

Maloney Family Reunion
The Patrick Maloney family gathers for a reunion at their Clermont homestead. Patrick, who was born in Ireland, came to the United States in 1869. After finding a job in the Pennsylvania coal mines (he was recruited by Rube Haggerty) he sent for wife Catherine and the five boys. Catherine Murray and Patrick Maloney raised 16 children in all, including the 5 sons from his first marriage to Winnifred McLaughlin (who died in England) In this picture Patrick (1834-1911) is seated in the front row, and wife Catherine (1844-1914) is at his right.
James, the last adult male at the right end of the front row, was born in 1861 and died in 1940. He married Mary Kain and they had 6 children. He was a foreman at the Clermont mine and as a Democrat was Sergeant Township School Director for several years, and also received 115 votes for Justice of the Peace in 1899. Thomas (1862-1918), married Clermonter Elmira Amend, and they had three children.
Thomas was also a coal miner, and later hostetler for the Pennsylvania Railroad in Johnsonburg. He moved into a 2-story dwelling on the west side of North Street in Clermont (later occupied by Ed Yoder) He was killed in the Rossiter (Indiana County, Pa) mines owned by the Clearfield Bituminous Coal Company May 23, 1918 at the age of 54.
John married Elizabeth Callahan, and they had 3 children. (The Callahans were also Clermont coal miners: Michael, Patrick and Simon all worked in the mines) Michael, standing over Pats left shoulder in this photo, married Clermonter Anna Flynn (1865-1910) December 22, 1987 in Smethport. She was the daughter of John and Margaret Hamilton Flynn. Michael died in a mining accident May 9, 1907, also in the Rossiter mines. UMW Local 1736 sent a Resolution of Condolence to Anna.
While in Clermonter he was both a coal miner and owned a blacksmith shop. The Maloneys were active in local politics; it was customary for the miners to run a Democratic slate in local elections. Patriarch Patrick was a school board member in 1898 and 1899, and James was school board member and treasurer in 1900. The Maloneys apparently returned to Clermont often for reunions; Gerald Kinney remembers, circa 1930, of one of the Maloneys introducing his wife as Mrs. Maloney from Punxsatoney. The garage to the right of the gathered clan was used up to 1970 by Clair Flickinger Sr. to store ground pine picked by local youths.