1908: William Kerr's Magnetic Toy Box
(complete with contents)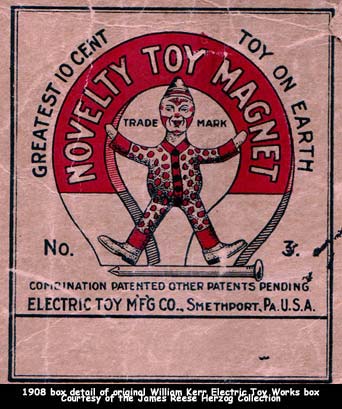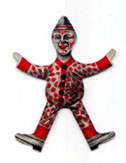 Above is one of the clowns made at Electric Toy Works for the magnetic toy.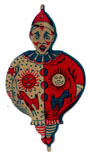 This is another clown that was used for the magnetic toy.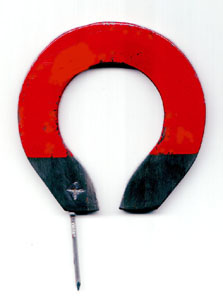 This is the magnet (with nail attached) that the clown would be attached to.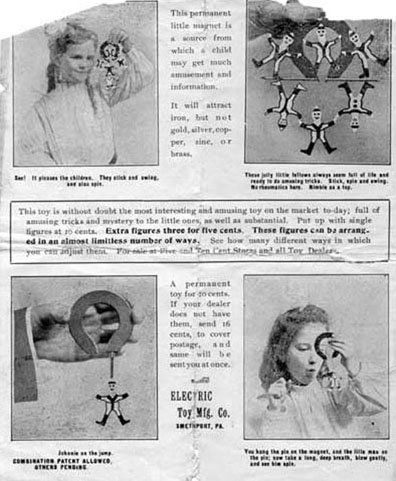 This is the box insert that would be found folded inside of the box. As you can see, it includes pictures as well as directions and prices.
After Kerr's 1914 fire, the manufacturing of the Novelty Toy Magnet set was curtailed until the Marvel Toy Co. was formed by William Kerr, Ralph Herzog, and Sanford Fry in 1921. A new, more attractive display card replaced the boxed item. From that date, with the exception of WWII years when materials were not available, until President Carter's administration in 1980, the magnet and set was continuously produced with many variations. One of the government programs instituted then was a strong emphasis on consumer safety.
A Consumer Safety advocate arrived at Smethport Specialty Company's office and announced that the magnet and toy sets were unsafe. It was pointed out to him that about fifty million had been produced without any related insurance claim or notification of injury which seemed like a reasonable safety record. The advocated stated "My office had determined that the product is not safe because of the stamped metal parts. Unless the toy was withdrawn from the market, I will notify the major toy buyers of Woolworth, Kresge, and others of the decision." Knowing the trouble this could create, not only for this individual product but all others of the company, it made more sense to discontinue manufacturing. That was the end of production of the magnet and toy sets.
Today in 2005, some of the sets can still be found for resale on Ebay with display cards showing the original price of 10 cents: a price at which one toy buyer once declared in 1950 "We would rather have our customers steal the product than process it through the cash register."
Return to Electric Toy Works
Return to Smethport History's Main Page