Mr. William James "Will" Kerr
February 27, 1866 - 1951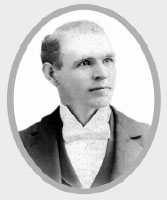 Mr. Kerr is a native born of Scottland, UK. He came to the U.S. in 1871 with his parents. In 1888 he married Maude Bradley in Bradford, Pennsylvania. They had two children, Hester Elizabeth [Halpenny] and Primrose. They also adopted another daughter, Grace Sousy [Moulton]. From 1890 to 1903, the family resided in Mt. Jewett, PA where Mr. Kerr was a jeweler and burgess.
Will remained a jeweler until 1911. However, in 1906 he purchased property at 223 West Main Street, Smethport, PA, and opened Kerr Theater. The original offerings of the theater included stage shows and silent movies. His daughter Hester provided the music, including instrumentation and vocals. During his ownership of the theater, he lived in the apartment upstairs. The theater was later leased to Blatt Bros. of Pittsburgh and was operated as the "Star Theater." The property was deeded to Hester and her husband, William O. Halpenny, in 1946 and the theater continued to operate as the Star Theater until it was closed and sold in 1962 to Wallace Anderson of Mt. Jewett, PA.
Along with the theater, he opened and operated the Smethport Electric Toy Works from 1908-1923. In 1914, a fire struck the toy company, causing little damage. In 1923, Will paired up with Ralph Herzog, and together they changed Electric Toy Works into the "Marvel Toy Company" [later Smethport Specialty.] Mr. Herzog assumed full ownership in 1932. For a short period after, Will and his nephew, William E. Kerr, Sr., continued to make toys.
In 1933, Mr. Kerr started spending his winter months in Brownsville, Texas where he operated a Citrus Grove until a few years before his death in 1951. He died in Smethport, Pennsylvania.