After the Fire: the NEW 1900 Baptist Church
built at the southeast corner of King and Hill Streets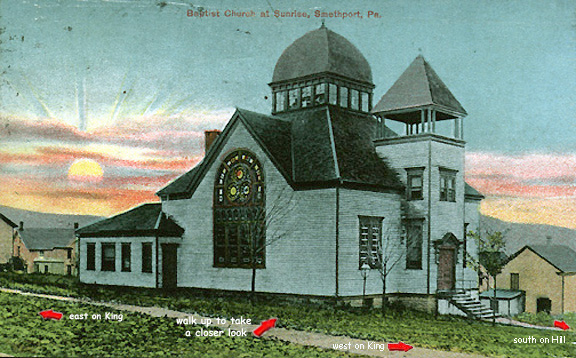 photo credit: John G. Coleman collection
see 2nd Baptist Church location 2000AD


This is the second Baptist Church which was built after the original Baptist Church burned down in 1899. The architecturally unusual church was located on the southeast corner of King and Hill Streets. During the 1970's the Baptist Church congregation built a new building on Route 46 and the above building was torn down.
History of the Regular Baptist Church
The Regular Baptist Church of Smethport, Pennsylvania was the first church in McKean County to be chartered as a religious corporation. About the year 1813 to 1814 a small colony of energetic religious men and women came from the town of Norwich, Chenango County, New York to take land for farms in the wilds of McKean County, locating near the head of Potato Creek. They soon made an opening in the forest and built log cabins, in which to live. They felt the need of religious services, so on December 20th, 1820 after due consultation, they resolved to organize a Baptist Church, naming it after the settlement "Norwich Church". The following are some of the original members: Rowland Burdick and wife Elivira, Deacon Edward Corwin and wife Olive, Harry Abbey and wife Sally, Robert Lawrence and wife Assneth, Polly Brewer, Reuben Scott, L. Knolton, treasurer, and Rev. Benjamin Oviatt and V. S. Benis, who are the first ministers spoken of as serving the church.
From 1836 the church met in the court house, academy and private homes until a church building was constructed in 1847 on Main Street, of Smethport, in the area now occupied by Johnson's Diner. In 1837 an academy was opened with Luther Humphry as principal. It was turned over to the Smethport School District in 1870 by it's trustees.
In March of 1850, a petition, signed by J. L. Smith, Ghordis Corwin, Vester Corwin, William Williams, U. S. Oveall and E. J. Cook, was presented to the judges of the Court of Common Pleas of McKean County, stating their desire to be incorporated under the name of the Regular Baptist Church of Smethport. It was marked filed on the 17th day of June, 1850.
The small congregation grew slowly and in 1854 dedicated its first edifice. In 1879 the "meeting house" was moved to Water and Fulton Streets, the present site of the Fulton House. Work was started on the parsonage across the street in 1873, the present site of the Lauren Mix residence and the Clarence Larson residence, with a cemetery close to that property.
Disaster struck in 1899, as fire destroyed the church. The congregation rallied in the face of misfortune and started a new building within a short time on the corner of King and Hill Streets. The ceremonies of laying the corner stone took place August 28, 1899. Music was furnished by a general choir, composed of singers from various churches in the town, directed by D. H. McCoy. The address was given by Rev. I. T. Walker, Pastor of the Methodist Church. The corner stone was laid by the Pastor, T. D. Ware, assisted by Mr. W. D. Camp, chairman of the building committee.
In the early 1950's, there was a court battle in which the church came out of the Pennsylvania Baptist Convention of the American Baptist Churches.
In April of 1969, a ground breaking service, with Pastor William Stroup officiating, was held on the site of the new property on East Water Street extension to initiate the construction of a new church building. Members of the congregation gave sacrificially for the new building. Construction was done by Pastor Matthewson and Harold Warren, and many other members of the congregation. The first service was held in the new church in October of 1970.
Realizing the Scriptural imperatives of Deuteronomy 6:5-7a, "And thou shalt love the Lord thy God with all thine heart, and with all thy soul and with all thy might. And these words, which I command thee this day, shall be in thine heart: And thou shalt teach them diligently unto thy children." And of Proverbs voted in November of 1974 to establish Smethport Calvary Academy as an extension of the Christian home in the training of young people.
Mission Service at Baptist Church

The World Day of Prayer for the world-wide ministry of "Mid-Missions" will be observed at the Regular Baptist Church next Sunday. An interesting missionary program will be given at both services.

The local Baptist is cooperating in this Day of Prayer with other orthodox Baptist Churches in the United States, Canada, Alaska, South America, Africa, Europe, India, and Japan.

"Mid-Missions" is the name of the General Council of Cooperating Baptist Missions of North America, Inc.

"Mid-Missions" is unique in its organization and operation. It is an Independent Baptist mission agency operated at the home base by a Council of Fifteen Consecrated Baptist pastors and laymen, who serve without remuneration.

The purpose of Mid-Missions is to serve as a medium through which orthodox Baptist Churches may cooperate in a sound Baptist missionary activity. Although Mid-Missions started as a very small agency a few years ago, it now has 375 missionaries in 16 different fields, with 60 new missionaries accepted this fall. The Smethport Church has had a part in the support of Rev. and Mrs. Robert Smith in Liberia, Rev. and Mrs. Richard Miller in Liberia; Rev. Emanuel Woods in Sao Paulo, Brazil; and Rev. Merle Walkins in French Equatorial Africa.

Pastors Who Have Served This Church
Rev. V. S. Benis, Norwich Branch, 1820-1836; Rev. Benjamin Oviatt, Smethport Branch, 1836; there was a revival in 1836 under the leadership of Orvill Ketchum and his brother Rev. Fred Ketchum. Rev. William M. Sawyer, 1837-1841; Rev. P. Evans, 1841-1844; Rev. A. Lull, 1844-1849; Rev. J. L. Smith, 1849-1858; Rev. Conferth, 1858-1861, ordained here. In August 1861, he resigned to serve in the Civil War with the Bucktail Regiment, 1861-1897; Rev. John Taylor, 1897-1899; Rev. Thomas D. Ware, 1899-1901; Rev. P. S. Calvin, 1902-1905; Rev. Thomas D. Ware, 1906-1907; Rev. E. N. Turner, 1908-1909; Rev. John Booth, 1911-1913; Rev. O. G. Hutchinson, 1913-1915; Rev. E. E. Cookson, 1916-1917; Rev. W. P. Wheeler, 1917-1918; Rev. G. L. Margison, 1919-1920; Rev. Noble J. Mack, 1920-1921, ordained here; Rev. Samuel A. Renicks, 1921-1924; Brother Stanton, 1924, three months; Rev. Harry J. Rumsey,1924-1925; Rev. Edward A. Stevens, 1925-1926; Rev. John A. Taylor, 1926-1928; Mr. John Holmes, 1929, fill in; Rev. John Besant, 1930-1933; Rev. John W. Kennedy, 1933-1934, ordained here; Rev. Ralph Madden, 1934, two months; Rev. George Saul, 1934-1938; Rev. John H. Taylor, 1939-1944; Rev. Ralph Edwards, 1944, six months; Rev. Maurice Gaugh, 1945-1947, ordained here; Rev. Linford C. Wilcox, 1947-1957; Rev. William L. Stroup, 1957-1962; Rev. Allen Hauk, 1963, six months; Rev. Walter Vile, 1964-1965; Rev. William L. Stroup, 1965-1975; Rev. Kenneth E. Alt, 1975---.
History of the Regular Baptist Church, Smethport, PA; Mrs. Esther Nobles; November 1977.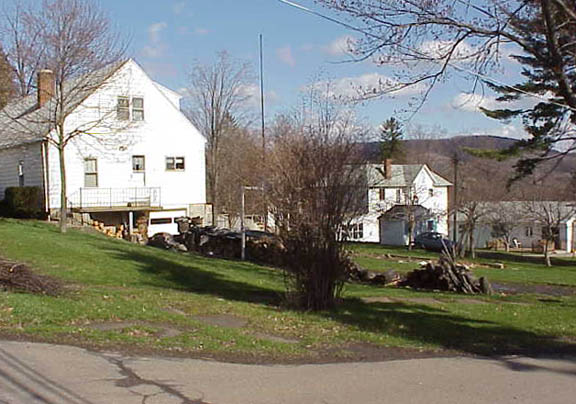 site of the second Baptist Church 2000AD
view of 2nd Baptist Church 1900