1895: The Historic John Apple Residence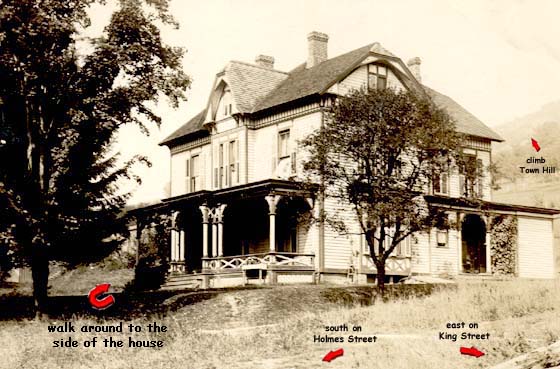 photo credit: Woodward and Jeanne Apple Romine collection

2000AD: Apple Romine Residence
802 West King Street
Smethport, Pennsylvania 16749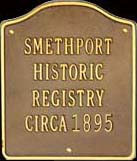 Click here to visit The Smethport Historic Registry!
DOWNLOAD the plaque awarded to this property!
History of the John Nevin Apple House
We are not certain when the house was built. According to deeds in the courthouse, Square No. 35 was sold to F. M. Knox and A. G. Olmstead in July of 1871.
Home Built by David Sterrett, Noted Smethport Attorney
We believe the house probably was built between 1872 and 1880 when the lot was acquired by David Sterrett. According to Jeanne's mother, David Sterrett lived in a house on this property. By 1890 the property had been acquired by Henry and Hannah Hamlin who sold it to John and Sarah Shoemaker on September 25, 1890 for $3600.00. We note that the price for the property when deeded to David Sterrett was $500.00, so we assume that the house or at least a substantial addition was built after 1880.
The house was purchased by Jeanne's grandfather, John Nevin Apple, December 3, 1891 for $3600.00. We believe originally the house was much smaller. The current dining room has eight doors framed in golden oak and is decorated with wainscoting of the same pattern. When first built this room was the kitchen. The exterior architecture is the Victorian Stick Style.
John and Sarah Apple raised their family of seven children in the house. (Walter, Paul, Florence, Dorothy, John, Marion and Robert). The house has remained in the Apple family since 1891. It is now owned by Jeanne Romine, John Apple's granddaughter, and is occupied by her and her husband, Woodward Romine, and their border collie, Meaghan.

John R. Shoemaker, late country treasurer, Smethport, son of Jcob Shoemaker, was born in Monroe County, Penn., In 1841, and received his education in the common schools. In 1865, for a couple of months, he filled a clerkship at Port Jervis, N.Y., and in May of that year he removed to Mankato, Minn., where he was engaged in a dry goods store, and in the winter of 1865-66 he had charge of a store at Winnebago City, same State. In May, 1866, he married Miss Sarah A. Wood, of Mankato, Minn., and returned east to Monroe County, penn., the following winter. In 1876 and 1868 Mr. Shoemaker was engaged in the wholesale notion trade; in 1869 he was a traveling salesman for the house of H.C. Leet & Co., of New York City, and in 1870 he similary represented the house of Huntington & Darn, wholesale grocers; also in 1871, owing to the death of a brother, he took charge of his store in Northampton County, Penn., and settled his estate; in 1873-74, he had charge of a store for Monroe Howell, at Troy, Morris Co., N.J., and in October, 1874, he removed to McKean County, Penn., locating in Clearmont in November, 1875, where he filled a position as book-keeper and cashier for the Buffalo Coal Company for a period of five years. In July,1880, he became clerk in the commissioners' office, of McKean County, where he remained until January 1, 1887, when, having at the preceding election been made treasurer of the county, he took possession of that responsible office, which, as an affable, courteous gentleman, he filled with honor to the county and credit to himself until his retirement, January 1, 1890. Mr. Shoemaker is an active Republican. He is a member of McKean lodge, No. 388, F. & A.M.
History of the Counties of McKean,Elk, Cameron and Potter, Pennsylvania.© 1890 J.H. Beers & Co
Robert Barnabas Apple
Carrying on the practice of law in Smethport, Robert Barnabas Apple is also engaged in oil and gas production here and is active in civic and social affairs.
Mr. Apple was born October 22, 1906, in Smethport, Pennsylvania, son of John N. and Sarah K. (McNulty) Apple, both native Pennsylvanians, the father of Sagertown, Crawford County, and the mother of Smethport. The father, who is now deceased, attended Allegheny College, at Meadvile, and was graduated from Franklin and Marshall College, then became a practicing lawyer and a leader in Smethport affairs, particularly education. For years he served on the Smethport Board of Education, carrying on this and his other civic activities during the half century of his law practice. He died shortly after his son's admittance to the bar. The mother, Mrs. Sarah K. (McNulty) Apple, born in 1871, makes her home in Smethport.
Smethport public schools provided Robert Barnabas Apple's early formal education, and in 1928 he recieved the degree of Bachelor of Arts from Penn State College. He then went to the University of Pennsylvania Law School, where he received, in 1932, the degree of Bachelor of Laws. While at the university, he served as an associate professor of mathmatics. Admitted in 1932 to the McKean County bar, Mr. Apple was clerk for a year in the firm of Gallup, Potter and Gallup, working under Mr. Potters direction in that firm's Smethport office. In 1933 Mr. Apple opened his owned office in Smethport, conducting here a general law practice down to the time of writing. He continues today his private legal practice, being licensed to practice in Pennsylvania courts and in the United States District and Supreme Courts. He was elected secretary of the McKean County Bar Association in 1934, and still holds this position down to the time of writing. He is also a member of the Pennsylvania State Bar Association and the American Bar Association.
In addition to his work, Mr. Apple interests himself in political affairs as a Republican, and is a director of the Smethport Community Chest and a member of the Rotary Club, the Smethport Country Club, the Bradford Lodge, Benevolent and Protective Order of Elks, and St. Elizabeth's Roman Catholic Church.
In leisure time Mr. Apple is fond of the out-of-doors, being especially interested in golf and aviation.
taken from the History of Northwestern Pennsylvania 1943