Livermore Ignites Smethport High
School Football Tradition

During the 1920's, Dr. Alvie Livermore, and associate coaches E.A. Studholme and
C.C. Choate extended a deep personal and financial commitment to the newly formed
Smethport High School football program. Their dedication ran so deep that they forfeited
their coaching pay to allow the program to thrive. To further reduce expences their
wives even volunteered to repair team uniforms. It was this kind of commitment which
laid the foundation for Smethport's phenomenal football euphoria.
But, if money was scarce the talent was certainly abundant. Shorty Petruzzi, who went
on to play under General Bob Neyland at the University of Tennessee, was the first of the
family to star. The petruzzi brothers Jimmy, Ted, Chuck, and Fred followed Shorty's
footsteps as gridiron standouts in a handsome new facility to be named McCoy Stadium.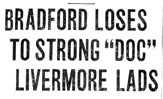 Smethport Recalls 1924-27 Period
as Best In School's Football History
Livermore-Studholme-Choate Teams Won 25 and lost 8 During 4 Seasons
Smethport - Back in 1922 three citizens of this community compared notes on a subject of mutual interest and decided
that something should be done about football at Smethport High School. This trio was composed of Alvie R. Livermore,
a dentist; E. A. Studholme, a banker; C. C. Choate, court records abstractor.
These gentlemen formed a coaching alliance that directed the football fortunes at the local school for eight years. A
recent compilation of records reveals that their teams of the 1924-25-26-27 period rolled up the brightest single period of
football in the history of Smethport High.
During the four seasons in question, 1924 to 1927, Smethport won 25 games, lost only 8 and tied 3. It is true that the
1934 eleven was beaten only once and that the 1942 team was undefeated, but there is no other local four-year winning
stretch to match the performance of the Smethport grid machines produced by three men who donated their time merely
because they enjoyed doing something for the high school youngsters.
Their coaching regime was brought to an abrupt halt when the PIAA brought in the present rule that requires all high
school coaches in Pennsylvania to be full-time members of the faculty. They retired with an eight-year winning mark of 37
triumphs, 25 defeats and 3 ties which can be compared to a 24-year Smethport High grid chart that shows 78 wins, 88
defeats and 15 ties.
In 1924, Smethport won six while losing only to St. Bonas Prep and Sheffield. The next year the locals lost to Grove
city and Emporium. Livermore, Studholme, and Choate all still living in this community agree that the 1926-27 teams were
the greatest they had.
The ?26 eleven rolled up to 279 points against 56 opponents, Losing only to Olean and included a victory over Lock Have&
State Teachers. The ?27 outfit lost to Kane, Masten ark of Buffalo, and Wellsvillet
Performing on these Smethport teams were such all-time Smethport stars as Leo and Jimmy Petruzzi, George VanDusen,
Silas Scott, John Hungerford, Robert Clark, Walter Schoolmaster, Guain McCoy, Bernard McDermott, C. Studholme and
Newman.
Smethport piled up 107 points in one game of the 1924 season and hit 93 against Bolivar in 1926. Against Ridgway in 1927,
Shorty Petruzzi, later a star at Tennessee, ran 95 yards for one touchdown.
Eleven other men have been associated with fooball coaching at Smethport High since the Livermore-Studholme-choate
combination retired, but the four-year record of the old timers still tops the honor roll in the country seat.
Big Football Years
At Smethport High
Here's how Smethport won 25, Lost 8
and tied 3 during the four-year Football
period of 1924-27.
(left side is Smethport score)
1924
20 Eldred 6
13 Bradford J.V. 12
31 Eldred 13
107 Ridgway 13
0 St. Bona Prep.31
13 Emporium 12
44 Bolivar 0
0 Sheffield 10
1925
93 Ulysses 0
31 Galeton 0
6 Emporium 24
14 St.Joe 0
0 Grove City 39
14 Bolivar 0
26 Emporium 0
33 Sheffield 0
12 Port Allegany 12
1926
55 Ulysses 0
32 Lock Haven tchs. 0
93 Bolivar 0
7 Olean 31
33 Wellsboro 0
7 Wellsville 6
0 Eldred 0
19 Coudersport 0
13 Johnsonburg 6
20 Port Allegany 13
1927
6 Alfred Frosh 0
0 Kane 7
6 Buffalo Masten 12
31 Eldred 0
19 Ridgway 0
0 Wellsville 12
19 Coudersport 0
56 Little Valley 6
0 Port Allegany 0