Aerial View of the Bradford-McKean Airport
(present day Bradford Regional Airport)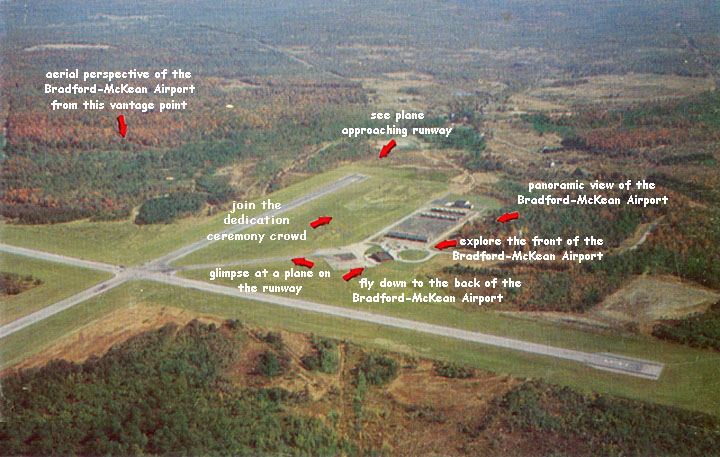 photo credit: Bradford Landmark Society
Airport Story Book
read historical newspaper articles about the airport
History of the Bradford-McKean Airport
History of the Flight Service Station
view the Lafayette topographic map
History of the Bradford-McKean Airport

September 1972 Airport Story Book


During World War II when the United States' rapidly expanding air force required the establishment of more land facilities, the federal government selected a site near Mt. Alton in McKean County for an emergency landing field.

Land was cleared and runways built, but the war ended before the field was commissioned. With the surrender of Germany and Japan, the new airfield became a surplus item and, during the mayoralty term of Dr. Hugh J. Ryan, the City of Bradford purchased it from the Army Air Corps. Ralph T. Zook was the prime mover in establishing this airport facility.

Passenger service was inaugurated as early as September of 1948, but the terminal was not completed and officially opened until July 1, 1949. The first commercial service was provided by United Air Lines. Shortly after its incorporation, Allegheny Airlines took over passenger service at the airport, a job it still performs.

Private individuals and industries joined the City of Bradford in preparing the airport to serve as a commerical terminal and in its early operations. After a short time it became evident that airport costs were too large for the city alone and McKean County joined in its operation. The airport became known as Bradford-McKean Airport.

With the proposal of a major improvement project in 1967, the local share of the cost indicated a need for an even larger base of tax support. At the suggestion of the Federal Aviation Administration, it became a four-county regional airport by an Authority composed of McKean, Warren, Elk and Cameron Counties. It was renamed Bradford Regional Airport.

The history of the airport at Mt. Alton generally parallels the emergence of air transport to its current preeminence. In less than 30 years it has undergone a metamorphosis - first a military installation, then a city and county airport and now a regional source.
Flight Service Station

September 1972 Airport Story Book


As a source for the latest information on flying conditions, navigational aid and flight planning, the Federal Aviation Administration's Flight Service Station at Bradford Regional Airport is a key factor in flying safety for pilots landing at or taking off from the airport or flying within the station's radio range.

Using an array of sophisticated equipment and a communications system which constantly updates weather information, a team of eight experts provide pilots any hour of the day with such services as:

Pre-flight briefing. This includes such information as current weather conditions, weather forecasts, frontal activity, wind aloft forecasts, advisories of potentially hazardous weather, reports of actual weather conditions reported by pilots flying in the area in question (PIREPS), operational status of navigational aids along the predicted route of flight, and conditions at the airport of destination.

Flight planning. Pilots may receive assistance in plotting courses, determining mileages. Headings, radio frequencies and landmarks in route are supplied.

In flight assistance. Pilots in the air receive via air/ground channels weather reports or full pilot briefings, register changes or cancellations in flight plans.

Airport advisories. Before taking off or landing pilots may call Bradford Radio and receive wind direction and velocity, favored runway or runway in use, traffic information and unusual field conditions if they exist.

Direction finding, An automatic direction finder installed in 1967 operates at a range of 40 nautical miles at 4,000 ft. Its range increases with elevation.

Instrument controlled landing for properly equipped aircraft.

The air service station resources invaluable in routine situations are even more important to pilots in emergency situations.

Recent statistics show the frequency with which the flight service station is called upon to render its services. In 1971 the station made 22,255 contacts with pilots, issued 16,437 advisories and 33,941 pilot briefings and were involved in the filing of 10,478 flight plans.