1878: First D.R. Hamlin House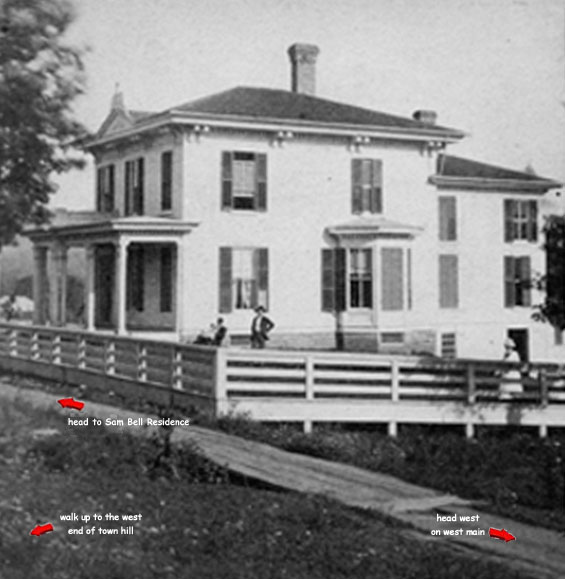 photo credit: Dona Fizzell Cooper Collection
Click here to see 2005 First D.R. Hamlin House
ITEM NO. 1
DELANO R. HAMLIN
EUGENIA HAMLIN
PAULINE E. KING
ROBERT KING

TO

CYRUS E. BARRETT

SPECIAL WARANTY DEED

Dated 14, June, 1880
Recorded 15, September, 1880
Deed Book 6, page 430
Consideration $200.00
Acknowledged 14, June, 1880
Conveys same land as described in Caption
ITEM NO. 2
J. F. DAVIS, High Sheriff
of County of McKean

To

CHRISTIAN HERZOG

SHERIFF'S DEED

Dated 7 June, 1898
Recorded 9 July, 1898
Deed Book 100, page 536
Consideration $2915.00
Acknowledged 9 June, 1898
Acknowledged 9 June, 1898,
Prothonotary
Same land described in Caption. Was sold by the Sheriff to Christian Herzog vs. Cyprus E. Barrett, at
No. 39 December Term, 1897.
| | |
| --- | --- |
| Real Debt | $3,238.25 |
| Costs | 3.00 |
Entered at 16 October Term, 1897
Interest from 16 October Term, 1897
Writ of Fieri Facias issued 29 April, 1898.
Execution No. 68 June Term, 1898. Sheriff returned writ
Sale of real Estate 7 June, 1898
ITEM NO. 3
CHRISTIAN HERZOG and LENA HERZOG, his wife,

To

EMMA AMELIA FRY

DEED

Dated May 2, 1904
Recorded May 14, 1904
Deed Book 128, page 433


Conveys all that certain piece, parcel and lot of land situate in the Borough of Smethport, County of McKean and State of Pennsylvania, bounded and described as follows, to-wit: BEGINNING at a post the northeast corner of Lot No. 1 in Square No. 73; thence along the south line of Main Street 4 perches east to the northwest corner of Lot No. 3: thence south 16 perches to the southwest corner of Lot No. 7; thence west 4 perches to the southeast corner of Lot No. 5; thence north 16 perches to the place of beginning. Containing 64 square perches, strict measure be the same more or less, being Lots Nos. 2 and 6 in said Square No. 73, as laid out and recorded in McKean County in the exchange of squares and straightening of streets, Subject however to the reservations in regard to the laying of Pump Log, pipe etc. as is reserved in the deed from A. N. Taylor and wife to Daniel A. Easterbrook in Deed Book "U", page 206 etc. and being the same premises deeded by D. R. Hamlin et al to Cyrus E. Barrett by deed dated June 14, 1880, recorded September 15, 1880, in deed Book No. 6, page 430 etc. McKean County Records. Improvements of two story frame dwelling house with one two story frame addition, usual out buildings and seven fruit trees. This property was conveyed to Christian Herzog by Sheriff's deed dated June 7, 1898 and recorded July 9, 1898 in Deed Book Vol. 100 page 536 & c. McKean County Records.
We hereby certify that we caused to be examined the indicies in the offices of the Recorder of Deeds, Prothonotary and County Treasurer in and for the County of McKean, concerning the title to the land described in Caption in the foregoing Brief of Title.
Title was commenced with deed out of Delano R. Hamlin and wife, and Robert King and wife in 1880. The title of Delano R. Hamlin and Robert King is assumed to be good. They conveyed to one Cyrus E. Barrett. In turn Christian Herzog obtained a judgment against Cyrus E. Barrett at No. 139 December Term, 1897 in the Court of Common Pleas of McKean County in the amount of $3238.25. Christian Herzog caused execution to be issued upon this judgment resulting in a sale by the Sheriff of McKean County to Christian Herzog of the lands described in the Caption for the sum of $2915.00 on the 7th day of June, 1898. The Sheriff of McKean County then executed and delivered his deed to Christian Herzog for the said property and it was duly recorded. Christian Herzog and wife then conveyed the said property to Emma Amelia Fry in 1904. Emma Amelia Fry and husband, Sanford L. Fry have remained in possesion of the said property since that time. Emma Amelia Fry also known as Emma Herzog Fry, died testate on the 20th day of December, 1940, leaving to survive her the said Sanford L. Fry, her husband, and Helen Fry Roth, her daughter.
There are no adverse conveyances, mortgages, judgments, ejectments or tax sales affecting the premises involved.