Henry Hamlin's Mansion: 802 W. Main Street
Introducing Henry Hamlin
Smethport's Primary Benefactor & Most Famous Citizen
married eldest daughter of Dr. W.Y. MCoy!
photo credit: Ross Porter Collection



see Henry Hamlin Mansion 2001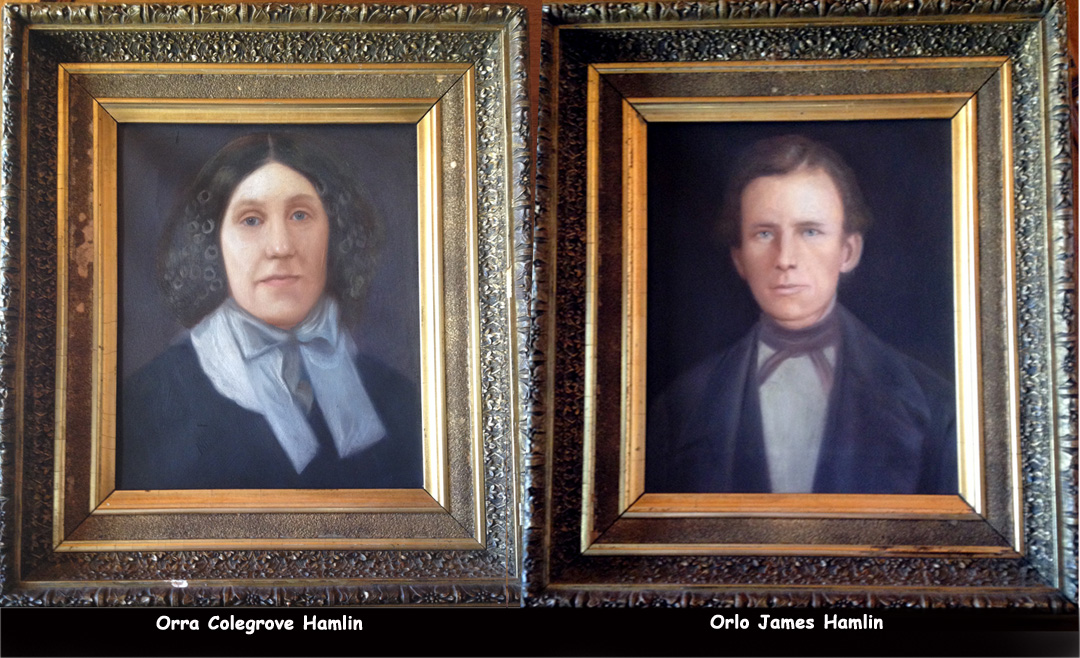 Orlo James Hamlin, Henry's father was the original pioneer Hamlin to come to Smethport in 1826.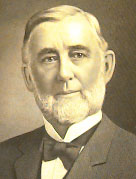 Henry Hamlin, eldest son of Orlo J. and Orra L. (Cogswell) Hamlin,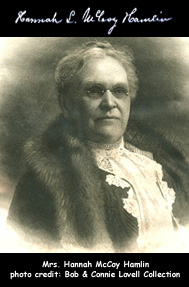 was born at Smethport, McKean Co, Penn., April 9, 1830. At this time his father, Orlo J. Hamlin, a man of rare scholarly attainments, and, until obliged by physical weakness to give up his profession, the leader of the bar of his district, was an active practitioner, and his son, who had inherited in a marked degree his father's love of books and research, and whose mind fitted him to follow in his footsteps, naturally at an early age commenced the study of law. Finding, however,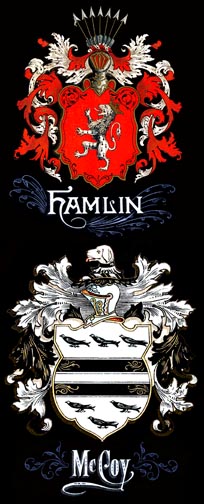 that his health demanded a more active life, he concluded to take up the mercantile business, and entered as a clerk to store of O. J. & B. D. Hamlin, of which firm, at the age of nineteen, he was admitted as a partner. From this time on until the year 1878, when he sold out his interest in the business to Mr. Haskill, he was successful in all his ventures; strict integrity, close attention to business, and his wonderful faculty of acquiring a knowledge of the minute of everything he undertook, being the secret of his success, and the latter trait has followed his through life, not only in business matters, but even in out-door and other amusements, in which he has always taken a lively interest, ever ready to take a hand in them during his leisure moments, and never satisfied until he has mastered every feature.
As a financier Mr. Hamlin has been wonderfully successful, making investments only after thorough investigation; and while he has been and is at present largely interested in timber lands in his own and other States, in the production of oil and in other commercial and ventures, he rarely makes a mistake or suffers a loss, his present banking establishment, known as the banking house of Henry Hamlin, being one of the solid institutions of Western Pennsylvania. A marked characteristic of Mr. Hamlin's business life has been his leniency toward the deserving poor among his debtors, as many a man in McKean county can attest, for while he has always worked under strict business rules and principles, he has never been an oppressor of the poor. Mr. Hamlin has done much for the prosperity of his native town: notably his connection with the present successful water-works system, the erection of his handsome bank building, which would be an ornament to a much larger place, his own handsome grounds, and his interest in all matters of public improvement.


In 1854 Mr. Hamlin married Hannah L., daughter of Dr. W. Y. McCoy, a lady who by reason of her many virtues has endeared herself to all classes of people. They have four children: Laena D. (now Mrs. Robert H. Rose), Emma M. (now Mrs. J. H. McCandless), Eugene M. and Orlo. To Mrs. Henry Hamlin and her sister, Mrs. John C. Hamlin, Smethport mainly owes its present Episcopal Church system. Mr. and Mrs. Hamlin and their children are all members of St. Luke's' Church, Mr. Hamlin contributing largely toward the erection of the church edifice. In politics Mr. Hamlin was formerly identified with the Democratic party, but is at present an active Republican, coming into the Republican ranks by his support of Abraham Lincoln. In 1881 he was elected associate judge, and he performed the duties of that office with great credit to himself and in the interest of his constituents until the abolishment of the office by reason of the county becoming a separate judicial district, under the constitution of 1874, it then having a population of over 40,000. Mr. Hamlin is widely known and universally respected, and his career as a business man and as a citizen has been such as to be an example to young men, showing what can be done by application and a conscientious performance of business and other duties.

Mrs. Hannah Lavina McCoy Hamlin, eldest child of Dr. William Young and Charlotte Augusta (Darling) McCoy, was born February 18, 1834, at Smethport, McKean County, Pennsylvania. In the year 1854 she was united in marriage with Henry Hamlin, of Smethport, of previous mention, and is the mother of his four children: Mrs. Robert H. Rose, of Binghamton, NY.; Mrs. J. Heber McCandless, of Smethport; Mrs. H.E. Merrell, of Buffalo, NY.; and Orlo J. Hamlin, of Smethport. Mrs. Hamlin has been for many years identified with St. Luke's Episcopal Church at Smethport, since the foundation of the parish. She has been associated with practically every form of activity in this church, and with her husband made its interests her constant care and responsibility. All Saints' Mission in East Smethport counts her among its founders, as also her sister, Mrs. John C. Hamlin, and it is indeed a memorial institution in honor of their parents. Mrs. Hamlin has always interested herself actively in all matters connected the civic welfare of the community, and her hearty co-operation and ready sympathy in all movements undertaken for the sake of uplift have been important factors in the progress of the city in this direction. No demand has been made upon her generosity which she has not adequately responded to. She is a charter member and was the first president of the Travelers Club of Smethport, one of the pioneer women's clubs of this section of Pennsylvania and a unique institution. She is a member of the Pennsylvania Society of the Daughters of the American Revolution, and a member of the Shakespeare Club, which has been recently formed, and which meets every week at Mrs. Hamlin's home.
As would be obvious from above, the life of Mrs. Hamlin is an exceedingly full and busy one, and her activities have this distinction that they are all of a nature beneficial to others, either as individuals or as members of the community generally. In her work in connection with St. Luke's Parish, Mrs. Hamlin has been very closely associated with her sister from the outset, her sister being Mrs. John C. Hamlin, whose great faith and self-sacrificing efforts overcame many obstacles in the organization and establishment of the church. Mrs. John C. Hamlin has also conducted a Sunday school in which both she and her sister have been greatly interested, and the two share the credit for having established what undoubtedly proved to be the nucleus of St. Luke's Church. Mrs. Hamlin's relations with all those with whom she has come in contact have always been marked by sympathetic interest and gentle persuasion, rather than by any desire for leadership. She has been wholly concerned with the interests of others, and her manner has been expressive of a native sense of kindness which, with an easy and ready graciousness, has been the keynote of her great success and life-work.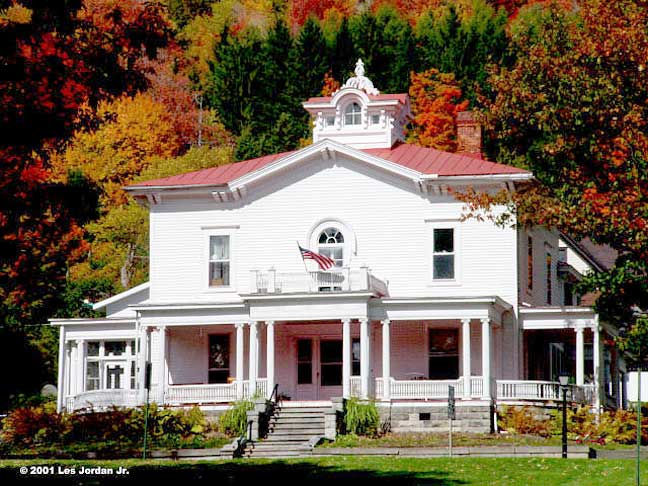 photo credit: Lester Jordan, Jr. 2001
see Henry Hamlin Mansion 1895