Building of the Hamlin Memorial Library, 1991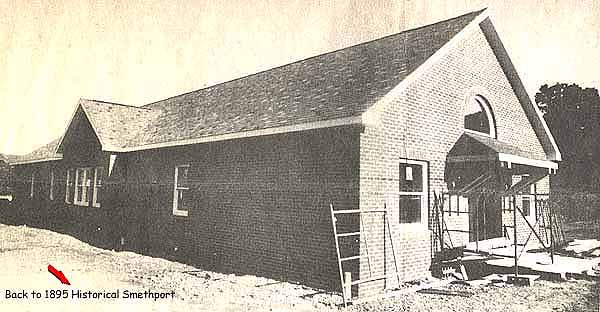 photo credit: Olean Times Herald / Richard Freeda
Bernice Slone Collection
Brick by brick, Smethport's library gets built
Olean Times Herald September 9, 1991
by: Beth Danias
Brick by brick, things are taking shape in Smethport Borough. The new facility will be named the Hamlin Memorial Library.
The new Smethport Library should be open by mid-November, according to announcement by officials.
Donna Puller, Librarian at the Smethport Public Library, said construction at the new site, 133 S. Mechanic St., is progressing well. Area residents can see the progress of the project which is nearly complete.
The outside structure is up and the workers should begin painting this week, Mrs. Puller said.
While the building is nearing completion Mrs. Puller said the building fund drive is still about 50,000 short of the 250,000 needed.
The Library is primarily being funded by private donations of current and former Smethport area residents.
The library, originally founded in 1892, has been at it's present site, 111 W. Main St., since 1985.
Facing Hamlin Lake, the library will have a stone facadeand visiters will enter through a brick vestibule.
Some of the new rooms in the new 3,000 sq. ft. building include office and staff rooms, a periodical room, small meeting room, adult reading ad children areas, and large stack and reference area.
In addition to Smethport Borough, the library serves the citizens of Keating,Norwich and Sergeant townships without charge.