On March 6, 1899 the Smethport branch of the Kushequa Railroad was incorporated ten months after the Kushequa Railroad. The purpose of the railroad was to give Elisha Kane access to the county seat of Smethport. The plan was to build seven miles from the McKean to East Smethport where connection was to be made with Buffalo-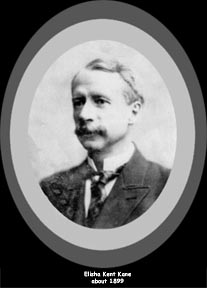 McKean Railroad.
Mr. Kane also got permission from the Smethport borough to lay his track along Water Street. Unfortunately the Shawmut Railroad heard about Elishsa's plan to build on Water Street and decided to put a crew of men to start laying track on Sunday the eleventh of July, 1899 to close out the Smethport Railroad.
On the next day Mr. Kane arrived to start laying down his tracks, but it was to late. The Pittsburg (no"h"), Shawmut & Northern Railroad (known as the Shawmut ) had already laid their track down forcing Mr. Kane to stop his railroad at Smethport.



The Death of Elisha Kent Kane
McKean County Democrat - Febuary 21, 1935
Elisha Kent Kane, 78, son of Major General Thomas L. Kane, organizer of the famous Civil War Bucktails and a nephew of the celebrated North Pole explorer, Elisha Kent Kane, whose namesake he was, died at his home in Kushequa, near Mt. Jewett, shortly after midnight Sunday.
Mr. Kane, a prominent brick manufacturer and owner of the famed Kushequa Railroad, which at one time had forty or fifty miles of right-a-way in McKean county, was one of the county's most distinguished citizens. He was a prominent leader of the National Prohibition Party and had been a candidate of that party for various high national and state offices.
His father, General Kane, was founder of the town of Kane. His youngest son, Hon. Elisha Kent Kane, Jr.,is a present representative in the State Assembly from McKean county. Deceased was a brother of Dr. Evan O'Neil Kane, celebrated Kane surgeon.
Mr. Kane had been in poor health for a long time and his condition took a critical turn two monthes ago.
The deceased leader was born in Germantown, PA., November 25, 1856. In 1860 he moved with his parents to Elk county and located on the present site of Rasscias. During the Civil War period he was left under the care and protection of his aunt.
The summer of 1864 he spent on the Barrett farm, now the site of the villiage of Comes, near Smethport. In the autmn of the same year he moved with his family to Kane, where he remained until 1872, when he entered Rugby Academy, Wilmington, Delaware. While at school he made his home with his uncle, Dr. John Kent Kane, a famous physician.
The following year he attended Germantown Academy and later spent four monthes as a student at Parker's Institute. In September, 1875, he entered the John C. Green School of Science. After a year in school, his father took him along on a mission to Texas and Mexico during the Mexican revolution.
Mr. Kane returned and in January, 1877, he entered Princeton, where he finished a course in engineering in one year, being graduated in 1878, the first to be graduated from that course. He worked with his father as civil engineer in the Kane land development projects, until General Kane died in September, 1883.
For six years after his fathers death Mr. Kane was chiefly occupied in the management and settlement of the family estate, which included development of the town of Kane, the Big Level and Kinzua Railroad, the village of Mt. Jewett and the Mt. Jewett Gas Company.
In 1888 he was severely injured by the explosion of natural gas. He finally recovered after weeks under expert medical care. In 1889 he enlarged his field of operation and began lumbering at Kushequa. Here he built the Mt. Jewett, Kinzua, and Riterville Railroad, running from Mt. Jewett to Kushequa and to the lumber lumber camp to facilitate lumber shipments.
Mr. Kane survived the changed conditions in the lumber business brought on by the reduction of the tariff on lumber by the President McKinley and Wilson bills. This act brought on financial destruction to many lumber men. In 1893 his mill and lumber yard, which contained 10,000,000 feet of lumber, was destroyed by fire. In 1894 the mill had been rebuilt and put in operation.
In 1895 he took advantage of a forest fire which destroyed many acres in the Kushequa section and opened up for settlement his tract and farm there. In 1897 he extended his railroad, under the name of Kushequa Railroad, from Kushequa to Smethport, this branch was extended to Farmers Valley the following year.
In 1906 Mr. Kane sold the Big Level and Kinzua Railroad and purchased the Smethport branch of the same railroad. Previous to 1904, Mr. Kane had organized the Kushequa Brick Co. and began the manufacture of the first vitrified brick and paving blocks made in McKean county. He found markets for his product extending from Boston to Cuba and to the midwest.
In his brick manufacturing enterprises he became known all over the country and held memberships in the National Paving Brick Manufacturers' Association, National Brick Makers' Association, and the Building Brick Makers' Association.
Much of this work was done not for his personal gain, but for the development of the community for which he lived.
Mr. Kane was an elder of the First Presbyterian Church of Kane, and some years ago was a delegate to the general assembly of the church in St. Louis.
Since 1884 he had been a party Prohibitionist, a delegate to all State and National conventions of that party had been a member of the State executive committee. He was a big factor in throwing the Prohibition Party endorsement to William J. Berry in his candidacy for State Treasurer. Mr. Kane also played a big part in blocking the endorsement of Lewis Emery, Jr., for govenor by the Prohibition Party.
There was not a state office for which Mr. Kane had not been, at one time or another, a candidate of his party- from member of assembly to United States Senator, He had served as a school director for a number od years. Mr. Kane had played a large part in the growth of the Prohibitionist Party in Pennsylvania.
On June 21, 1892 he was united in marriage to Miss Briselda E. Hayes of Venango county.
Surviving Mr. Kane are his widow; two sons, Evan O'Neill Kane, Jr. of Kushequa and Hon. E. Kent Kane of Kushequa; three daughters, Mrs. Howard N. Butler of Sanford, N.C., Mrs. Edgar A Johnson ans Miss Virginia Kane of Kushequa.
Private funeral services will be held this Thursday, afternoon at 2:00 o'clock. The Rev. Gilbert A. Forbes, a former pastor of the Kushequa Curch will officciate. Burial will be in the Kane family plot in Forest Lawn Cemetary at Kane.