(go to see stone arriving)
go for SPECIAL LETTER of Recognition from Jerry Keesler
Smethport Area School District
Veteran's Memorial Stone Dedication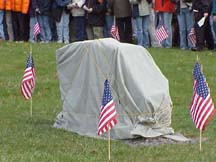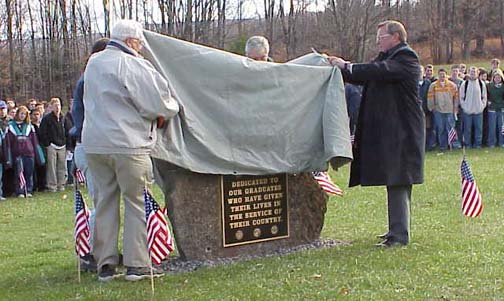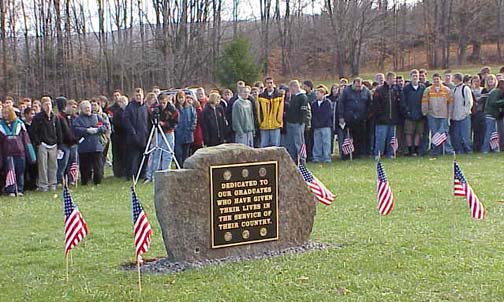 MEMORIAL CEREMONY
VETERANS' DAY
NOVEMBER 11, 1999
SMETHPORT AREA JR.-SR. HIGH SCHOOL
Veteran's Memorial Stone Dedication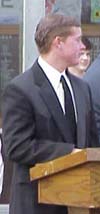 Honoring Veteran's Day

On November 11 at 11 o'clock A.M., we recognize all those who have preserved America's freedom through their services in the Armed Forces. Throughout our nation's history we have called upon our service men and women to defend our country and our allies whenever and wherever our national interests have been threatened. In peacetime and in war, we have relied on the vigilance and courage of these patriots to keep us safe and secure. Time and again, our men and women in uniform have stepped forward to perform their duty with valor, skill, and honor.

Today there are more than 25 million veterans living among us. As we prepare to enter a new century and a new millenium, all Americans have a duty to recognize the contributions and sacrifices made by our veteans and thank them for their devotion to our country. We must never allow the passage of time or comforts of peace to erase the memory of their service and sacrifices. Today we honor and recognize the millions, past and present, whose military service have kept our nation safe and strong, and whose sacrifices have helped preserve the freedoms that we all, as Americans, enjoy today.


VETERAN'S DAY CEREMONY

Master of Ceremonies Cody Housler - Senior
Smethport Area Jr.-Sr. High School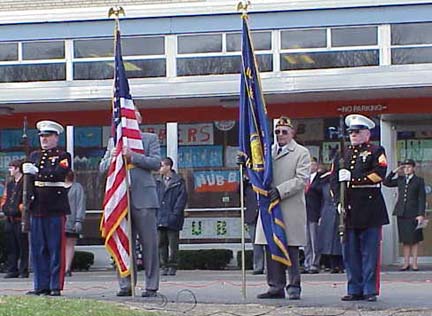 10:00 A.M. Raising of the Flag
Armed Color Guard
American Legion Bucktail Post 138
Pledge of Allegiance Michael Frick - Senior
Smethport Area Jr.-Sr. High School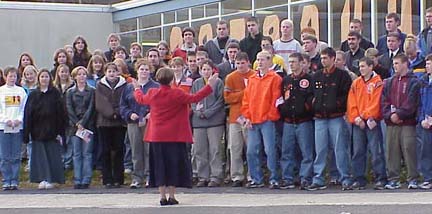 Star Spangled Banner Senior Choir
Amazing Grace Senior Choir
Directed by Mrs. Nan McGraw
Veteran's Day Memorial Speech Cody Housler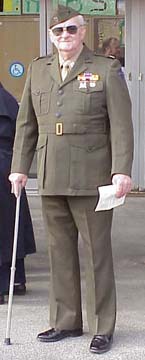 Guest Speaker William M. Scheiterle
U.S. Marine Corps, Retired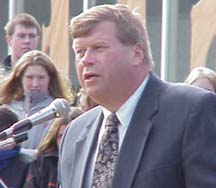 Memorial Stone Dedication Mr. Warren E. Semmel
Principal, SAHS



ROLL OF HONOR Senior Students in
Mr. Irons' "Participation in Government" Class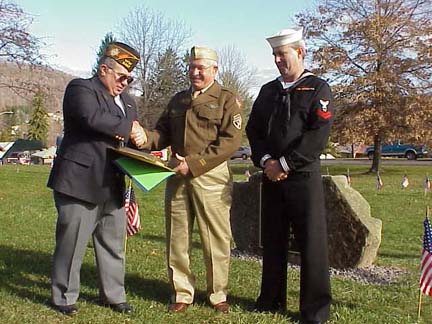 Robert L. Cochran, Sr. is honored with previously unreceived WWII awards. Mr Cochran was presented P.O.W. Medal. Air Medal, Good Conduct Medal American Campaign Medal, European/African/Middle Eastern Medal, & the WWII Victory Medal by Commander Orlandi as Robert Cochran, Jr. looks on.
MOMENT OF SILENCE



GUN SALUTE Armed Color Guard
American Legion Bucktail Post 138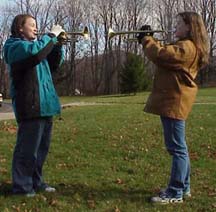 TAPS Wendy Dennis & Kathy Taylor
Smethport Area High School Sr. Band

Dedication of Veteran's Memorial Stone
Mr. Warren E. Semmel
Principal
The following servicemen who gave their lives in defense of our nation's freedom were residents of what now comprises the Smethport Area School District.
ROLL OF HONOR
WORLD WAR I
NAME RESIDENCE DATE OF DEATH
Ralph L. Burdick Norwich 12/10/18
William R. Cleveland Crosby 06/11/18
Alfonso Dispasquale Betula 10/06/18
John R. Gifford Crosby 12/01/18
Walter P. Johnson Hamlin Twp. 08/15/18
Arthur Marks Hamlin Twp. 08/15/18
Ernest G. Richardson Betula 09/22/16
Collins D. Thomas Smethport 07/25/18
WORLD WAR II
Wallace Anderson Clermont 11/27/44
Winfield Brungard Smethport 09/18/44
Fred V. Clutter Smethport 03/19/45
Clyde Coldren Smethport 03/08/44
Paul Connor Smethport 08/02/44
Leo M. Connors Smethport 05/26/43
Clarence Dunham Smethport 07/04/46
Ned R. Francis Gifford 04/08/43
Merle Hartburg Clermont 11/27/42
William E. Hauck Colegrove 06/17/44
Albert Himes Hazel Hurst 01/25/44
Angelo J. Isidori Smethport 03/15/45
George Jones Smethport 01/05/45
Homer Long Coleville 04/06/45
George P. McDermott Smethport 07/28/44
Ralph McKendrick Smethport 04/05/44
Jerome Morgan Cyclone 10/26/44
Carl Nelson Smethport 02/23/45
James V. Polio Hazel Hurst 11/29/44
Paul L. Rader Cyclone 04/05/45
Gayle Raught East Smethport 11/18/44
Vernie M. Rounsville Smethport 08/29/44
George Schoonmaker Smethport 11/08/45
Robert Sebring Farmers Valley 07/26/44
Friend F. Shonts Cyclone 10/06/44
Harry Stokes Gifford 09/24/43
George E. Thompson Cyclone 11/29/44
William G. Yanish Smethport 09/15/44
KOREAN WAR
Albert Simmons Smethport 08/31/50
VIETNAM WAR
Christian F. Feit, III Smethport 01/25/68
Charles R. Gregory Ormsby 01/31/68
Stephen J. Keesler Hazel Hurst 05/12/70
PROJECT: Biographies of each serviceman listed above:
If you have information / photographies on any of these Smethport Area High School Graduates please email us.
return to 1895 Smethport Virtual Walking Tour