1895: A.B. Armstrong Residence
Smethport Businessman, Merchant. Druggist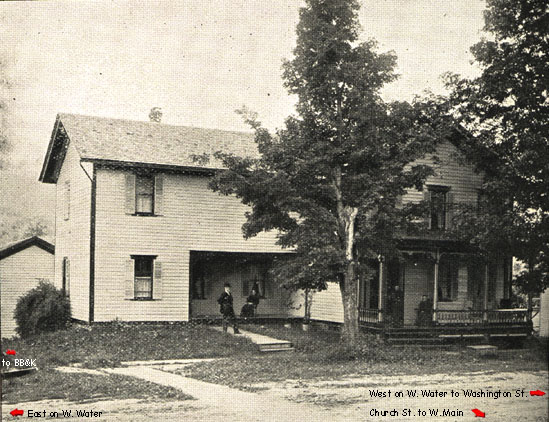 Home of well-known Smethport druggist and owner of the oldest drug store in McKean County. Note: You can click on the house to see a present day picture.
about A. B. Armstrong, Smethport Businessman, Merchant. Druggist
Go To: 1895 Inside of A.B. Armstrong Drug Store on Main Street
A. B. Armstrong, druggist, Smethport, is a son of Alexander and Julia Armstrong, and was born at Cuba, Allegany Co., NY, in 1838. His parents were
originally from Seneca county, NY, but removed to Allegany county about 1880, being among the pioneers of that county. They were married at Nunda,
Livingston Co., NY Alexander Armstrong was a cabinet maker by trade, and for many years resided at Cuba, NY; he was also a contractor, engaged upon the
construction of the Erie Canal, but moved to Rushford, Allegany county, in 1849, and went west in 1860, locating in Iowa. they reared a family of eight
children, of whom but three are living: A. B., M. L. (a merchant in Smethport), and Alice (now Mrs. J. L. Anderson, of Kansas).
A. B. Armstrong completed his education at Rushford Academy, Allegany Co., NY, and in 1854 became an employee of Joseph Hyde, of Ridgway, PA, with
whom he remained about a year; then was clerk in a store and hotel for James M. Miller at Smethport, and later with Ford & Smith, merchants. In 1857 he
became associated with Gideon Irons in the purchase of the grocery store of H. F. Williams, and the general store of Ford & Smith, the firm name being Irons
& Armstrong. He continued in business for about two years, when he sold his interest to his partner and began the study of law with John C. Backus, of
Smethport, being admitted to the bar in 1861. He, however, never became a practitioner, and that year found him in the grocery trade as the senior member of
the firm of A. B. Armstrong & Co. In this he was engaged until 1866.
In that year he, with H. L. McCoy, purchased the drug store of Seems & Hogarth, corner of Main and State streets -- it being the only drug store in the county
at that date. In 1869 he was elected a member of the legislature, representing the counties of Clinton, Cameron and McKean, which necessitated a dissolution
of partnership, and since his return to private life he has been in business alone. In 1860 Mr. Armstrong married Carrie, daughter of David R. Bennett, and
they have one child, Ethel. Mr. Armstrong is a member of McKean Lodge, No. 334, F. & A. M., and of the Chapter at Olean. Politically he is a Democrat.
Mr. Armstrong is practically a self-made man, and in the evening of his years enjoys the fruits of a successful business career, having the esteem and
confidence of the community generally. domestic in his tastes, he has never, with but one exception, accepted positions of a political nature which tended to
separate him from the home circle, although he served as justice of the peace for ten years, and was a member of the borough council many terms; an active
member in the Rose Hill Cemetery Association, holding the position of treasurer for the last twenty years; was also among the first to organize the Smethort
Water Company-securing to Smethport one of the best systems in the State-being the treasurer and manager and director from its first meeting; he was also
among the first citizens of Smethport to secure and make successful the Smethport Gas Company, which supplies the borough with fuel-being its treasurer
and managing director; also any enterprise with which Smethport was to be benefited found in Mr. Armstrong a champion and an earnest supporter. He is
contented with his lot, and is the owner of the oldest drug store in McKean County.
SOURCE: History of the Counties of McKean, Elk, Cameron and Potter, Pennsylvania, with Biographical Selections, Vol.1. Chicago: J. H. Beers &
Co., 1890 414-415.