1895: BB&K
Ormsby Railroad Station, Ormsby PA
Heading to Bradford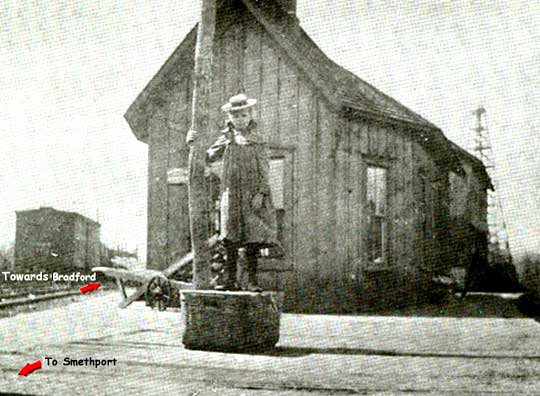 photo credit: Bradford Bordell & Kinzua ©1971 Thomas Barber & James Woods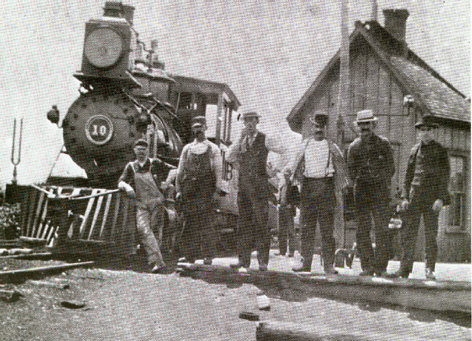 photo credit: Bradford Bordell & Kinzua ©1971 Thomas Barber & James Woods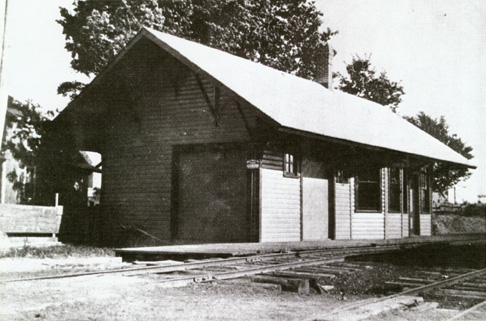 photo credit: Bradford Bordell & Kinzua ©1971 Thomas Barber & James Woods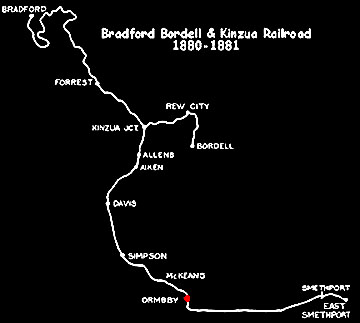 McKean County Miner
January 18, 1895
Page 3, Column 6

Around The County
Ormsby, PA
Accident at BB&K Ormsby

Frank Lamont, a brakeman on Conductor Richmond's train, met with a painful accident a few days ago while coupling cars in the McKean's mill. He slipped while making a coupling and barely saved his hand from being crushed. As it was the thumb of his left hand was caught and the first joint crushed. He will not lose the rest of his thumb, however.
Ormsby Boarding House Full

The town is so full of men at present that the boarding houses are unable to take them all and yet it is said there is always room for one more at the top and we think we are there. At least we do when the wind blows.
Mask Ball at the Ormsby A. O. U. W. Hall

Simpsons 400 gave a mask ball Tuesday evening in A. O. U. W. hall. Miss Katherine and Frank Cassidy. Miss Ella Carson and Milton Means of this place attended.
Ormsby BB&K Railroad Tackles snow drifts

Engine to of the B. B. & K. R'y is out of the shops after a thorough overhauling and remodeling and is now in good shape to tackle the snow drifts.
Daisy Beverly Opera Company Passes Through Ormsby

The Daisy Beverly Opera Co. passed through here Friday their way to Kane. They were a very good looking lot of people too.
Sig. Dealmo Gives Great Entertainment

Sig. Dealmo and his company gave a very good entertainment in the (Ormsby) school house on Monday night. A very small crowd turned out.
Ormsby Lumbermen: Thaw Good for Hauling Logs

The lumbermen report the sleighing excellent. The late thaw followed by snow is just what they need to haul logs on.
Devonion Oil Co. 5 new Gas Connection Locations at Ormsby

The Devonian Oil Co. have made 5 new locations in their gas territory and the rig builders are busy getting rigs up.
Lots of Ormsby Paperboys

We only have four newsboys in town and anyone who cannot be suited with reading matter should get an encyclopedia.
Devonion Oil Company Sells Territory for Connections

The Devonion Oil Company at Ormsby sold their gas territory to the Standard Oil Company and the Emery Oil Company are now connecting the gas wells with a six inch line and the United Natural Gas Company will connect it with an eight inch line to the main gas line running through here from the Kane gas field to Buffalo. This will add an immense quantity of gas to that line.
Will Burrell Walks in the Snow to Bordell, PA

Will Burrell walked over to Bordell Sunday. It takes a pretty strong attraction to get a man out in this snow storm eighteen miles. We understand he is on a still hunt for the person who sent him that lovely Christmas present in an envelope. Look across the road, Billy.
Special Pension Examiner in Ormsby on Monday

S. H. Elliott, of Franklin, Pa., special pension examiner for the eastern district, was in town on business Monday.
Miss Mae Rouse Spends Days with Friends in Ormsby

Miss Mae Rouse, of Smethport, spent a few days here with friends the first of the week.
Miss Mollie Ormsby Visits Aunt

Miss Mollie Ormsby is visiting her aunt, Mrs. Newton, of Lafayette, for a short time.
Greely and Johnson Brothers Hustle Ties for Railroad

O. S. Greelyand Johnson Bros. are hustling in ties for the B. B. & K. R'y Co.
Frank Dick and Field Mayo Drilling Again

Frank Dick and Field Mayo are back drilling, after a month's absence.
Conductor Bogart's Boy's Sickness Improving

Conductor Bogart's boy has been quite sick the past week, but is improving.
School Reopens After Holiday

School opened a week ago Monday, after the holiday vacation.
Peter Anderson's Eldest Girl Sick

Peter Anderson's oldest girl is quite sick due to a bad cold.
Other Ormsby, PA News
McKean County Miner
January 18, 1895
Page 3, Column 6
W. F. Ormsby returned Saturday after a two weeks' absence.
Frank Hewitt is visiting at his home in Kinzua a few days.
W. W. Seymour was in Smethport last week.
Miss Florence Wagner is visiting friends here.
McKean County Miner
February 1, 1895
Page 3, Column 6
Dog Fight at the B. B. and K. Depot

What would have been an exciting dog fight occurred in the depot last week. Just as the fight was getting interesting and bets were being made and taken (but no money put up) Milt Means got the winning dog by the tail and brought the fight to a finish. It was declared a draw and Milt was put out. The passengers took to the seats and some say the agent went under the desk but he denies it.
Big Blizzard Stops Railroad at Ormsby

The big blizzard of the past week has been hard on railroad traffic although the B. B. and K. have been able to run trains as usual by running their snow plow everyday. The P. W. R.'y however has been unable to run. They opend the road Friday but the severe storm of Saturday and Sunday undid their work and consequently trains will not run until the storm is over.
United Natural Gas Company to Install Eight Inch Line

The United Natural Gas Co. have completed their 8 inch line to the gas station and are now making connections etc. at the plant. This is to be a model office with electric lights, steam heat, telegraph and telephone connections and improved machinery for measuring, heating and testing the gas.
C. P. Bryons Drills Very Excellent Well

C. P. Byrons' No. 5 on the Bingham lands was drilled into the sand last week and is a very good well. It was shot Tuesday and made a big flow. He will immediately begin drilling another in teh same territory.
Special Train Ride for the Funeral of F. S. Johnson

The B. B. and K. ran a special train from Smethport to Bradford for those wishing to attend Hon. F. S. Johnson last Sunday.
2 Ladies Ride into Town on a Sleigh

Miss Lottie Schnure and Miss Amelia Anderson took a sleigh ride to Smethport Sunday. They should have had a driver.
New Lines Going from Here to Mt. Alton

The N. Y. and Pa. Telephone Company have put a long distance telephone in here connecting with their line at Alton.
W. F. Ormsby Trip to Canada

W. F. Ormsby left Tuesday for a week's visit with friends in Canada.