PIERCE HOUSE HOTEL ground broke in November, 1880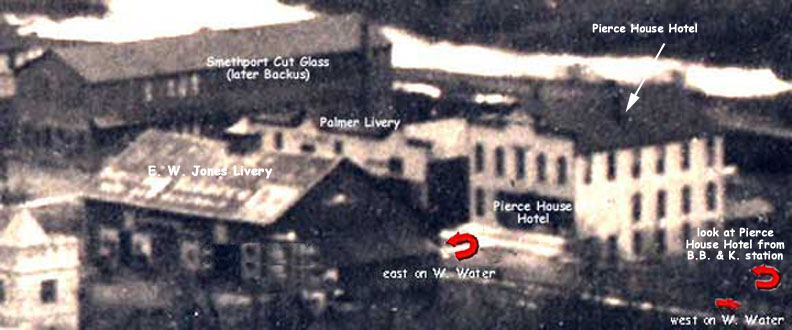 enlarged detail of hillside photo from McKean County Historical Collection

Located on 500 block of W. Water Street just above the BB&K Railroad Station & down the hill from the McKean County Court House.
Click to view Pierce House Hotel location today
Click to view Sanborn-Perris map of W. Water and State Streets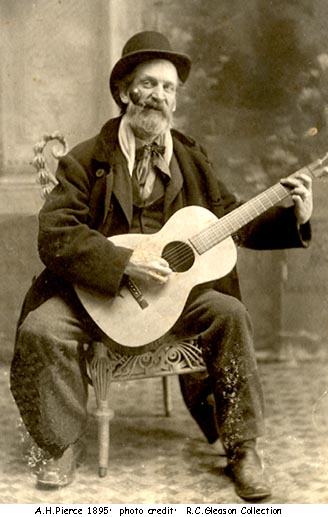 A. H. PIERCE, Jr., hotel keeper, Smethport was born in Troy, N. Y., June 14, 1844, a son of A. H. and Esther (Oatman) Pierce, the former a native of Albany, N.Y., and the latter a native of Vermont. A. H. Pierce, the subject proper of these lines, left his home at the age of ten years, and worked on a farm for $25 a year, clothing himself, until 1861, when he enlisted in Company D. Sixth Ohio Cavalry, and served faithfully until 1865, when he received an honorable discharge. In 1869 he married Miss Rosa A., daughter of Johnson and Fannie Glase, of Lymansville, Penn., and to this union were born four children, of whom two are living: A. H. and Hattie G. Mr. Pierce located in Coudersport, Penn., in 1867, rented a building and kept a restaurant several years; in 1879 he came to Smethport, where he rented again and kept a restaurant two years, when he built for himself his present hotel, which he very successfully conducts. Mr. Pierce is a member of Tent No. 9, K. O. T. M., and of McKean Post, No. 347, G. A. R., at Smethport. In politics he is a Republican, and his family all attend church.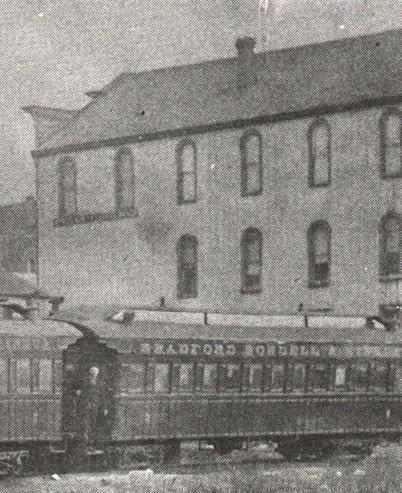 BB&K Railroad Station was located in the morning shadows of the Pierce House Hotel.
The Pierce House was completed the year after the railroad came to Smethport.
The very first organizational meeting of the Smethport Hose Company, later known as the Smethport Fire Department was held here in 1881.
Note: For about a year the Pierce House building was our top "mystery building" and it's true identity was finally proven through research of property deed
STRAVINO HOUSE AND CONTENTS DESTROYED
McKean County Democrat - May 29, 1919
The Stravino House, a three storie wooden building on Water street was burned to the ground early sunday morning. The contents were also a total loss.
The family was awakened by the cries of a pet car and upon getting out of their beds found the house in flames. They had scarcely time to don a few clothes and make their escapes. The firemen were quickly on the scene and from 3 o'clock until 5:30 a. m., had a fierce fight on their hands to save the adjoining buildings. They were somewhat aided in their efforts by the fact that the surrounding building were thoroughly rain-soaked, but M. H. Kelly's livery stable separated by an alley only a few feet wide from the burning hotel was in great danger of destruction for two hours. The firemen fought unceasingly however and confined the flames to the Stravino building which was beyond saving when the alarm was given.
The burned building was formerly the Pierce House and was erected in the early eighties. For a number of years the late A. H. Pierce, Sr. conducted a hotel there and later the place was conducted by M. C. Caskey Phillip Stravino has occupied the building for the past thirteen years conducting a store and boarding house and was its owner. Mr. Stravino said Monday that he had lived in Smethport 25 years, worked every day and that practically all his savings went into the purchase of the building and improvements upon it. He estimated his loss at about $10,000 upon which is insurance to the amound of $4,000.