The END OF THE GRAND CENTRAL
1996 Thanksgiving Day Fire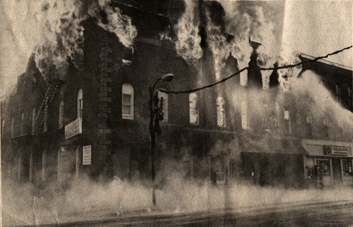 photo credit: Bradford Era
At the time of the terrible 1996 fire the building was being used for commercial and residential uses and was owned by Bud Hector. All that was left of the building after this devastating fire was a brick shell that was torn down in the following months. The town lost many precious memories when it lost this historical landmark.

article credit: Firehouse May 1997 pg 78
courtesy Gary Drum, Jr.
On to 1999
Back to 1895 Virtual Main Street