Father of Smethport Bicycling: Dr. F.C. Pierce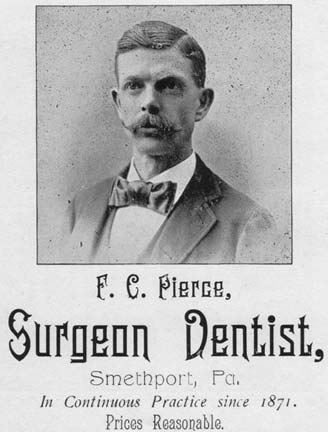 Father of Smethport Bicycling: Dr. F.C. Pierce
Thanks to the efforts of early bicycling advocate Dr. F.C. Pierce, the Borough of Smethport was a leading national 1890s region of citizen bicycling hysteria and a leader in the national 1890s bicycling movement.
Dr. Pierce brought the very first high wheeler to Smethport in 1883. Because of his devotion to his bicycling hobby, the dentist set up a secondary business of marketing quality Rambler Bicycles.
Then, in 1893 the high quality Rambler "Safety Bicycle" arrived with a radical new design quite similar to today's mountain bicycle (but built for speed), the bicycling hysteria took off.
The cycling craze hit Smethport broadside.
Everyone from student to 50 year old citizen who could afford one of the machines purchased a bicycle. Purchases were announced in the McKean County Miner. Racing swept through the baseball crowd.
The Great Smethport Gold Watch Bicycle Races, organized by M.L. Armstrong & Dr. Pierce were held in Smethport from 1892-1899. The races commenced in front the McKean Court House and did a loop east toward Prospect Mountain & back to Smethport on the Galico Crossing Road and historic Galico Bridge over the Nunundah (Potato) Creek.
The winner earned the coveted Gold Watch reward.