Bayer House the 4'th of July 1906
Clermont, PA
click to go back to the map of Clermont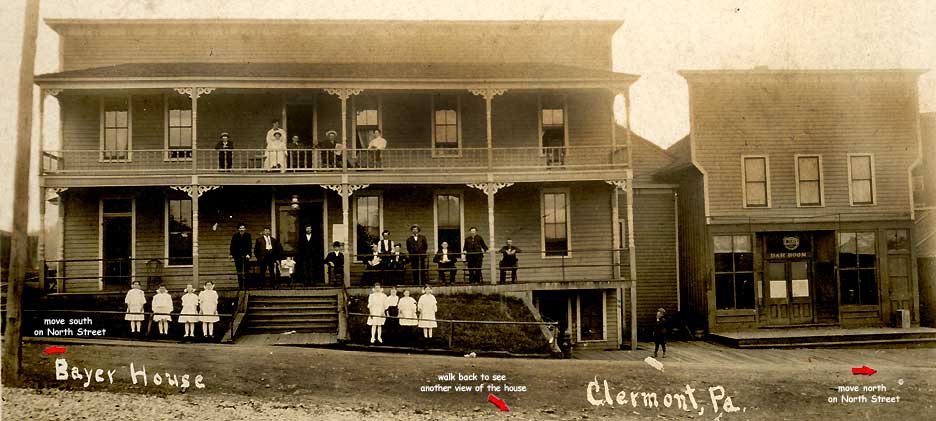 photo credit: Clermont Reunion 2000
Lawrence Bayer (aka Boyer) was one of three sons of Michael and Elizabeth Bayer. They owned the farm across the Red Mill Brook Road from the Clermont Cemetery, known recently as the Silfies Farm. Michael came to the United States in 1835, and two years later moved from New York City to Clermont.

Lawrence, owner go to the Bayer House, was born in New York City in 1836 and died in Clement in 1901. He was educated in Clement schools, and married Retta Dehn (daughter of BB and JC Dehn) of the Teutonia settlement. Their children were John Lawrence, Elizabeth, Margaret and Anna, as well as a son who died in infancy. John married Dr. Sigmann of Pittsburgh. It was Anna Sigmann who sold mineral rights to Kaul Clay for mining of coal and clay near the family farm.

Lawrence's brother Conrad was born in Clermont and died in Colegrove. A farmer, his widow married Christian Herzog of Smethport. His daughter married Colegrove merchant C. A. Anderson.

John, Michael's third son, had a sawmill near their farm and was very active in promoting the interests of Clermont. He was a Sergeant Township School Director, President of the Clermont Water Company, and developed the nearby Bloomster Hollow gas fields.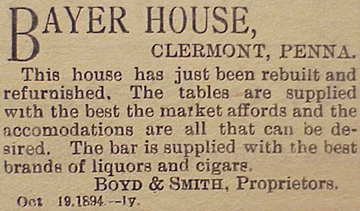 Lawrence Bayer's log job Death
McKean County Miner
Jan. 25, 1895
Alfred Flodine, a Swede, who was foreman on Lawrence Bayer's log job at Clermont, was killed last Sunday by a log rolling on him from a load, bending him over backward so far that his head was within a foot of his feet, breaking his back and crushing his ribs. The accident occurred about 10 o'clock a. m, and he died about 12:10 that night. He retained his senses to the last. The deceased was about 26 years of age, temperate in his habits, and well thought of by all of his acquaintances. He had lived in this country seven years. The funeral was held in St. Luke's chapel at 2 o'clock on Wednesday, under Lutheran service. The remains were placed in Rose Hill cemetery. He had no relatives in this country, his father and mother being in Sweden.
New Doctor for Clermont?
McKean County Miner
February 7, 1896
Dr. I. E. Burt and wife were registered at the Bayer House on Monday last. The doctor was sizing up the town with a view of locating here.