The Patch School 1897, Clermont, PA
click to go back to the home page of Clermont, PA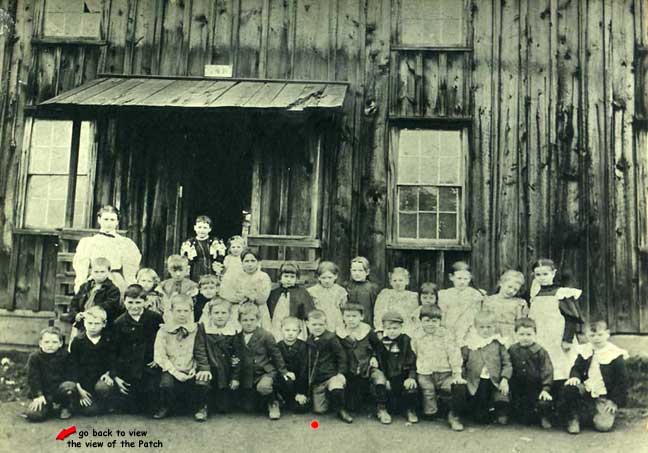 photo credit: Fred Hagman
The September 17, 1897 edition of the McKean County Miner, in its page 3 "Clermont Notes", had the following: "The school board has been compelled to establish another school, as there are more pupil than two rooms can accommodate. We have been informed they intend to move the Wermwag School to Clermont in rooms they are putting up".
Pictured here, in the front row, are Dave Hurley, Dave Troop, Joe Hase, Fred Hagman, Jean Silfies, Harry Silfies, Fred Peterson, unknown,
Barney Collins, Edwin Gibson, Steve Koshasy, John Callahan and John Clarkson.
In the second row are Tom Hurley, Sophia Steinhauer, Blanch Silfies, Carrie Miscada, Ida Silfies, Gertrude Keating, Maud Walker, Nellie
Anderson, Lulu Fiddler, Gretha Amend, Mary Whalen and Minnie Goodman.
Standing behind them are teacher Anna Gibson and Lizzie Clarkson.
This was called the Patch School because it was located across from the Clermont School, in the field known as "The Patch" for the 40 company houses built by the Buffalo Coal Company.
Many of these names are a footnote to a once-booming Clermont; weíve been able to piece together a little history on most of them, adding a human face to a turn-of-the-century school picture.
Dave and Tom Hurley belonged to one of at least 3 families of Hurley, all coal miners. James and David both had new-borns at this time, while Michael was Union candidate for Inspector of Elections in 1896.
Dave Troop was the son of Dewitt and Beulah Troop. If he looks a little anxious, its because his parents gave birth to his sister Mary just months before this picture was taken.
Joe Hase was the son of Ab and Ella Hase.
Fred Hagman was the son of Bength August and Hannah Fern Hagman. He was to later marry Anna Anderson. This Swedish family had a farm on the Clermont-Norwich Road, until they moved into town.
Jean and Harry Silfies were the off-spring off one of the many Silfies brothers; the family took over the Bayer farm on Red Mill Brook Road. Brothers Joe, George, Clint and Clarence were all on the Clermont baseball team.
Fred Peterson was the only child of stone-mason Hohn H Peterson and his wife Beata Anderson Peterson. He helped his father in the
general store on Pine Street. He never married, and died in Smethport in 1971.
John Callahan was the son of one of three Callahan families, Michael, Patrick or Simon, coal miners from Ireland.
Sophia Steinhauer came from a well-known name in Clermont; the Steinhauers were one of the families to remain in the Clermont area when the communal society of Teutonia dissolved in the mid-to-late 1840ís. She was named after the wife of John Steinhauer, who was killed by a log train near Clermont in 1891.
Gertrude Keating was the daughter of John F and Ella Cushing Keating; John managed the Buffalo Coal Company mines, ran The Clermont House hotel, and at one time ran a meat market. Maud Walker was the daughter of carpenter Ernest Walker.
Nellie Anderson sports the most common name in Clermont; at this time there were at least 11 different Andersons in Clermont, from either Norway or Sweden.
Lula May Fiddler was the daughter of coal miner Benjamin and Maria Fiddler. She died in 1938 in Reynoldsville, and was married to
George Ross.
Gretha Amens was a daughter of meat Market manager Jake Amend. She was mentally retarded and never married.
Mary Whalen was the daughter of coal miner Michael Whalen.
Minnie Goodman was the daughter of GW and Tenes Goodman.
Blanch Silfies was the daughter of Jesse "Fred" Silfies, who owned a pool hall and later the Imperial Hotel. She married Leo Birmingham, son of Clermont Blacksmith Pat Birmingham. (an interesting footnote ? Fred Silfies died in a car wreck in a car driven by Aaron Hellman ? probably one of the first auto fatalities in McKean County).
Ida Silfies, another daughter of Fred, married Fred Anderson and died in 1960.
text credit: David Johnson