Genius Behind the Company: Charles W. Platts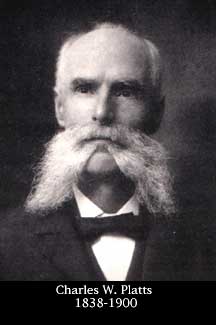 The beginning foundation
Charles W. Platts was an expert knife maker who emigrated from Sheffield, England with his family in 1864. He took a superintendents position with American Knife co. in Reynolds Bridge, Connecticut. Charles and his Wife had 5 sons, all of whom learned the craft of knife making by being young apprentices.
Keeping it in the family
After their children grew up, they went to colleges to further their knife making and business skills. Harvey Platts took a job at Little Valley, NY in 1891. While working in Little Valley H.N. Platts met his wife Debbie Case. They were married in June 1892. H.N. Platts became acquainted with the Case family as well by working with them in the factories. In 1893 Charles W. Platts moved to Little Valley with the family, and got a job at factory superintendent. By this time, all the Platts sons were working in the same company. There was a Platts in almost every department.
Starting their own business
After a few years, the family decided to start their own business. In 1896 Charles Platts and his five sons organized "C. Platts & Sons Cutlery Co." in Gowanda, NY. One of their continuous customers was the "Case Brothers & Co. Gowanda, NY" who would buy the Platts knives, but mark them with their name.
Moving to Eldred, PA
After a few years of good business, the Platts needed to expand their company. In 1897 Platts Factory was moved into a larger building in Eldred, PA. Sadly, in 1900 Charles Platts Suffered a severe stroke while at the factory. He never recovered and died that same year at the age of 62. After Charles death, the name of the company was changed to "C. Platts' Sons' Cutlery Co." The eldest son H.N. Platts took leadership of the company.
Moving to Bradford, PA
The Case Brothers were looking to start their own factory, but didn't have the means to do it. The Platts were also looking to buy a new building. So, the Platts and the Case family decided to merge their business and relocate in Bradford, PA. They used the family name "Case" for the business. Thus being the factory we know today.