1895: Alba Gilfillan Residence
118 E. Main Street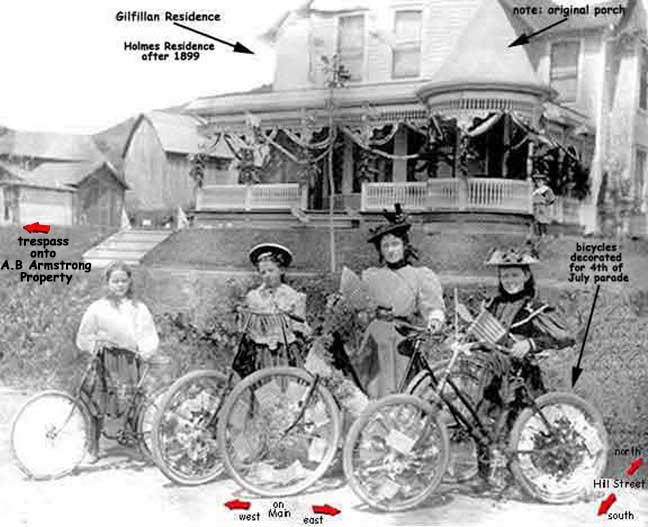 Photo credit: R.C. Gleason Collection
see Gilfillan Residence 2000A.Dsee Gilfillan Residence 2000A.Dsee Gilfillan Residence 2000A.D
Alba J. Gilfillan President of the Holmes and Gilfillan Lumber Inc.
Alba Gilfillan was a very respected man in Smethport during Smethport's heyday era. His lumber & manufacturing firm on Mechanic Street was one of the largest in the area. It was founded on March 1, 1894 by Mr. Gilfillan and a close friend Mr. Holmes. At that time Mr. Holmes was in charge of the office while Mr. Gilfillan went out on the road as a sales representative. The firm, which was torn down during the 1960's and 1970's, was housed at Mechanic and Water Streets. After a few years builders' supplies were added to the line of stock carried. With the company on the road to expansion they built a sawmill which operated from 1908 to 1922. It was in 1906 that Holmes and Gillfillan began the phase of munufacturing of the new JC Backus pinsetter invention. Smethport's JC Backus licensed his new invention of the bowling alley ten-pinsetters to the Holmes & Gilfillan operations. .

This lumber & manufactureing business would later be incorporated on July 1, 1919, under the name Holmes & Gilfillan Inc., with Mr. Gilfillan as president, Mr. Holmes as the vice-president and treasurer, and Mr. Bernard Ball as the secretary. Mr. Gilfillan died in 1932 a year after his retirement from the company. After Mr. Gilfillan's death Mr. Holmes took over as president, but he died in 1933, whereupon Mr. Ball succeeded to the office of president.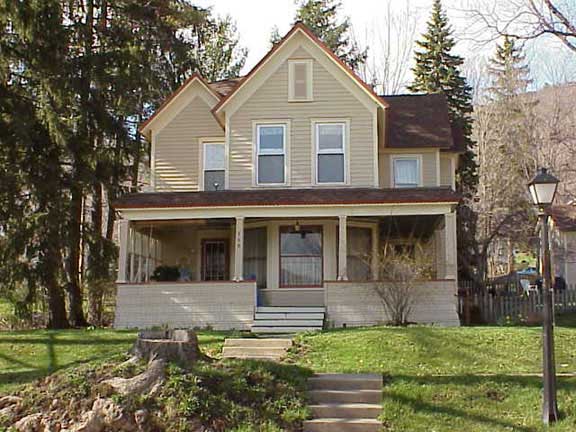 The Gilfillan Home is owned today by Dave Durst and Pamela Burlingame (granddaughter of Fred Burlingame)
Gilfillan Residence 1895.