1860: Original A. N. Taylor Mansion. Restored during 2011


later known as the D.C. Young Mansion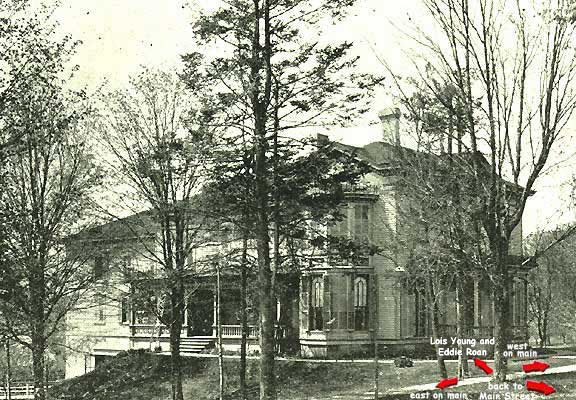 photo credit: Souvenir of Smethport 1895.



A. N. Taylor: Wealthy Smethport Merchant Falls to an Early Death from Back Porch!

Successful merchant A. N. Taylor died May 15, 1876 at his residence from injuries as a result of a fall off his back porch of his W .Main Street mansion on September 25, 1875. Born in 1824, A.N. spent his entire adult career in the merchatile business. In 1845 at age 21, he formed a partnership with his father, and purchased the Astor House Hotel, added a general store, and moved into the owner's apartment. In 1849 he married Ann E. Fuller from Oswego County, New York. He successfully managed and expanded the Astor House Hotel until it burned to the ground March 28, 1868 when he constructed a store on the Sartwell Block of W. Main Street. At the time of his untimely death in 1875 he was reportedly worth $300,000. The Taylors had three children, the oldest of which, Ada, married D. C. Young, who would also become a well known merchant in Smethport.

Taylor's daughter and son-in-law, D.C. moved into the mansion following Mr. Taylor's accident and the home became known as the D.C. Young Mansion and lived here from 1874-1913. Mr. Young also owned the D.C. Young General Store on Main Street. The store was destroyed by fire in 1910, and Mr. Young died 3 years later.
about A. N. Taylor: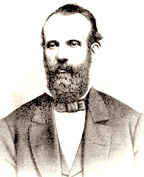 A. N. Taylor (deceased) was a native of Madison county, N. Y., and was born June 11, 1822, of English descent, and died May 15, 1876, the result of a fall, on September 25, 1875. Some time in the last century Robert and James Taylor came from England, and April 10, 1785, the first named married Sally Bailey, at Groton, Conn., but was lost at sea about six months before his son, James, came into the world. Sally Taylor then married John Bailey, May 31, 1796, and by him was the mother of several children; again becoming a widow, she next intermarried, June 5, 1810, with Daniel Goth. Deacon James Taylor, son of Robert and Sally (Bailey) Taylor, was born at New London, Conn., December 28, 1788, and January 14, 1811, he married at Franklin, Delaware Co., N. Y., Lois Niles, who was born August 28, 1787, at Colchester, Conn., and they had a family of seven children, the subject of this sketch being the fifth child in order of birth. June 13, 1824, the family moved to McKean County, and settled on a backwoods farm. The father, James Taylor, was elected the second sheriff of McKean county. A. N. Taylor very early gave evidence of the untiring and indomitable energy that was so prominent a characteristic of his life, and, having a taste for mercantile business, at about the age of nineteen he entered, as a clerk, the store of Hawkins, Ford & Taylor, his father being one of the partners in the firm. Two years later he formed a partnership with his father, and commenced business in the old Astor House Hotel building. A few years later he bought out his father's interest in the business, and built a store adjoining the Astor House, which he occupied until it was burned down in the fire of March 28, 1868. He afterward moved his store to the Sartwell block. When he first commenced business he had but $400 in the world. Although it is impossible to give a correct estimate, it is believed by those best acquainted with his affairs, that he was worth at the time of his death not less than $300,000. March 1, 1849, he became united in marriage with Ann E., daughter of William E. and Betsy A. (Bard) Fuller, and born December 28, 1828, at Unadilla Oswego Co., N. Y. Five years after her birth her parents moved to Mexico, Oswego County, where her father carried on farming, and where he died May 4, 1854; her mother died at the age of twenty-six, December 28, 1831. Mrs. Ann E. Taylor comes of "Mayflower" ancestry, her great-grandfather having been one of the Lutheran ministers who crossed the ocean on that historic vessel. Her grandfather, Isaac Fuller, was a lieutenant under Washington, and was promoted on the field of Bunker Hill, where he was wounded; he was a native of New Hampshire, where he married a German lady, their children being William E., father of Mrs. Taylor, and Christopher, formerly a Presbyterian clergyman of Rochester, N. Y., now deceased. By the marriage of William E. Fuller and Betsy A. Bard three children were born, viz.: Ann E., Charlotte T. (now deceased, who married the late Hon. L. T. Moore, of Emporium, Penn., who in his lifetime had been made the recipient of various political honors) and M. C. (of Bedford, Iowa). To the union of A. N. Taylor and Ann E. Fuller were born three children: Ada M. (now Mrs. D. C. Young), Frank N. and Flora C. (now Mrs. J. J. Newman). A. N. Taylor was a man of remarkable business capacity, and should be classed among the most successful men of our day and time. His entire heart and mind was in his business during his earlier days. He was keen and shrewd, quick to detect the weakness of an opponent, and improve an opportunity of favorable investment. Many men have complained that he was a hard man to deal with, yet the assertion can be ventured, without fear of successful contradiction, that no man whom he believed to be dealing honestly and fairly by him was ever oppressed or wronged by his authority, and that no man in McKean County was found to be more sympathetic and tender hearted when approached in a proper manner. He was a business man in every sense. He expected men to live up to their obligations. He took all manner of chances, and gave accommodation and time to men whom no other merchants would trust, in hundreds of cases. The loss that McKean County, and the borough of Smethport especially, sustains in the death of A.N. Taylor can not at once be estimated.

When a town loses one of its ablest, most energetic, successful and wealthiest business men, the loss is not fully repaired in years. At the time of his fatal fall he had in contemplation the use of a portion of his ample means for the building up and improvement of the borough, and had already taken energetic steps in that direction. He left a widow and three children, one son and two daughters; and though well provided for as to the things of this world, nothing can fully compensate the loss of a kind and wisely indulgent father and husband. Mr. Taylor, always a Republican in politics from the organization of the party, was once elected associate judge by an overwhelming majority. During the days of the Civil War he had the fullest faith in the ultimate success of the Union army, and he had lost since that time none of his love for the principles of his party or his zeal for their success.
The History of the Counties of McKean, Elk, Cameron and Potter, Pennsylvania ©1890
.

McKean County Miner October 20, 1881 article on the D. C. Young house
COMFORTABLE HOME The most conveniently arranged house in this borough, we think, is that of D. C. Young. No expense has been spared to put it
in its present condition, and excellent taste has been shown in all its appointments. The heating apparatus is perfect in every particular, and from cellar to garrett the house can be kept at a desired temperature. The water convenience is all one could wish, the arrangement for hot and cold water having been made in all parts, and the closests, bath tubs, etc, are found in different parts of the domicile. Mr. Young has also built in a new barn, which resembles a comfortable dwelling house, more than the home of horses, or the receptacle for carriages. It has several compartments for special use. The painting of the exterior is nearly completed, and one of the finest barns in the county about ready for use.
About Dewitt Clinton & Ada Taylor Young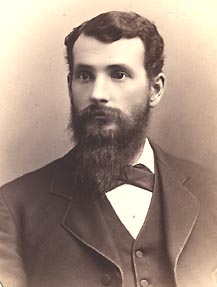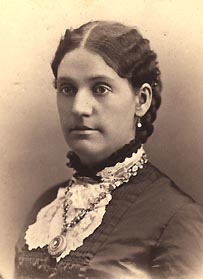 photo credits: Ernie and Pat Long Collection
D.C. Young, merchant, Smethport, son of Arthur and Laurinda (Stull) Young, was born May 5, 1843, at Farmer's Valley, McKean Co., Penn. His parents were among the early settlers of that county, and his paternal great-grandfather, William Young, was a native of Providence, R.I., where he lived and died. Stephen, a son of William Young, removed to Norwich, Chenago Co., N.Y., when that county was comparatively in a state of nature, and then married Betsy Green, and reared a family of ten children.
Removing with his family to Norwich township, McKean Co., Penn., he purchased lands and followed farming until his decease in 1841, Betsy, his widow, surviving him until 1858. Their children were as follows: Clinton, Edward, Anna, Hannah, Arthur, Betsy, Harriet, Stephen, Malvina and William. The parents of Lucinda Stull, mother of D.C. Young, were also among the pioneers of McKean county, her father having located in Eldred township in 1811. Arthur, the third son of Stephen and Betsy Young, was born at Norwich, Chenago Co., N.Y., in 1813, and with his parents removed to McKean County, Norwich township, settling in 1821.
When a boy of fourteen years of age he engaged in trapping for mink and otter, and after making a sale of his furs he found himself in possession of a sufficient sum of money to enable him to purchase a gun. Later he became one of the noted hunters of his day, and had the reputation of having killed a greater number of deer, bear, panthers and wildcats than any other individual in the county. This gun, his first purchase, which he always used in his expeditions in search of game, he bequeathed to his son, D.C., who cherishes it as a most valuable heirloom. Educational advantages were
not as great then as now, and Arthur Young's experience in that connection was of a practical nature. After his marriage he engaged in farming, and became one of the successful agriculturists of McKean county. He was a member of the Democratic Party until 1858, when he enlisted in the ranks of the supporters of Fremont, and ever after was identified with the Republican party. He never sought political preferment, choosing the enjoyment of the home circle rather than the more exciting field of politics. His death occurred in 1879; his widow still has her residence upon the old homestead farm.
D.C. Young, the subject of these lines, after attending the common schools at home, completed his education at Alfred University, Alfred Centre, Allegheny Co., N.Y., after which he, in 1865, began his mercantile career as an employee of A.N. Taylor, at Smethport, Penn., with whom he remained three years, when he accepted a similar position with Henry Hamlin, of same place, serving him for like period of time; then, in 1871, he became associated with his former employer, A.N. Taylor, as dealers in general merchandise. This partnership, however, was dissolved in 1875, and Mr. Young removed to Larrabee, McKean Co., Penn., where he carried on business for six years, and where he also owned (and yet owns) a large stock farm. In 1881 he returned to Smethport, where he has since been engaged in business, and is now one of the representative men and leading successful merchants of the place. In 1871 Mr. Young married Ada M., daughter of the late Hon. A.N. Taylor, of Smethport, and had three children: Raymond, Louis and Ada. He is a member of Smethport Lodge, No. 388, F.& A.M., Arnold Chapter, No. 254, R.A.M., of Port Alleghany, and of Trinity Commandery, No. 58, K.T., of Bradford. In politics he is a Republican.
biography credit:
History of the Counties of McKean, Elk, Cameron and Potter, Pennsylvania,
Volume 1; Chicago: J.H. Beers & Co.,
Publishers, © 1890.