1891: Smethport's McCandless Mansion Estate
High Queen Anne Architecture by famed architect E. N. Unrah & Spectacular Hyde-Murphy woodwork was completed in the heart of Smethport's Mansion District
t
905 W. Main St. Smethport, Pennsylvania
see McCandless Estate 2016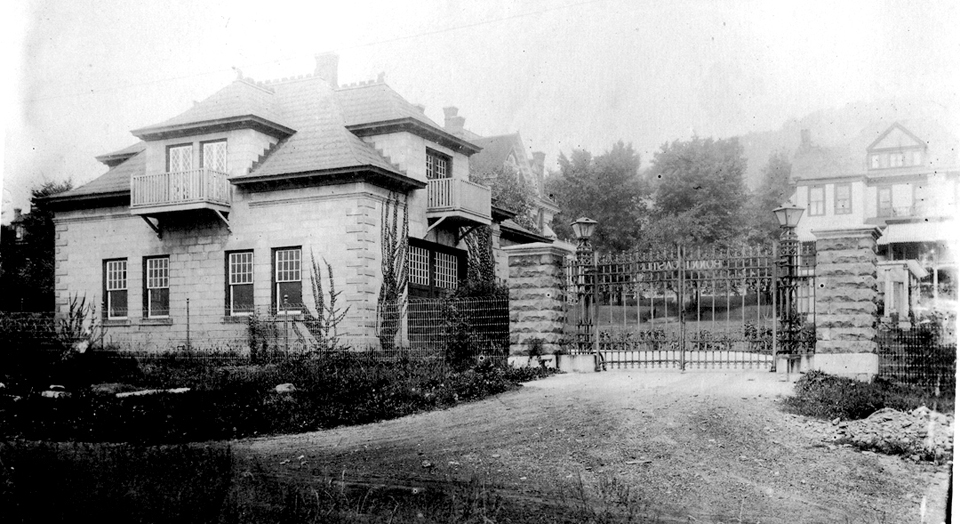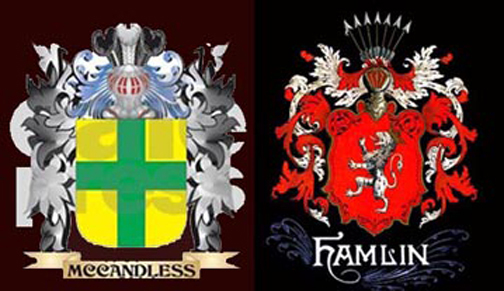 "Blue Blood Marries Blue Blood"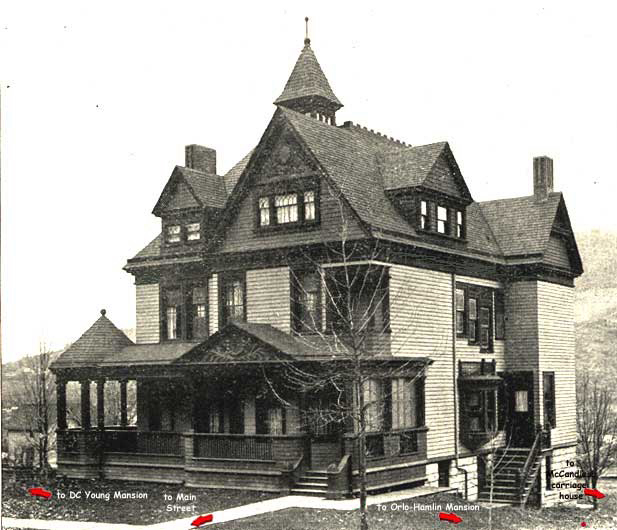 photo credit: Souvenir of Smethport 1895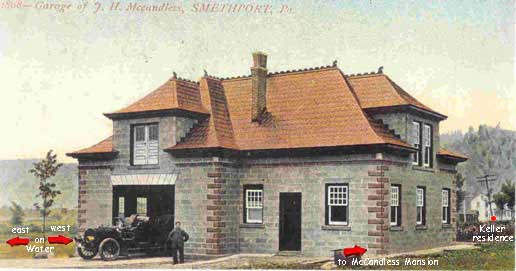 photo credit: John G. Coleman Collection
see McCandless Carriage House TODAY
In 1904 the McCandless' contracted a horseless carriage house on the rear of their large property which would house their 1905 (and later their 1908 & 1916) Pierce Arrow automobile manufactured in Buffalo, NY. The driver lived on the right hand side of the building. Since the automobile did not have reverse a large turntable was built into the floor so the vehicle could be revolved and driven out of the garage! Large iron gates were imported from Europe to complete the estate.

1885: Emma Marion Hamlin marries Rev. John Heber McCandless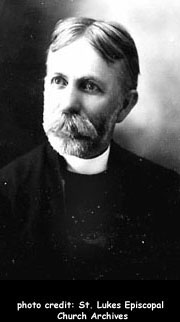 Rev. John Heber McCandless, eldest son of John and Rebecca Randolph (Sanderson) McCandless, was born in Pittsburgh, Pennsylvania, November 4, 1844.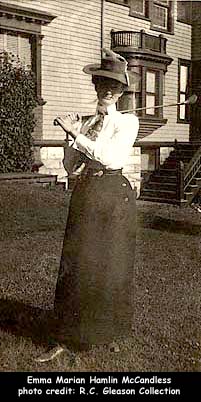 He was educated at McCandless Institute, Allegheny Seminary, and the Western University of Pennsylvania (now University of Pittsburgh), whence he was graduated Bachelor of Arts, class of 1864, receiving from his alma mater in 1867 the degree of Master of Arts. He then began the study of divinity, entered the General Theological Seminary (Episcopal) of New York City, whence he was graduated in 1867. He was ordained deacon by Bishop Kerfoot in Trinity Church in Pittsburgh, on Trinity Sunday, June 16, 1867; ordained priest by Bishop Kerfoot in St. Peter's Church, Pittsburgh, Friday, March 3, 1871. He was in charge of Trinity Church, Connelsville, Pennsylvania, 1867-69; in charge of St. Peter's Church, Blairsville, Pennsylvania; Trinity Church, Freeport, Pennsylvania; Christ Church, Indiana, Pennsylvania, 1870-72. He was rector of All Saint's Church, Pittsburgh, 1872-76; rector of St. John's Church, Newark, New Jersey, 1876-78; rector of St. Mark's Church, Mendham, New Jersey, 1878-80; rector of St. Luke's Church at Smethport, Pennsylvania, 1880-1909, resigning the latter rectorship on account of the serious illness of his wife, after twenty-nine years of continuous service. He is a member of Lodge, Chapter and Commandery of the Masonic order and a thirty-second degree Mason of the Ancient Accepted Scottish Rite. His college fraternity is Phi Gamma Delta. In politics he is an Independent. He married, October 26, 1885, at Smethport, Emma Marian Hamlin, born December 26, 1857, daughter of Henry and Hannah L. (McCoy) Hamlin. She was educated in the public schools of Smethport, later in a private school in New York City. Her father, Henry Hamlin, was born in Smethport, April 9, 1830, became a merchant, leading banker and prominent citizen of Smethport. He married, August 14, 1854, Hannah L., daughter of William Y. and Charlotte A. (Darling) McCoy. She is a member of the Daughter's of the American Revolution and of St. Luke's Episcopal Church.


McCandless Family History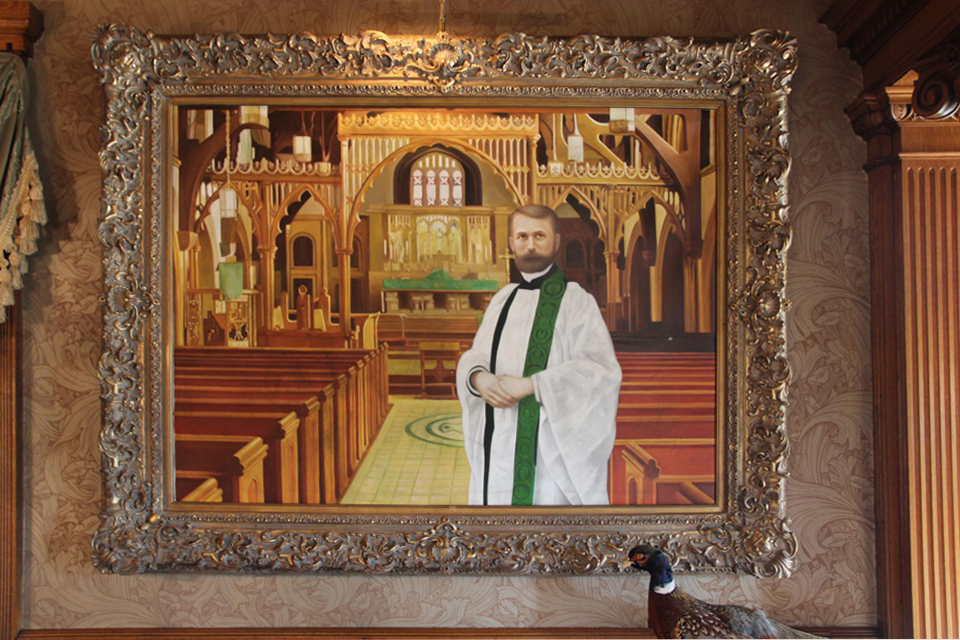 The Reverend John Heber McCandless, day of consecration of St. Luke's Episcopal Church, 1892

While this is an Irish name, George McCandless was a descendant of the Clan McKinlay of Scotland. This clan originated from Gelleaallum Mac an Ollarmh (son of the chief bard or physician). Mac Fhronnlaidh-Macionnlay-Mackkinlay from Fronnleidh Mac Arbair. Arms: "Gules a stag trippant ar." Crest: "An armed arm bearing a branch of olives, all ppr." Motto: "Not too much." Plaid, dark blue, center bar lines of orange, red and green; authority: Bachman of Ardmain on Scottish surnames. (I) George McCandless (a Mackinlay), the eldest son of a large family, was born near Glasgow, Scotland. The family lived in Caldaff, Ireland, from 1798 to July, 1813, then returned to Scotland, the ancient home of his race. The family bore all the physical and mental characteristics of their Scotch forbears, their business and religion being largely determined by their Irish residence at different periods. George McCandless was land operator and was engaged with his brother in the shipping business. He was loyal to his King and to the Established Church. In 1895 the Rev. William Soule writes that a cousin, William McKinley, a church warden, was then living in George McCandless' house in Caldaff. His family is highly respected. George McCandless married, in 1797, in Glasgow, Scotland, Margaret Jane Smith. Children: 1. Thomas, born 1799; remained in Glasgow; some of his family settled in Australia, others in New Zealand. 2. Mary, born 1801; married John Kelley, of Prince Edward Island, Nova Scotia; children: John, Henry, Margaret. 3. Susanna, born 1803, died 1886; married John Cromlish in Glasgow; children: John, Thomas, George, James, William Leighton, Mary, Margaret, Nancy, Isobel. 4. Matthew, born 1804, died 1846; married Eliza Graham; children: Margaret, Annie, James, Matthew; in 1830 Matthew McCandless and his brother-in-law, John Cromlish, came to the United States, settling in Pittsburgh. John Cromlish returned to Scotland to bring his wife Susanna and two young children to this country. 5. James, born 1806, died in infancy. 6. George, born 1808, died 1889; married Susanna Smith; children: George, Charles, Josephine, Matthew, Margaret, Jane, Mary, Margaret, Nancy, Isobel. 7. William, born 1810; married (first) Margaret Lefferby; child, Mary Ann; married (second) Sarah Pettigrew; children: William Wickliffe, Margaret. 8. John, of whom further. 9. Jane, born 1814, died in infancy. 10. Robert, born 1816, died 1856; married Ann Leferby; children: George, Wilberforce, Charles, Robert Doane, Margaret Virginia, Arabella Jeannette. 11. Margaret, born 1818; married William Lynch; children: William Newton, Robert, George B., Alonzo E., Margaret Jane, Elizabeth, Susanna, Mary E. The first eight of these children were born in Caldaff, Ireland, where their Baptisms are recorded in the register of the parish church (Established Church of England). The last three were born in Glasgow, Scotland. In 1831 George McCandless, his wife and other members of his family came to this country with Mr. Cromlish, aforementioned, from Glasgow, settling in Pittsburgh, Pennsylvania, where both he and his wife died prior to 1839 and were buried in Trinity churchyard, Pittsburgh, their remains being afterward removed by their sons to Allegheny cemetery. Three of the grandsons of George McCandless became clergymen of the Protestant Episcopal church, viz: John Cromlish, eldest son of Susanna; George, eldest son of George; John Heber, eldest son of John, of further mention. Many other members of the family have become prominent. A grandson of of Margaret Lynch is a rising young artist, while grandsons and great-grandsons are engaged, some in banking, some in railway management, in the manufacture of steel and in real estate operations. All their families are members of the Episcopal church, many of these men and women noted for their church, philanthropic and educational work at home and in foreign lands. Among the descendants of both grandfathers are a bishop, Right Rev. David H. Greer, bishop of New York; a member of the United States congress; a member of the state legislature and well known members of the professions of law and medicine. (II) John, eighth child of George and Margaret Jane (Smith) McCandless, was born in Caldaff, Ireland, in 1813, died in Pittsburgh , Pennsylvania, November 10, 1898. He came to this country with the family in 1831, settling in Pittsburgh. He became a mechanical engineer, was a lifelong member of the Episcopal Church, and a Republican. He married, May 22, 1839, at Pittsburgh, Rebecca Randolph Sanderson, born in Carlisle, Pennsylvania, December 25, 1818,, died in Pittsburgh, Pennsylvania, March 21, 1908. Children: 1. Sarah Adeline, born in Pittsburgh in 1840; she was assistant principal of the Bishop Bowman Institute for many years, now living in Pittsburgh, retired. 2. Margaret Emma, born 1842, also a retired teacher living in Pittsburgh. 3. John Heber, of whom further. 4. Mary Rebecca, born 1847; now residing in Pittsburgh. 5. George Alonzo, born June 29, 1849; now an engineer on the Pennsylvania railroad and resides at Oakmont, Pennsylvania; he married Fannie Ward, of Pittsburgh; children: George Heber, Rank Howard, John Cameron, all residing in Oakmont. 6. Anna Elizabeth, twin of George Alonzo, died unmarried April 7, 1908. Rebecca Randolph (Sanderson) McCandless was a daughter of George Randolph Sanderson, born October 1, 1795, near Carlisle, Pennsylvania, died April, 1881, at Sabula, Iowa. He was a son of William Sanderson, born 1761, married, December 26, 1786, Rebecca Randolph, born 1762. The Sandersons and Randolphs owned large plantations in the Cumberland Valley, Pennsylvania, cultivated by slaves. William Sanderson had eleven children, the seventh of which was George Randolph Sanderson, of previous mention. He married, in 1814, Sarah Rickard, born in the Cumberland Valley, 1796, died 1832. He crossed the Allegheny Mountains on horseback with his brother-in-law, Frederick Greer, making three trips and purchasing large tracts of land in the vicinity of Pittsburgh. In 1820 he settled in that city with his wife and two children, making the long journey from the Cumberland Valley in his own carriage. He was largely engaged in the transportation business, owning several of the large Conestoga wagons of that period, and many teams which were employed in freighting between Philadelphia and Pittsburgh. After the death of his wife and only son, he moved to Louisiana, living on a large sugar cane plantation. In his last years he lived at Sabula, Iowa, with his youngest daughter, Mrs. Sarah Foster, where he died and was buried. His five daughters all married young; his descendants number seventeen grandchildren, eleven great-grandchildren, and seven great-great-grandchildren. Children of George R. Sanderson: 1. Mary, died in Mount Caroll, Illinois; she married Robert Campbell, deceased, a hardware merchant and later a banker. 2. Adeline, died in Kittanning; married Joseph Brown, a wealthy owner of farm and coal lands. 3. Rebecca Randolph, married John McCandless, of previous mention. 4. Elizabeth, died in Mount Carroll, Illinois; married Pitman Howard, of Pittsburgh, also deceased, a grocer and farmer. 5. Sarah. 6. An only son. Sarah Rickard was a daughter of Jacob Rickard, of German descent, settled in the Cumberland Valley, Pennsylvania, married, in 1783, Mary (Wilkins) Morrison, widow of John Morrison, whom she married in 1773. Both Jacob and his wife died in Pittsburgh, they were the parents of three daughters, one of whom, Mary, married Frederick Greer, grandfather of the Right Rev. David H. Greer, bishop of New York, 1909; another daughter Sarah was the wife of George Randolph Sanderson, of previous mention; Rachel, the third daughter, married John Steigleman.
1923: Robert A. and Mirabel Hamlin Digel become owners of 905 W. Main
The granddaughter and grand son-in-law of Henry Hamlin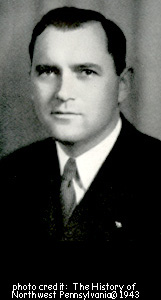 The owner and last surviving member of the original firm of S. H. Elder & Company, Robert A. Digel, is one of the important oil men and public-spirited citizens of Smethport, Pennsylvania. He is not only prominently identified with the production of petroleum and natural gas in the Bradford and Allegany fields, but is a leader in the financial, civic and fraternal affairs of Coleville and McKean County.
He was born at Coleville, Pennsylvania, March 19, 1900, son of Herman and Grace (Elder) Digel. His father, an oil man, was born in Farmer's Valley, Pennsylvania. His mother was a daughter of Silas H. Elder and his wife, Mary C. Snyder, of Butler County. Mrs. Digel died when her son was eight years old and he was reared thereafter by Grandfather Elder who was a firm believer that a boy could not begin learning some business too early in life. Thus it was that Robert A. Digel did odd jobs on oil properties while he was acquiring an education in the local public schools and private academies. As he grew more experienced heavier responsibilities were placed upon his shoulders.
In 1922, Grandfather Silas H. Elder organized S. H. Elder & Company, consisting of himself, his wife, Mary C. Elder, Robert A. Digel and younger brother, Howard M. Digel, the latter of whom died in 1929. Mr. Elder passed on March 5, 1934, and his wife died August 25, 1936. Since the latter year, 1936, Robert A. Digel has operated the company as its sole owner. Out of respect to the memory of his grandparents the name of the concern has never been changed. The firm is interested in gas and oil in the Bradford field.
Mr. Digel is a member of the board of directors of the Bradford District Pennsylvania Oil Producers Association and member of the Pennsylvania Grade Crude Oil Association. He is vice-president and a director of the Smethport Water Company; a director of the Hamlin Bank & Trust Company, of Smethport, since 1933, and of the First National Bank of Port Allegany, since 1934. Although an influential figure in the Republican party, his only office is member of the Smethport Board of Education. Following in the footsteps of his grandfather, he is a director and vice-president of McKean County Fair Association. Mr. Digel is a member and past president of the Smethport Rotary Club, and fraternally is affiliated with the Duke Center Lodge, Free and Accepted Masons, the Coudersport Consistory, Ancient Accepted Scottish Rite, and Zem Zem Temple, Ancient Arabic Order Nobles of the Mystic Shrine, of Erie, Pennsylvania. Other connections include membership in the Smethport Country Club and the Valley Hunt Club. He is active in the Seventh Day Adventist Church.
On February 6, 1923, Robert A. Digel married Mirabel McCoy Hamlin, daughter of Orlo J. Hamlin, of Smethport. Mr. and Mrs. Digel are the parents of five children, the four oldest attending Smethport public schools: 1. Hannah Catherine, named after her two great-grandmothers who were living at the time of her birth; she attends Smethport High School. 2. Mirabel Grace, named after her grandmothers. 3. Anne Hamlin. 4. Robert A., Jr. 5. Howard Elder.
History of Northwestern Pennsylvania; by Joseph Reisenman, Jr.; Lewis Historical Publishing Company, Inc.; ©1943.