Delano R. Hamlin Mansion
Constructed 1880
Son of Byron Delano Hamlin
married, Miss Eugenia McCoy, daughter of Dr. W.L. McCOY


Delano R. Hamlin Mansion 1895


photo credit: An Illistrated Suvenir of Smethport Pennsylvania, ©1895.


Delano R. Hamlin Mansion about 1884
photo credit: Dona "Tep" Cooper Collection

DELANO R. HAMLIN was born at Smethport, McKean Co., Penn., August 10, 1847. He was the only son of Byron D.
and Harriet Hamlin, and was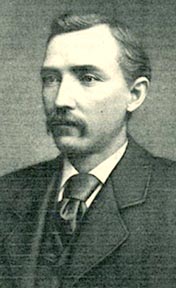 eldest of their family of three children. After having attended the public schools of his native borough until he was thirteen years old, he was sent to a public school at Flushing. L. I., and two years later entered Flushing Institute, conducted by that prince of education, Prof. E. A. Fairchild. The damp sea-air at that place disagreeing with his health, he was removed to Allegheny College, at Meadville, Penn., where he made excellent studies, and remained until 1868, when he returned to his home, and entered upon the study of law in his father's office. He was admitted to the bar, and on January 1, 1871 became a partner in his father's law and land business, under the firm name of Hamlin & Son, and continued as such until his death. In 1871 Mr. Hamlin married Miss Eugenia McCoy, a daughter of Dr. William Y. McCoy, of Smethport. This union was a happy one, the parties to it being congenial, each striving for the welfare and rational enjoyment of the other. They were blessed with two promising children: Paul and Jenette, the son being now a student in St. Paul's school at Concord, N. H., and the daughter at home with her mother, who keeps house in the beautiful family mansion erected for her by her husband a short time before his death. At an early age the subject of this sketch became a victim to attacks of inflammatory rheumatism, which continued at intervals, producing hypertrophy of the heart, and finally causing his death, which occurred May 30, 1884. His remains were buried in Rose Hill Cemetary, at Smethport, the funeral services being witnessed by a large concourse of sorrowing friends, assembled from all parts of the county. As a young man he started in life with bright prospects and high resolves, and, had his health and life been spared, no man in this region would have attained a higher station of honor and usefulness. His characteristics, habits and ambitions all tended toward the true and the right of charity and the public good. He was eminently public spirited, and always ready to advance every enterprise for the benefit of the community. In politics he was of the Democratic faith, ardent in the support of his views, laboring earnestly for the candidates of his political party, but never seeking office.

McKean County Miner

Mrs. Eugena Hamlin Beloved Lady Called
Smethport Residents were saddened by news that Mrs. Eugenia Hamlin, widow of the late Delano Hamlin, prominent lawyer and financier, and one of Smethport's best beloved residents had succombed to a long illness of which she had been a patient sufferer, at her home on West Main street Saturday evening at about 7:15 o'clock.
The following appropriate tribute to the revered lady has been contributed to this newspaper by one who intimately knew Mrs. Hamlin's noble qualities of mind and soul.
At her home in Smethport, Saturday evening, May 25, Alice Eugenia Hamlin, widow of Delano R. Hamlin and eighth child of Dr. W. Y. and Charlotte Darling McCoy.
Mrs. Hamlin was born in Smethport February 26, 1849 and her long and useful life has been spent here.
She is survived by her two children, Paul D Hamlin of Chicago and Mrs. W. L. Hammer of Corpus Christi, Texas, and two grandchildren, Jean and Eleanor Hammer.
She has been a devoted member of St. Luke's Church since its foundation and though of quiet and unassuming personality she made her presence felt by her fidelity to duty, as she saw it.
She was an active member of St. Luke's Guild for years; a Daughter of the American Revolution and a member of the Travelers Club, where her painstaking ability was recognized.