Smethport Baseball Team 1895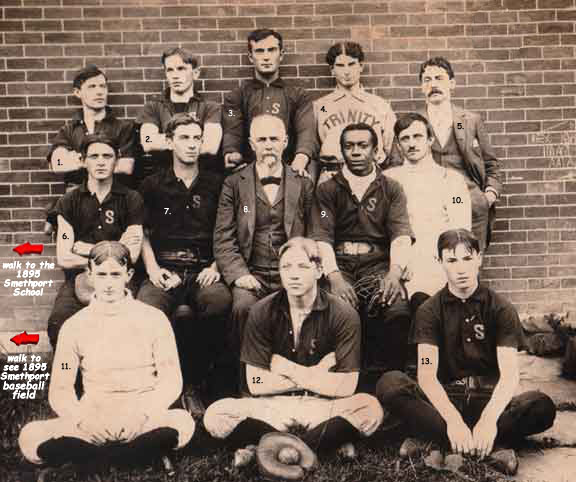 photo credit: R. C. Gleason Collection

Smethport Baseball Players Who We Know For Sure
Will Fuller 1. Sam Bell
Ray Young 2. Tom Morrison
Marshall Keefer 3. Marshall Keefer
Herman Tull 4. Ray Young
N.H. Knapp 5. Dr. Clark
Sam Bell 6. A. H. Perce
Tom Morrison 7. Herman Tull
A.H. Pierce 8. M.L. Armstrong
Tom Young 9. Tom Young
Niff Sasse 10. N.H. Knapp
Waldo Sasse 11. Niff Sasse
M.L. Armstrong-Manager 12. Will Fuller
Dr. Clark-Umpire 13. Waldo Sasse

The Famous 1895 Smethport Baseball Club
more stories to come!

A long-drawn battle.

PORT ALLEGANY GAMES!

McKean County Miner, August 2, 1895

Last week Thursday morning dawned fate and beautiful, and try 8 o'clock people began coming into Port Allegany in vehicles of all kinds, as it was the day for the greatbaseball match between Austin, Port Allegany and Smethport. The two first named teams had fortified themselves by importing talent from outside towns. Austin's team did not contain a single man that belonged to Austin, while Port Allegany had six men fromWarren and Titusville, and with this force they expected to wipe the Smethport eam from the face of this planet, but the fondest hopes are often dashed to the earth. Smethport's team consisted of Smethport boys, with the exceptions of Buck Wright, of Olean, who was hired to fill the palce made cavant by the death of Lewis Burke.

When the morning train from Coudersport arrived it contained a large degation from the new city on the headwaters of the Allegany river.




Bradford Hoodlums Hit Players





The treatment received by our baseball team during their recent visit to Bradford was not calculated to inspire them with much respect for the people of that city. During the game there on Thursday of last week the hoodlums who witnessed the game threw stones and sticks at the players.When the boys got into the wagon to come home, they were again subjected to a volley of rotten lemons and other missiles, and this time no one interfered. If the police and citizens of Bradford cannot protect visiting baseball teams from insult and abuse, they cannot expect to witness very many games in that city, asno decent clubs will want to subject themselves to such treatment.




Herman Tull Becoming Famous

McKean County Mine,r August 9, 1895


Young Tull, who occupies the box for Smethport, is gaining an enviable reputation as an amateur ball player. The sports of the county seat are ready to stake their money on any game where Tull does the twirling. -- UST right.





Keefer Hitting Homeruns!

McKean County Miner, August 16, 1895

Keefer has earned for himself an eviable reputation as a batter and all around good ball palyer. his home runs have always been at a time when most needed, and his two-bagger in teh first game here with teh Bradford team brought in three scores at a critical point. We predict for Keefer a good record in the ball arena.
Tull Repalces New York Pitcher

Herman Tull, our peerless pitcher, received a letter Wednesday from manager of the Franklin, N. Y., team asked him to play with that team from the 7 to the 14 of September. If manager Armstrong can spare "Hulled" that long he will go.
Will Fuller and Unknown Player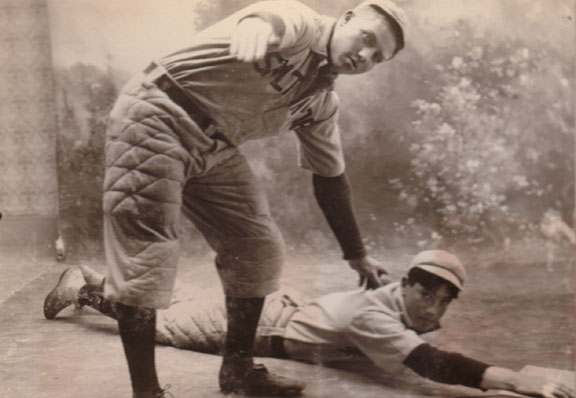 Photo credit: R. C. Gleason Collection

Will Fuller



Photo credit: R. C. Gleason Collection

Back to Smethport Baseball Team 1892
Back to Historic Smethport Baseball Field
Back to Smethport History Main Page