Rose O'Neill
The Creator of Kewpie

Excerpts taken from the book, "Kewpies- Dolls & Art of Rose O'Neill & Joseph L. Kallus", Author, John Axe

return to Cameo Doll Factory Home Page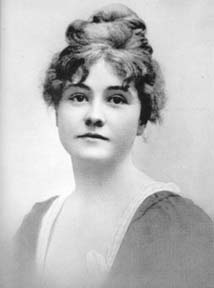 True Art, whether it is found in literature or in the plastic creative mediums, must have excellence of form or expression and it must express ideas of permanent or universal interest. Rose O'Neill's Kewpie has met this criteria for almost 80 years now. Kewpie, an enchanting and charming little elfin creature, was inspired by Rose O'Neills baby brother and she stated that her Kewpie was the baby form of Cupid, a pagan god of love, "but there was a difference. Cupid gets himself into trouble. The Kewpies get themselves out, always searching out ways to make the world better and funnier."
The Columbian Exposition of 1893 in Chicago celebrated the 400th anniversary of the discovery of America by Columbus. Architects designed a park full of buildings to house the exhibits and displays and these buildings had impressive classic facades and porticoes that revived an interest in that style of architecture. Classical motifs in art and decoration became popular once more and Ancient Greece was the inspiration for another romantic movement.
This was the latest part of the Victorian era and there was more freedom of creativity for both men and women and new expressions in art and in literature were sought and expressed. The leading centers of intellectual activity were the rapidly growing cities in both Europe and America.
The cosmopolitan life attracted artists and intellectuals and many of them went to Europe to study and to live in sophisticated settings like romantic Paris. Several talented American women were drawn to the romantic movement. Gertrude Stein (1874- 1946 ) lived in Paris after 1903 and her home became a center for artists and writers, such as Henri Matisse, Pablo Picasso, Sherwood Anderson, Ezra Pound, Ernest Hemingway and John Reed. Isadora Duncan (1878- 1927 ), who revolutionized the dance by drawing her inspiration from nature, the "god" of the romantics, lived in Europe after 1902. She danced barefoot in a loose tunic, suggested by Greek sculpture, and furthered the 20th century emancipation in woman's dress with her unique costumes.
Rose O'Neill's life and work were formed in this same intellectual atmosphere and time. The classical past and the romantic movement had a great impact on her creative forces.
Rose O'Neill was an illustrator, a sculptor, a designer, an artist, a novelist, a poet and she was a totally original individualist. She was a true "Renaissance Woman" who utilized and explored her many talents and interests and left behind a great creative legacy that is still studied and admired. Of all her many works and projects, the one that will always be the known is her Kewpie. Even people who have never heard of Rose O'Neill have heard of Kewpie dolls; even people who could not accurately describe a Kewpie doll know that it is something cute and clever. The little nude, chubby Kewpies with their wry topknots of hair began as magazine illustrations but their most popular form has been dolls and figurines. Everyone loves to look at Kewpies; no one can resist touching and holding a Kewpie that is in a modeled form. Kewpies amuse and delight and they make one smile and most of all they are the artistic expression of a woman who knew how to enjoy life.
Cecilia Rose O'Neill was born on June 25, 1874, in Wilkesbarre, Pennsylvania, the second child of Alice Asenath Cecilia Smith and William Patrick O'Neill, both of whom were talented, creative and artistic. Mr. O'Neill moved his family to Battle Creek, Nebraska, when Rose was three. From an early age Rose's romantic parents instilled in the child their love of the Greek and Roman gods. The O'Neill parents encouraged Rose to develop her own creative talents, which included drawing, music and writing.
By the time that Rose was 14 the family had moved to Omaha, Nebraska, and she now had six brothers and sisters. In 1889 Rose entered a drawing contest for children sponsored by the Omaha World Herald. Her work, called Temptation showed a rather immodestly clad, for the times, figure of a woman inspired by classical mythology fleeing along a rocky path. The drawing was so good that the newspaper at first could not believe that it was from the hand of a young girl.
Patrick O'Neill inspired his daughter to join a company of touring actors in 1890 to encourage another aspect of her many talents. Rose was not able to properly interpret the Shakespearean roles that her father loved so much as successfully as they both had hoped so she left the band of strolling players and turned to writing as an outlet for her creative drives. (Reportedly, Rose's father had presented her to Mme. Modjeska, the famous 19th century Shakespearean actress, when Rose was about 14 or 15, and Modjeska had informed her that she was too "sensitive" to compete in Modjeska's profession.)
In 1893 Rose left Omaha for New York City, where she intended to publish a novel she had been working on and pursue her ambition of drawing illustrations for magazines. Up to that point she was largely self- taught so she enrolled in art classes and had some success illustrating stories for such magazines as Truth, Harper's Weekly and The Great Divide. Illustrations for magazines was a field dominated by men at that time so Rose signed her works with her initials "C.R.O." to disguise the fact that she was a woman. The year that Rose left for New York her father moved his family to a rural setting in the Ozark mountains in Missouri. The O'Neills called their new home Bonniebrook. Bonniebrook, which was basically a rustic cabin at that time, was to have a great influence on Rose O'Neill and it affected the rest of her life. The pastoral serenity of Bonniebrook appealed to Rose's romantic nature and the tranquility of living in a remote district allowed her more time to formulate her future creative visions.
Gary Latham, a young man whom Rose had met while the family was located in Omaha, called on her at Bonniebrook and he and Rose were married in 1896. Rose returned to New York with Latham and worked as an illustrator for Puck magazine, signing her drawings "O'Neill- Latham." Latham appeared as a model in many of Rose's works at this time. Rose's marriage was not a happy one. When not enough money came in the door of their home, love flew out of the window. In 1901 Rose and Latham were divorced and she returned again to Bonniebrook, continuing her career as a magazine illustrator.
About a year after Rose returned to Bonniebrook she married Harry Leon Wilson, Puc's literary editor, whom she was not supposed to have met while living in New York, according to several O'Neill biographers. Both Rose and Mr. Wilson resigned their respective positions with Puck and moved to Connecticut where they worked at writing novels. In 1904 Rose's first book, The Loves of Edwy, was published. Wilson published the classic novels The Ruggles of Red Gap and Merton of the Movies, among others. By 1930 Rose O'Neill had published three more adult novels- The Lady in the White Veil (1909), Garda (1929), and The Goblin Woman (1930); and a book of poetry, The Master Mistress (1922). During this period she also authored four children's books- The Kewpies and Dottie Darling (1910), The Kewpies, Their Book (1912), The Kewpie Primer (1912), and The Kewpies and the Runaway Baby (1928). The Wilsons were close friends of Pulitzer- Prize winning novelist Booth Tarkington and his poetess wife and she also did illustrations for their literary works. In 1905 the Wilsons and the Tarkingtons spent the summer in Italy at a villa on the Isle of Capri, where Mr. Wilson and Mr. Tarkington co- wrote the successful Broadway play The Man From Home.
After five years as the wife of Harry Leon Wilson, Rose who was outgoing and vivacious, became disillusioned with Wilson's moods of dispair and silence and she divorced him. They reportedly remained supportive friends afterwards.
Rose O'Neill returned to Bonniebrook in the Ozarks again. Supposedly she was melancholy because of the disappointments in her life and she became more introspective and reflective. At Bonniebrook she claimed that little elfin creatures appeared to her in a dream. She reported in the Women's Home Companion in 1910 that "they were all over my room, on my bed, and one perched on my hand. I awoke seeing them everywhere. Because they felt cold, I knew that they were elves." Rose drew pictures of these little creatures who had plump nude bodies and a small topknot of hair. For several years she had drawn similar chubby little babies for her illustration work. The elf- like creatures who visit Rose O'Neill in her dreams first appeared as magazine illustrations for the Woman's Home Companion in December of 1909. These charming little imps became popular immediately and Rose was commissioned to create them for various publications and for advertisements. This was the beginning of Kewpie.
Kewpie soon became big business for Rose O'Neill and the demand for various forms of kewpie was overwhelming. Soon he was to appear in every possible medium, from drawings and materials. In 1913 Rose O'Neill obtained a copyright for this very original and unique little character. Three- quarters of a century later the craze still exists for Rose O'Neill's Kewpie in all forms.
Rose needed assistance in managing and marketing the Kewpie properties. By 1912 Geo. Borgfeldt & Co. of New York had become interested in developing a line of Kewpie figurines and dolls. For this project the Borgfeldt company and Rose required the assistance of additional artists and sculptors. An advertisement was sent to the Fine Arts College of Pratt Institute in Brooklyn. Interested young artists who could draw and sculpt children were asked to present themselves to Fred Kolb of Borgfeldt, a distributor of dolls, toys and novelty items, and apply for the position of developing a line of Kewpie novelties. Seventeen- year- old Joseph Kallus of Brooklyn, who was studying at Pratt Institute on a scholarship, was selected for the Kewpie project after Rose O'Neill had approved his work. It was decided that the dolls and figurines would be produced in Germany, where Borgfeldt had connections and where porcelain production was more economical than in the United States.
Callista, Rose O'Neill's younger sister, was studying art in Italy at this time. Rose traveled to Europe to encourage Callista to be her business manager and to help oversee production of Kewpies abroad. While she was in Italy Rose traveled to Capri to visit Charles Caryl Coleman, a friend of her father, who owned the Villa Narcissus there. Coleman was captivated by the young and wealthy artist who was captivated by the young and beautiful Rose O'Neill and reportedly wanted to make her the inheritor of his properties in Italy. To avoid entangling Italian inheritance laws Rose purchased the Villa Narcissus from Coleman for a modest sum. Coleman and his staff continued to live in the villa until his death in 1929 at age 96. He left Rose his collection of paintings and art treasures that he had collected during his long life.
Rose and Callista returned to the United States in about 1918 because of the dangers of the World War and shared an apartment at 61 Washington Square in New York. In the meantime Rose continued her Kewpie drawings that illustrated her poems for Woman's Home Companion and Good Housekeeping. These projects and the royalties from Kewpie figurines and dolls made Rose O'Neill wealthy. Her income permitted her to remodel Bonniebrook into a comfortable 14 room house.
At this time Rose began to express a unique personal taste in her manner of dress. She now preferred to wear flowing gowns made of filmy materials, such as she had seen in artwork from the period of Classical Greece while in Europe. At her apartment on Washington Square, New York, she entertained other artists, writers and intellectuals whose company she enjoyed. During this period the popular song "Rose of Washington Square" was written by Ballard McDonald with Music by James F. Hanlery and copyrighted by Shapiro, Bernstein & Co. in 1919. Rose O'Neill experts feel that the creator of Kewpie was the inspiration for this popular tune, which has mostly been associated with comedienne Fanny Brice. ("Rose of Washington Square" was the theme song of the 1939 film of the same title which was a thinly- disguised version of the life story of Miss Brice.)
In 1919 Rose became good friends with a Norwegian couple, Matta and Berger Lie, who were visiting the United States on a business trip. Rose showed the Lie couple her newest drawings which are a series of voluptuous and sensuous nude figurines, including fauns, satyrs, centaurs and other mythical creatures, executed in pen and ink. Some of these drawings were translated into sculptures later, such as "The Embrace of the Tree" which was installed at Bonniebrook during Rose's life. Matta and Berger Lie encouraged Rose to do more work on these themes and invited her to stay with them in Norway where she would be provided with a studio to produce these pagan- like renderings. Rose and Callista traveled to Norway and remained with the Lies for about six months.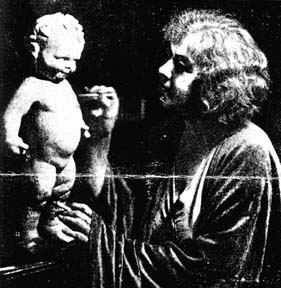 While she was in Europe, Rose enrolled in a course at the Paris studios of recently- deceased French artist Auguste Robin (1840- 1917), considered the most important sculptor of his time. Rose's Monster drawings show a great deal of kinship to such Robin works as The Thinker and Adam and Eve. Her Monster drawings were exhibited at a gallery in Paris and later at the Wildenstein Gallery in New York.
During her time in Paris Rose also began instruction in the French language with Jeanne Galeron who, in turn, handed her young brother, Jean. Jean Galeron returned to America with Rose and lived at Bonniebrook for a time until he settled in New York City with Callista's help. (There were rumors that Rose O'Neill had married the much younger French artist but she never confirmed nor denied these reports. Jean Galeron later married an English girl in Los Angeles.)
During the 1920s Rose O'Neill lived well from the profits of her work. She was the highest paid woman illustrator of all time; she was a world traveler; she had well- known friends in the art world in several countries; and she was active in the movement for Women's Suffrage, producing posters and drawings for the cause. During this period she bought a country home in Connecticut which she called Carabas Castle.
It was at Carabas Castle that Rose O'Neill sculpted her newest creation, Scootles, the little traveler who "scooted" all over the world. Scootles has been more popular in doll form than any other medium, unlike Kewpie who was produced in all media and materials.
In 1937 Rose O'Neill, now 63 years old, sold Carabas Castle and her Washington Square town house and returned home to Bonniebrook in Missouri. She continued to work on new artistic projects and to promote Kewpie. She had negotiated with movie studios in Hollywood to have a movie made Featuring Kewpie but this project never reached fruition. A new creation at Bonniebrook was Ho- Ho, the little laughing Buddha doll that caused an outcry from the Buddhists when it was mass produced later.
Rose O'Neill died in Springfield, Missouri, at the home of a nephew on April 6, 1944, after suffered several strokes. She was buried at her beloved Bonniebrook in the family plot alongside her mother and her brother, James. Callista died in 1946. Bonniebrook burned to the ground in 1947.
Before her death, Rose O'Neill had given some of her artwork to the museum of The School of the Ozarks (a college ) which is located at Point Lookout, Missouri. Other Rose O'Neill memorabilia pertaining to her years at Bonniebrook, was preserved by Dr. Bruce Trimble and his wife, Mary. In 1946 the Trimbles purchased a farm near Branson, Missouri, which is not far from Bonniebrook. This farm had been the setting of Harold Bell Wright's popular and sentimental novel The Shepherd of the Hills. The Trimbles established a museum at the Shepherd of the Hills Farm and in the Rose O'Neill room they exhibited all the artifacts pertaining to her work that they had managed to collect. The Museum of the Ozarks also houses an extensive collection of Rose O'Neill memorabilia, such as Kewpie dolls, Rose O'Neill's original artwork and copies of her books.
Collectors have done even more to preserve the memory and the work of Rose O'Neill. Even though the figurines and dolls of Kewpie were first produced as inexpensive novelty items, a vast number of them have been kept in excellent condition and are still seen for sale at doll shows, flea markets and in antique shops. Many collectors have huge collections centered around the designs of Rose O'Neill. Rose O'Neill collectors were first organized in 1967 by Pearl Hodges of Branson, Missouri, who promoted Rose O'Neill week to honor the creator of Kewpie. This event led to the formation of the National and international Rose O'Neill Clubs, with several affiliates, the largest being the California Rose O'Neill Association.
Each year Branson, Missouri, hosts the annual Rose O'Neill Kewpiesta to promote and preserve the memory of Rose O'Neill and her Kewpies. The International Rose O'Neill Club has sponsored such efforts as archeological digs at the site of Bonniebrook to search for Kewpie parts and other items that may have survived the fire of 1947. In 1974 the admirers of Rose O'Neill encouraged the Governor of Missouri, Christopher S. Bond, to proclaim June 25, 1974, as Rose O'Neill Day in honor of the great Missourian's 100th birthday. Jean Cantwell reported on this event in the Antique Trader Weekly of August 27, 1974, and succinctly described the day:
"One hundred years after her birth, the charm, beauty, and ethereal love of Rose O'Neill still permeates the land where she perceived the Kewpies and captured them, with love, on her easel."
The National Rose O'Neill Club of Branson, Missouri, also publishes a biannual "Kewpiesta Kourier" which is sent to its members "to preserve and cherish the memory of Rose O'Neill and to inform the public about her and her works."

The true genius of Rose O'Neill was best exemplified by her ability to seek out or to attract others who inspired her and encouraged her to pursue her artistic and creative endeavors. It is also seen in the love that many thousands of persons have had over the years for her work and for herself as a truly unique woman. If Rose O'Neill had done anything else except to draw Kewpies, she would still be acknowledged as an important creative talent whose works and designs would always be a part of America's artistic heritage.

Rose O'Neill's philosophy was, "Do good deeds in a funny way. The world needs to laugh, or at least to smile more than it does."



Excerpts taken from the book, "Kewpies- Dolls & Art of Rose O'Neill & Joseph L. Kallus", Author, John Axe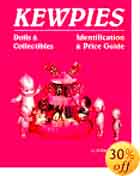 Click here to go to book link
to purchase