Jesco's Kewpies
By John Axe
February/March 1984 DOLL READER
return to virtual tour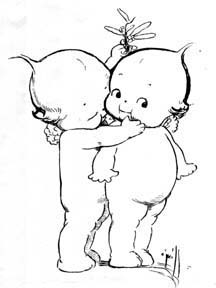 Joseph Kallus could have assigned the rights to Kewpie to any of several major American doll companies who wanted them. Instead he chose Nancy Villasenor of Jesco.
Kewpie began as illustrations in the Woman's Home Companion in 1909. Kewpie was a saucy little Cupid-type as conceived by his creator Rose O'Neill (1874-1944). Kewpie became so popular that there was such a demand for the Kewpie comic strips, lamps, dishes, postcards, and many other commercial items including dolls. In 1911 O'Neill advertised for a sculptor who could translate her Kewpie design into a doll form. Joseph Kallus, a young student at Pratt Art Institute, applied for the assignment and became a life-long associate of Rose O'Neill. He sculpted the models for the first bisque and the celluloid Kewpie dolls that were made in Germany, in 1913.
In 1925 Kallus founded the Cameo Doll Company and produced many dolls from his own design. His creations were also made into dolls by other firms. Kallus designed Scootles, Joy, Margie, Pinocchio for Ideal, Miss Peep and many others. When Rose O'Neill died in 1944 she assigned all merchandising rights to Joseph Kallus. In 1969 when Kallus retired from active participation in the doll industry he licensed Strombecker and later the Milton- Bradley Company to manufacture Kewpie. The Kewpie and Cameo properties now belonged to Jesco Imports, Inc., of Los Angeles, California.
In 1982 Nancy Villasenor, the President of Jesco, met with Joseph Kallus to discuss the Kewpie properties. Villasenor was inspired in this decision by her partner Jim Skahill, the vice president of Jesco. Skahill had a toy import business in California and he imported such dolls lines as Italocrernoma, Migliorati, Corolle, CR Club, and about 20 others. In 1971 he had hired Nancy Villasenor, shortly after she graduated form U.C.L.A., to act as a sales representative to sell dolls from the lines imported from Europe, and dolls from some American companies.
While working in the import business Nancy became exposed to many of the "better" dolls, and of all the toy companies that she represented and sold for, dolls became her chief interest. She was convinced by Skahill to begin to manufacture dolls for a company that she would found.
In the spring of 1982 Nancy went to New York to meet with Joseph Kallus, then age 89, to discuss licensing arrangements for making Kewpie dolls. Kallus saw in Nancy a person who would do with Kewpie as he had done. He said that he was not interested in making money at his age as he was in continuing the traditions of excellence that had always been associated with Kewpie and with Cameo and he thought that Nancy would do this. Kallus agreed to assign all the rights to Kewpie and all the rights to Cameo design to Nancy Villasenor when he realized that her business goals equaled his: She was committed to developing a business based on quality toys for the quality toy market.
After Kallus And Villasenor had concluded the initial part of their business arrangement, he was injured in a traffic accident and died suddenly. Rita Abraham, Kallus' daughter who had no interest in her father's designs, met with Nancy Villasenor when she went to New York to supervise the transportation to California of the original Kewpie and Cameo molds. Mrs. Abraham wanted Nancy to have the 12 trunks of Cameo design dolls, clothing patterns, and Rose O'Neill art work that Mr. Kallus had stored in his apartment, along with many boxes of files and business records.
Villasenor's first Kewpies released in 1983, were a re-issue of the 27 inch (68.6cm) Kewpie of 1966; "Yesterday's Kewpie," a 16 inch (40.6cm) dressed in outfits from the past; and "Kewpie Goes...," a 12 inch (30.5cm) series in various theme- oriented clothing designs.
The re-issued Kewpie from 1966 for collectors as made by Jesco is slightly smaller than the original version. This is because the older version was made from a stock body and legs, whereas the Kewpie made by Jesco is cast from Kallus' original molds. Nancy Villasenor reported that, "it would have been more cost effective to make new molds, but we were committed to using the original molds as we promised Joseph Kallus."
The series of 16 in (40.6cm) Kewpies are modeled after the designs that Cameo issued in 1961. The series of 12 inch (30.5) designs have clothing designed by Shirley Pepys (who is a descendant of Samuel Pepys, whose famous diary was a record of the social and political life of the time when it was published in 1825.) These Kewpies also meet with the objectives of Kallus and Villasenor: "to make Kewpie available for the enjoyment of children and to satisfy the Kewpie hunger of collectors."
Nancy Villasenor and jim Skahill have given up much of their European product import company to concentrate on developing and manufacturing Cameo designs by Joseph Kallus. Their dolls are manufactured in California, from American components. Jesco promised to pursue two directions relating to Cameo dolls, continuing the tradition of Joseph Kallus. Doll design, development and manufacture will expand in both areas. Jesco does not take any short-cuts, such as using cheaper blow-molded doll bodies. Jesco's attitude is that its growth pattern should be for "better dolls," not for "more dolls."
In addition to the return of Kewpie for 1983, Jesco has also developed a series of 15 high-quality dolls in the selection called "Cameo's Storybook." These are familiar characters from children's fiction, like Goldilocks, Sleeping Beauty and Pinocchio.
Doll collectors and children of all ages are delighted that Kewpie is back again - and back to stay at Jesco.