1899 Appert Glass Company
1901 consolidated into Mississippi Glass Company
Port Allegany, Pennsylvania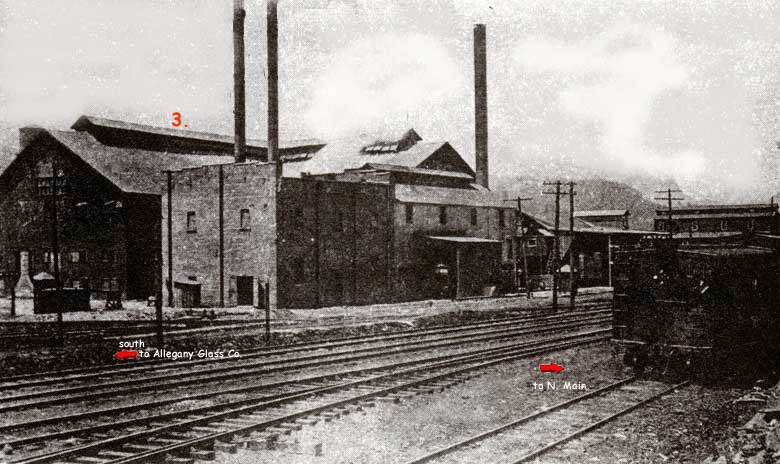 photo credit: Glass in Port Allegany by Charles H. Catlin ©1991
The Appert Glass Company of Port Allegany was constructed during 1898 and began operations early in 1899. At its commencement they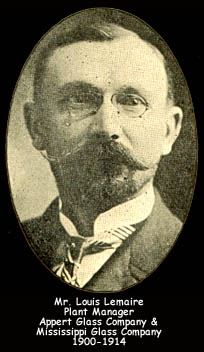 employed about 150 but after the merger in 1901 with Mississippi Glass Company, and additions to the plant in 1903 and 1913 their employment reached over 300.
On February 4, 1898 it was stated in the Reporter Argus that the new plant would make a variety of products including rectangular and cylindrical glass jars, glass sewer pipe, glass bath tubs, glass flushing tanks and other cast products. As it turned out they did make glass jars for several years. The principal product of the plant was rolled glass made into figured and wire glass used for windows, sky lights and even glass floors in a few cases. All this glass was heavier and thicker than ordinary window glass.
Mississippi Glass Company started with a bottle factory at St. Louis, Missouri. This was remodeled into a rolled glass factory in 1885, consolidated with the Appert Glass Company of Port Allegany in 1901 and with the Rolled Glass Company in 1903. They never ran during the daytime only like the Olean Glass Company did for a few years, but instead they operated 24 hours a day and 6 days a week from the first. A fire at the Mississippi lasted about 9 to 10 months with the shut-down for repairs usually coming in the summer. Glass in Port Allegany by Charles H. Catlin ©1991

Louis Lemaire is one of our leading men in the glass business, having been manager of the Mississippi Glass factory for the past thirteen years.
Between 1892 and 1900 he was manager and consulting engineer for the DePauw Window and Plate Glass Company at Alexandria, Indiana. He came to Port Allegany in 1900, to take the management of the Appert Glass Company's factory, and after the consolidation of the Appert and Mississippi Glass Companies, took up the position of manager and consulting factory manager of the Mississippi Glass Company, which he filled until 1914 when re returned to France just prior to the break-out of WW One.
Tearing Down Big Glass Factory At Port Allegany
The McKean County Democrat, March 29, 1934

The Unitd Iron & Metal Company of Pittsburgh were the successful bidder for the buildings and equipment of the Mississippi Glass Factory at this place and started Tuesday on the work of dismantling the plant. At present about eight men are working the job, a number of them local citizens, and it is supposed that a larger crew will be put to work next week. As much of the building material will be sold locall as can be marketed while the iron and steel will be shiped away. This is the third large factory to be dismantled in Port Allegany since the World War, the tannery and window glass factory having previously been torn down.For more than thirty years the Mississippi was Port Allegany's largest industry, and furnished employment for about one hundred and fifity men. It is stated locally that some other plants of the Mississippi Glass Company in other localities will also be dismantled. In view of the fact that the Mississippi Glass Company is not selling any of the land on which the buildings are loated and have refused a number of offers for residences which they own here, hope is being ntertained that with the revival of business conditions, the company will erect a new and thoroughly modern factory here. It is a fact tat the resnet buidlings had become obsolete, and that vast hanges would have to be made to adapt them to the present manufacturing processes.


Locations of the three Port Allegany glass factories just after 1900
#1 Olean Glass Bottle Factory #2 Allegany Window Glass Company #3 Mississippit (Appert) Glass Company

photo credit: John G. Coleman Collection
Return to Port Allegany main page
Return to Virtual Tour HOME PAGE