1884: McKean County Poor Farm Complex
just west of Smethport, PA on US Route 6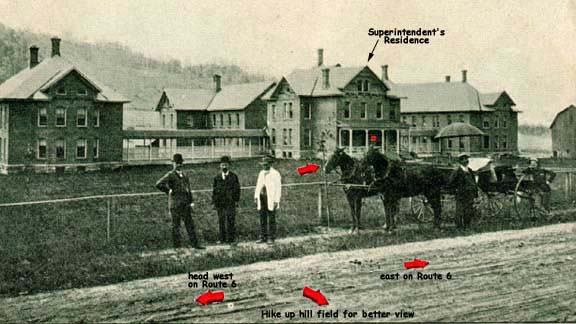 photo credit: Dona Fizzel Cooper Collection
Click here to see Sanborn-Perris Map
Poor Farm Complex prior to restoration
In September, 1883, a petition was signed by a majority of the poor masters was presented to the court asking for an election on the question of establishing a poor farm. This was granted, and in February, 1884, 1,611 votes were cast in favor of and 885 against such establishment. In March, 1884, an issue of bonds for $50,000 was authorized; in April the Wilcox farm was purchased, and D. H. Burnham employed as superintendent of the farm. In May the style of the Allegheny county poor buildings was adopted. In the early days, Dr. Burg Chadwick arrived by horse drawn carriage and performed operations and delivered babies in a small, immaculate white room on the second floor of the ladies building. One of our residents, who was retarded, had several children born there. She could remember their time of birth by saying " one was born at potato planting time and one come snow fly." Dr. Chadwick ministered to the needs of the residents for 40 years, applying all medical skills and techniques known to him. He was loved by all. (Information given by Sena Kean Manor Centennial Celebration Dedication Ceremonies on Tuesday, July 9, 1895 at 2:00 p.m.)



Disagreement Over the Building of an Almshouse in McKean County
McKean County Miner May 13, 1879

We are compelled to cross words with the McKean County Miner on the subject of building an almshouse within the county. The present laws governing pauper--- are the best we have in the county. Each township should take charge of its own paupers. We have known instances where it was a little inconvenient, but compared with a public almshouse the blessings derived were ten-fold. Our poor houses -- they can be --- in numerous counties of the state are only --- of ---ky, will disgrace to the state and the age in which we live. The amendments made to conduct them have been far in excess of the ordinary demands of individual charity, -s improved in the different townships. We want no poor board in this county who will require of us champagne, game, oysters, and all the delicacies of the season – no deficiencies after our appropriation, no investigations, no sins committed under the mantle of charity. – Bradford Era




Beautifying Lawn At County Home


Robert Murray, a landscape architect representing the Lycoming Nurseries Co. of Williamsport, has arrived in Smethport to beautify the grounds of the McKean County poor farm, this borough, the county commissioners having contracted for this commendable work of improvement.

Mr. Murray finds the grounds of the fine group of county building, beautiful adapted for his work, which is now in progress.
The Democrat understands that H. H. Redfield is contemplating having Mr. Murray do considerable work on the grounds surrounding his residence on West Main street.




"BLIND BILLY" Dies At County Home




Had Been Inmate At Institution For Almost Fifty-three Years




William Vernon, aged 79 years, who has been an inmate of the McKean County Home for over half a century, died Sunday at that institution. "Blind Billy," as he was familiarly known, came from Skinner Creek, near Port Allegany, and entered the home July 1, 1885, the first person to enter the home after its completion. It was a familiar story of his that he sat on the steps waiting for it to be finished before he could walk in. He was a man of considerable intelligence, but had never had any schooling, having been blind all his life, and not enjoying the privileges of a school for the blind. His sunny nature made him popular with all who knew him, his infirmity having no effect on his good spirits.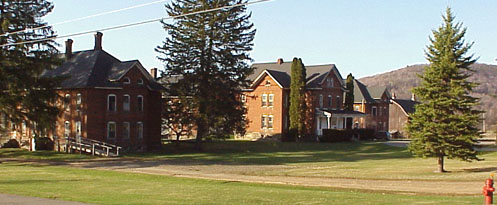 View of the McKean County offices in prior to restoration.