Carl John VanBlad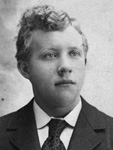 photo credit: Smethport Fire Department Archives
In the earlier years of the fire department the bell was rung by John Van Blad. When there was a fire he would go to the fire department and rang the bell. In 1889, the fire department used a gas powered whistle and then in 1910, the gas powered whistle went to a compressed air whistle.

Backus Novelty Works purchased the whistle for the company. Henry Hamlin donated a new alarm in March of 1913 and a bell tower was erected. The whistle was taken out when the bell came into action. The tradition of the testing of the siren at noon each day has been in effect since 1924. Three years later, codes came out for all the signaling of fires. John VanBlad was known for years for ringing the bell in times of emergency..

In the earlier 1900s, all the streets were still dirt, which made it hard for the hand drawn equipment to move around on the roads. For this reason, two chemical wagons were brought to the borough by the borough.

In 1910, Henry Hamlin and others presented the department with a brass and nickle trimmed steam pumper. Later that year the pumper was rated as the thing that "saved Main Street." This was said when D. C. Young General Store went up in flames. During April 1916, the department members designed a new hose cart.
Note: Click here or on John VanBlad to return to S. Fulton street.