Meet Charles McKean & Kate Daly McKean
The land on which the Colonial was built was first purchased by Eliza Burbank after the death of her husband, and sold to Frank Lindholm in 1899. In 1903,
t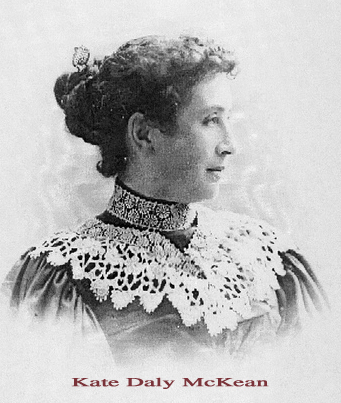 he land was sold by Mr. Lindholm to Charles McKean, a wealthy businessman who ran the only natural
gas company in McKean County at the time. The mansion was built in 1904 by McKean as a private home for Charles and his wfe, Kate. Decorators were hired from Buffalo, NY to design the interior of the house, and once designed, the furniture was never moved, with the exception of a chair to be pulled out for dinner. Mrs. McKean had all the classic novels specially made and bound in leather, to create a matching set.

Mr. McKean was born October 22, 1854 in Marvin Creek, the son of Bernard and Bridget Graham McKean. The McKean family were pioneers in the development of this section and Charles McKean was a worthy son of this splendid family. In 1880 he married Kate Daly. Kate was the younger sister of W. G. Daly, and the eighth child of James Daly, Jr. and Mary Varney Daly. She and Charles were childless.

In early life he worked on his father's farm and later engaged in the lumbering business with the old Smethport Extract Co. In the latter one of endeavor he was very successful and made his start on a long, useful business career.