1899: Inside Hamlin Bank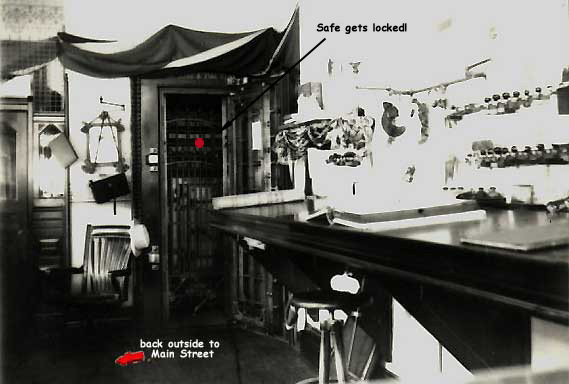 photo credit: R.E. Burdick photo. Lester Watson Collection
Hamlin Bank Vice President at the turn of the century was Ralph E. Burdick. In 1899-1900 he took a series of amateur photos with his new glass negative Kodak camera. The glass negatives of these photos were discovered in the attic of his Main Street home. This photo shows a rare glimpse inside Hamlin Bank and Trust at the turn of the century.

Fine Painting Of Founder Of Hamlin Bank & Trust Co.
(1892 or 1893)

On tuesday H. Birnbon, celebrated New York portrait painter, personally delivered to the Hamlin Bank & Trust Co., McKean county's oldest banking institution, in Smethport, a beautiful portrait likeness of the founder, the late Henry Hamlin, done in oil.

The large painting presents a likeness of McKean county's pioneer banker which is striking in its fidelity to detail. The picture will occupy a commanding position on the wall.
Click here to return to Hamlin Bank main page.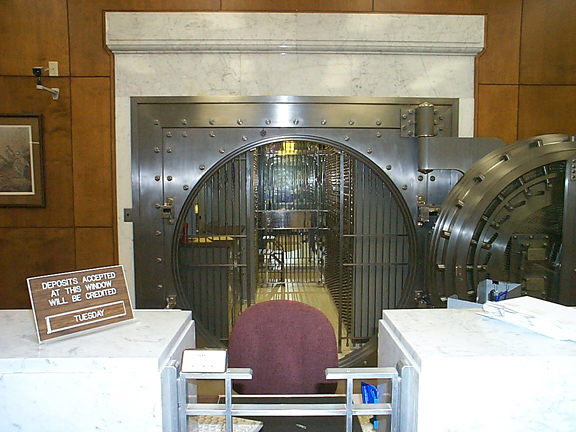 photo credit: Brett Sircy

Click here to see inside Hamlin Bank in 1899



McKean County Miner
Thursday, January 30, 1908
Pg. 3 Col 2
Safe Finally Opened

On Saturday last, the door on the burglar proof safe in the vault of the Hamlin Bank and Trust Co. was opened after about a week of hard work by experts. The drilling process had to be resorted to and was kept up for nearly four days. The men employed on this job were among the most skillful safe-openers in the United States, so it is readily seen that the job of cracking this safe would be a discouraging one to a burglar under the most favorable conditions. The door has been sent to the factory for repairs, and the Hamlin Bank and Trust Company continues to do business at the old stand, as it did all through the operations attending the opening of the safe.