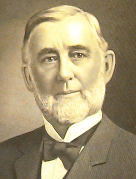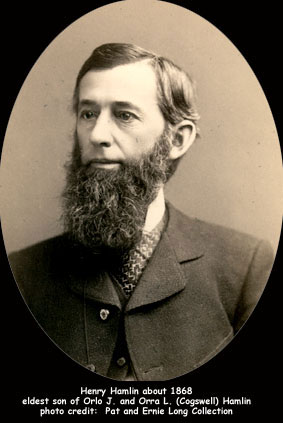 Henry Hamlin, eldest son of Orlo J. and Orra L. (Cogswell) Hamlin, was born at Smethport, McKean Co, Penn., April 9, 1830. At this time his father, Orlo J. Hamlin, a man of rare scholarly attainments, and, until obliged by physical weakness to give up his profession, the leader of the bar of his district, was an active practitioner, and his son, who had inherited in a marked degree his father's love of books and research, and whose mind fitted him to follow in his footsteps, naturally at an early age commenced the study of law. Finding, however, that his health demanded a more active life, he concluded to take up the mercantile business, and entered as a clerk to store of O. J. & B. D. Hamlin, of which firm, at the age of nineteen, he was admitted as a partner. From this time on until the year 1878, when he sold out his interest in the business to Mr. Haskill, he was successful in all his ventures; strict integrity, close attention to business, and his wonderful faculty of acquiring a knowledge of the minute of everything he undertook, being the secret of his success, and the latter trait has followed his through life, not only in business matters, but even in outdoor and other amusements, in which he has always taken a lively interest, ever ready to take a hand in them during his leisure moments, and never satisfied until he
has mastered every feature.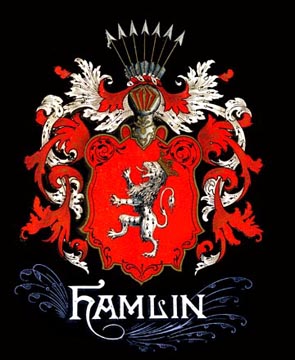 As a financier Mr. Hamlin has been wonderfully successful, making investments only after thorough investigation; and while he has been and is at present largely interested in timber lands in his own and other States, in the production of oil and in other commercial and ventures, he rarely makes a mistake or suffers a loss, his present banking establishment, known as the banking house of Henry Hamlin, being one of the solid institutions of Western Pennsylvania. A marked characteristic of Mr. Hamlin's business life has been his leniency toward the deserving poor among his debtors, as many a man in McKean county can attest, for while he has always worked under strict business rules and principles, he has never been an oppressor of the poor. Mr. Hamlin has done much for the prosperity of his native town: notably his connection with the present successful water-works system, the erection of his handsome bank building, which would be an ornament to a much larger place, his own handsome grounds, and his interest in all matters of public improvement.
Henry Hamlin was a recognized leader of the banking business. His father, Orlo Hamlin, arrived in 1826 as McKean County's first lawyer. Since 1853, Henry Hamlin had loaned money on a personal basis. The Haskell Store, located on the SW corner of Main & Church Streets , was a general store Henry Hamlin owned, and served also as his bank's office. It was named the "Hamlin Exchange Office". The Haskill Store was built by Henry and Bryon Hamlin in 1857. Bryon Hamlin was Henry's uncle and also a lawyer. Hamlin Bank was established in 1863, the same year when President Lincoln signed the National Banking Act, (N.B.A.). Henry Hamlin retired from mercantile life in 1874 and turned his store completely into a bank. In May 1880, a fire that spread from the Bennett House, the headquarters of General Thomas Kane, destroyed the bank. General Kane organized the immortal Civil War Bucktail Regiment in 1861. In 1886, a new building was built for only $15,000 which was a lot then! That same building is still here today.