Captain Asa H. Cory & Relatives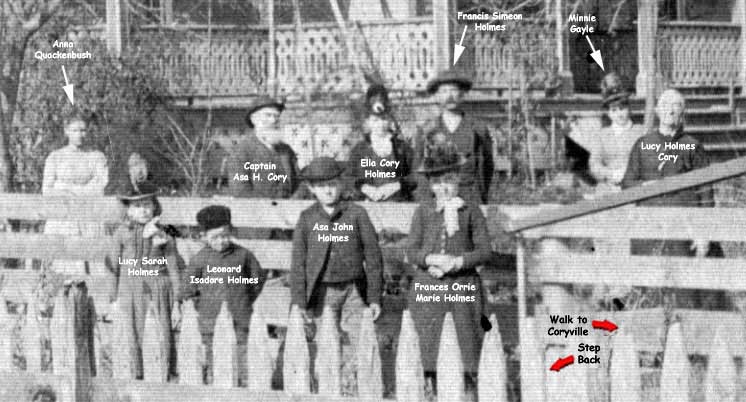 Back from left to right: Anna Quackenbush (hired girl), Captain Asa H. Cory, Ella Cory Holmes, Francis Simeon Holmes, Minnie Gayle, Lucy Holmes Cory (wife of Capt. Cory)
Front from left to right: Lucy Sarah Holmes, Leonard Isadore Holmes, Asa John Holmes, Frances Orrie Marie Holmes
photo credit: Jean Reese Collection
SMETHPORT, PA JUNE 17,1892
Death of Capt. A. S. Cory.
Captain Asa S. Cory one of the oldest and best known citizens of Keating township, died at his home at Coryville last Sunday afternoon, aged 78 years and 12 days.
The readers of the DEMOCRAT have known for several weeks past that Captain Cory had been very ill, but along back it was thought that he was improving in health, and some even thought that he would eventually be able to get about again, therefore it was a shock to many of his friends when it became known Sunday that he had passed away.
A. S. Cory was born in Sullivan, Tioga county, Pa, May 31, 1814. He began his business career in Wellsboro, Tioga county, where he published the Phoenix for a period of two years. He came to Smethport, and purchased the McKean County Journal, in September,1837, and changed its name to the Beacon, and published that journal in this place for about three years when he sold the office to the late J. B. Oviatt. Although Mr. Cory had retired from active journalism he was identified with the McKean county press for many years. He finally settled on the farm at Coryville where he continued to reside until the day of his death.
In 1838 Mr. Cory was married to Lucy, daughter of Hon. John Holmes. The children of this union are A. O. Cory and Mrs. F. S. Holmes, of keating township. Mrs Cory died a few years ago greatly beloved by a large circle of friends. In 1861 Capt. Cory raised Co. H, Fifty eighth Pennsylvania Volunteers, and became its captain, but in 1862, becoming disabled through exposure, he returned home. He was a member of Eldred Post, No. 158, G.A.R.
Mr. Cory was a member of the United Brethren Church, and it was largely through his efforts that the church at Coryville was built. He was a genial and companionable gentleman and had the respect and good will of all who knew him. He was postmaster at Coryville for 20 years, and performed the duty pertaining to that office in a most acceptable manner.
The funeral, which was very largely attended, was held at the house Monday afternoon at 1 o'clock, Rev. A. Bronson officiating, after which the remains were brought to this borough and deposited in Rose Hill cementery.
In the death of Capt. Cory McKean county has lost one its oldest and most highly esteemed citizens.