Coryville Memories by Fritz Edward Guenter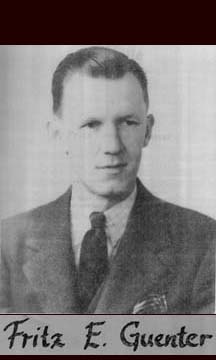 1994 Guenter Siblings, INC. Clearfield p36-41
The church in Coryville was directly across the road from the store, but up a bank so that you would have to climb up some steps to reach it. While Mother and her sister were growing up, you could look straight across from their second floor porch into the front door.
The building was plain and free of decoration. Later some stained glass windows were added, but early on a glazed, opaque glass filled every window. A small entry under the bell tower opened directly into the church. From a central aisle, simple pews on both sides went down to a slightly
elevated stage at the back. A door at the extreme left led back to a large room and small kitchen. The platform curved back beside the door. There were small gates at the left side led to the aforementioned door. There was a somewhat larger opening directly in front at the end of the aisles, while a small gate on the extreme right opened up to a piano on the stage. A heavy wooden lectern held a large Bible in the middle. Everything was colored light brown. There were gaslights down both sides and at the back of the stage.
On Wednesday nights prayer meetings were held. Thursday, all day, was Ladies A. The laidies of the church met in the back room and made quilts, prepared a lunch for which there was a small charge, and sn ocialized igeneral. My father and I went there to eat many times when Mother was not home, and I remember well that the food was delicious.
The prayer meetings were somewhat informal, with people spontaneously praying aloud when they felt the mood. At times, too, there was singing—someone would break into song and others would join in. I especially remember BF doing this; I enjoyed listening to his voice filling that church. Some gave testimony, which was an oral description to temptation, sin, and the help of prayer. I think for some this may have been an opening into the limelight, for others a type of catharsis. One of our neighbors, Mrs. Lemon, was apt to get somewhat carried away with her testimony. After I rushed home to tell my family about the juicy details of our neighbors' transgressions, Mother gave me a long talk about prayer and prayer meeting. My memory of the gist of it was: "Do not pray for specific things; pray for strength to help you survive." I had gone to that meeting with my grandparents. I do not think I went to many—if any—more.
My mother had been brought up in the tradition of the United Brethren Church. The Cory family had donated the land for the church and she had faithfully attended it all of her life. She had attended Otterbein College, the church supported school in Westerville, Ohio. With all this background, she still managed to have sensible and reasonable relationship with the church. Once, years later, after an unusually fundamental sermon, I asked her how she could tolerate such talk. She said, " I listen and try and translate it into what they should be saying."
My father had been brought up in the Lutheran religion and never joined the church in Coryville. He did attend regularly, taught Sunday school classes, and was even on the Board of Directors. He did not care for the traveling evangelists, but you would not know this from his attitude. Once, when he was older, an evangelist kept the congregation standing for what seemed like hours as he exhorted and railed for people " to come forward and be saved." Dad had a painful knee, so after a time he quietly sat down. The minister abruptly stopped and announced: " In all my years of service, that is the first time anyone has ever sat down on me!" Dad quietly stood up, smiled gently, and walked out. In moments others began to leave, and shortly the church was almost empty. I would like to think that people wanted to support Dad and certainly some did, but I suspect others just saw a good chance to get out! The next morning a shaken minister and evangelist were at our house early with all sorts of apologies. Dad gave them his gentle smile but remained completely noncommittal.
I once had Dad for a Sunday school teacher. He said an important thing to have in life was a " stick-to-it-iveness." I do not know what Biblical texts he derived this from, but I understand it crept into most of his lessons. Once I asked Tom Lemon, my neighbor buddy, what he had learned in Sunday school that day. He said, "oh, the same as usual…be good." The Golden Rule was a recurrent theme.
My family never really pressured me about religion, and as I grew older I did not attend church that much. Briefly there was some conflict about playing baseball on Sunday, but this was resolved quickly after some discussion about where the emphasis lay. Years later Mother was to say to me, "You know that through all the ages of history religion has been a powerful force for good in the world. It deserves your support."
At Christmas the church served as a community center. Christmas was celebrated at school with a program of songs, recitations, tableaux, and some small exchange of gifts. The program, such as it was, was repeated at the church Christmas celebration, with added spiritual messages and a great deal of carol singing. This was the setting in which families might exchange gifts, or a boy might give the girl he loved a gift. Many of the people who lived in the company houses we called "the chemical patch" were catholic and some of the Irish were also catholic, but at Christmas they came to the Coryville church. Some would stand in the back, more would stand outside, and others would stand across the road in front of the store, but all joined in the singing and laughed and smiled as a decrepit Santa brought a very small bag of hard candies to each child. There were almost no denominations on that one night. My friend Eldred "Deacon" Gill was a good Irishman and he told me that it was a sin for him to enter any other church. "So," he said, "I sin a little sometimes."
Nowadays fundamentalist churches have a bad image: greedy televangelists rake in the offerings; non-traditional customs have replaced old practices. These churches have become the laughing stock of the media. Yet I can remember much that was sweet and simple and kind about the United Brethren. I remember people of good character, strong men and women who worked hard and practiced what their Bible taught them. And the music was a joy! Even now, if I close my eyes and listen carefully, I can hear BF leading us all:

I come to the garden alone,
While the dew is still on the roses,
And the Voice I hear,
Falling on my ear,
The Son of God discloses.
And He walks with me, and He talks with me,
And He tells me I am His own,
And the joy we share as we tarry there,
None other has ever Know.