Dr. H. L. McCoy Residence
McCoy Stadium Named after this Man!
his 3 sisters married Henry, John, and Delano Hamlin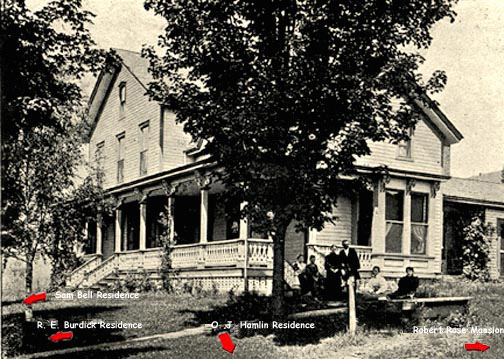 photo credit: Souvenir of Smethport, ©1895
See 2005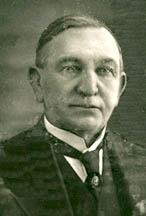 Henry L. McCoy, M.D.,
Smethport, son of Dr.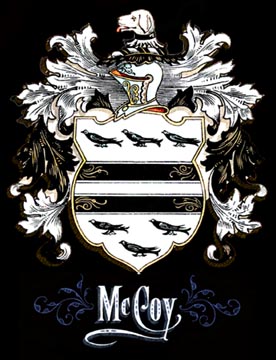 William Y. and Charlotte A. (Darling) McCoy, was born in Smethport, McKean County, Penn., in 1846. His maternal grandfather, Dr. George Darling, was the first medical practitioner of McKean County. Henry L. was educated in Smethport, and read medicine with is father, who was a noted physician of his day, also with Prof. Sanford Eastman, of Buffalo; he then attended two courses of medical lectures, and graduated from the University of Buffalo in 1868, commencing the practice of medicine in Smethport. In the winter of 1870-71 he attended a course of lectures at the College of Physicians and Surgeons in New York City; thence returned and resumed practice at Smethport. In September, 1869, he married Clara, the only child of P. Ford, and to them four children have been born: Alice, Grace, Agnes, and Charles. Dr. McCoy is a member of the I.O.O.F., lodge Commendery, No. 388, F.& A.M.; Bradford Chapter, No. 258, R.A.M., and Trinity Commandery, No. 58, K.T. He is also a member of the I.O.O.F., lodge and encampment. He is Senior Warden of St. Luke's Episcopal Church, of which his family are members. In politics the doctor is a Democrat.
taken from the History of the Counties of McKean, Elk, Cameron and Potter, Pennsylvania ©1890 VI. HENRY LANE Mc COY , son of Dr. William Young and Charlotte Augusta (Darling) McCoy, was born October 20, 1846, at Smethport , McKean Country, Pennsylvania, and has made his native town his home and the scene of his busy and active life up to the present time. He received the preliminary portion of his education in the local public school, and then for a time engaged in civil engineering in connection with the construction of the Pennsylvania Railroad through that part of the State lying between Warren and Oil City. During this time, however, his attention was turned somewhat forcibly to the tioner, and he decided to make it his career in life. With this end in view, he took up Prof. Sanford Eastman of Buffalo, New York, and eventually entered the Buffalo Medical College and the Medical School of Buffalo University. From this institution he was graduated with the degree of M.D. in the year 1867. Returning to his native Smethport, he began there the general practice of his profession, but in 1870 went to New York City, and during that year and the next attended lectures at the College of Physicians and Surgeons for Post-Graduates. His practice in Smethport has been extraordinarily successful and has grown uninterruptedly up to the present time. He is now the oldest practicing physician in the Borough of Smethport , and occupies a unique position in the affections of his fellow townsmen. In addition to his medical practice, Dr. McCoy is associated with many important business concerns in this region, and is a director of the Smethport Water Company, the Smethport Gas Company, and a stockholder in the Great Southern Lumber Company of Bogalusa, Louisiana.
Dr. McCoy has always been keenly interested in the affairs of the community of which he is a member. In spite of the fact that his father was a lifelong Democrat, he is himself equally devoted to the Republican party, and has served as county physician for several terms, and has been school director for many years. In his religious belief Dr. McCoy is an Episcopalian, and has attended St. Luke's Episcopal Church for more than thirty years. He has been active in the work of the church during that entire time, and has been the director of the choir there from the starting to the present. This beloved physician has soothed and healed many a sorrowing, broken heart with his sweet, sympathetic music, which he has given without stint from early manhood, and will be long remembered by the poor of this parish to whom he has ministered so generously. He is a prominent Free Mason, and is past master of McKean Lodge, No. 388, Free and Accepted Masons; a member of Bradford Chapter, No. 260, Royal Arch Masons; and of Trinity Commandery, No. 58, Knights Templar. He is also affiliated with the local lodge and encampment of the Independent Order of Odd Fellows, and is a prominent member of the Central Club of Smethport.
Dr. McCoy was united in marriage September 8, 1849, at Smethport, Pennsylvania, with Clara Maria Ford, a native of Smethport, born November 29, 1849, a daughter of Philetus and Maria Everett Ford, in direct line of Edward Everett. Mrs. McCoy is also a member of St. Luke's Episcopal Church, and is active in the work of the church. Mrs. McCoy is a prominent member of the Pennsylvania Society of the Daughters of the American Revolution at Smethport, and the Ladies Club at Smethport. She is a member of a very old family, and can trace her descent from William Ford, who was born in England in the year 1604, and came to the New England colonies with his mother, his brother John and sister Martha, in the good ship "Fortune," which arrived in New Plymouth, November 11, 1641.
taken from American Families Genealogical and Heraldic, ©1917




The dwelling houses of Dr. H. L. McCoy, Robert H. S Rose, Esq., W. D. Gallup and T. D. Nash, were entered by burglars on Wednesday night last; from each of these places they were frightened away and left without taking anything of value with them. Dr. McCoy heard a noise in ar about his house and got up. By the time be got down stairs the burglars had left his house and entered that of R. H. Rose. The Dr. advanced towards Rose's residence and fired two shots from his revolver, on hearing which the burglars, three in number, fled. They next went to Gallup's then to Nash's, but left empty handed. They next visited East Smethport, entered the hotel of J. H. Sowers and succeeded in stealing from under the pillow, on which he slept, his pants, in the pockets of which he had a silver watch worth about $40 and several keys belonging to the house.


Since the above was in type, we learn that the burglars in the second house which they entered succeeded in capturing $1.25 belonging to Master Craig Rose, leaving the boy only five cents, which they no doubt, did not see.
Dr. H. L. McCoy, Civic Leader, is Called to Rest
January 1931
____________________________________

Was a pioneer, physician, and musician of note
________________________________________________
The death of Dr. Henry Lane McCoy, age the 84, McKean County's oldest physician in point of service, Smethport civic leader and a musician of note, occurred at his home on West Main St. Saturday, January 1931 at 1:30 in the morning from an illness that he had come down with ten days before.
Despite the fact that the beloved Doctor had suffered greatly from an affliction of a facial nerve for several years before his death, he endured that suffering without complaint and remained remarkably alert and active up to the time of his last illness. Even then, the patient confidently looked forward to recovery and to returning to his office. He had practiced medicine in Smethport for over 60 years.
Dr. McCoy's wish to retire from active practice of his profession, he found it impossible to resist the importunities of patients who relied on his recognized skill and his office practice was large up to the time of his last illness.
In addition to his skill as a physician, Dr. McCoy was a wonderful musician - the possessor of a tenor voice of unusual power and beauty. Had he chosen in younger life to enter a music career, that career would have led to great heights in the realm of opera or concert.
As it was, his great talent was reserved as a treat for his fellow townsmen.
The father of a lovely family, every member of which inherited the father's vocal talent, Dr. McCoy and his son and daughters were frequently heard in delightful public recitals. The bare announcement of a concert by the gifted McCoy family was sufficient to fill an auditorium to capacity.
For many years he instructed and conducted the choir, St. Luke's Episcopal Church, devoting his valuable time to that labor of love. His reward was a highly trained singing organization which was recognized as one of the finest choirs in North Pennsylvania.
In addition to his busy professional career, Dr. McCoy found time for many diversified interests. The possessor of a fine mind and of natural scholarly temperament, he was a delightful companion. His kindly, sympathetic interest in man, in addition to the practical greed he administered in line of his professional duties, endeared him to all.
He was an ardent lover of sports, particularly baseball, and following the organization of the Smethport Country Club, devoted much time to golf when his health permitted.
It was appropriate, indeed, that his nephew, Paul D. Hamlin, of Chicago, in presenting one of the finest athletic stadiums, of the time, in Western Pennsylvania to his home town, should choose the name "McCoy Stadium" making it a permanent memorial to Dr. McCoy.
Incidentally, the doctor attended nearly every baseball game at the new stadium and greatly enjoyed the successful season of the local champion team.
Henry Lane McCoy was born in Smethport October 20, 1846, the son of Dr. Wm. Y. McCoy and Charlotte Darling McCoy. He graduated from the University of Buffalo, majoring in medicine, in 1867. He later took a postgraduate course at the College of Physicians and Surgeons in New York. At the time of his death he was the oldest graduate of the University of Buffalo.
taken from McKean County Democrat