1895: Smethport Mayor, P.D. Hopkins General Store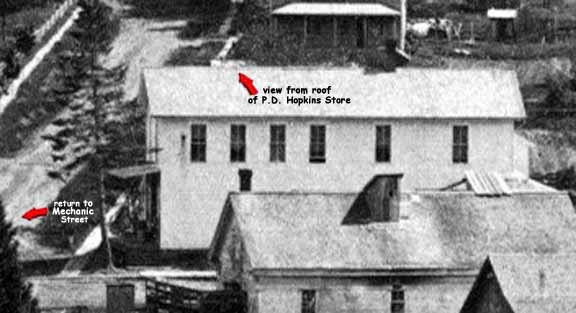 Photo Credit: McKean County Historical Society
View Hopkins Store Location 2000 A. D.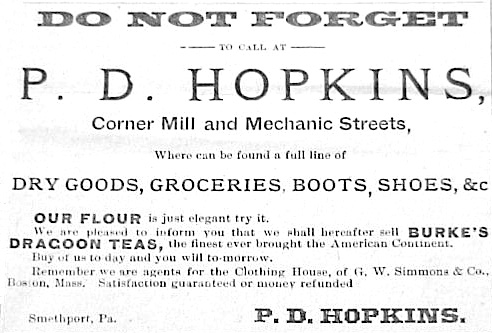 photo credit: McKean County Miner May 4,1894
Ross Porter Collection
P. D. HOPKINS, merchant, Smethport, son of P. C. and Anice (Franklin) Hopkins, was born at Lenox, Susquehanna Co., Pennsylvania, in 1848. With his parents he removed to Lafayette township, McKean county, where his fatherengaged in forming, and in 1863 his father proceeded to Michigan, where he died in the fall of 1887. His widow makes her home with P. D. Their children were Clark B., Mary E., Patience C., Sarah L., Clarissa, Edwin I., Alonwo F., Caroline A., and P.D. P. D. Hopkins was reared and educated in McKean county, and after his school days engaged in business at Smethport as a dealer in general merchandise, in the building he still occupies. In 1884 he married Annie E., daughter of William and Mary Wilkinson, and they have one child, Bessie. Mr. Hopokins devotes his entire time to business, and althugh a stanch supporter of the Republican party is no politician. He and his wife attent the services of the Baptist Church.
Back to top of Opera Building
1895 Mechanic Street looking North
1895 Mechanic Lumber Industry
Mechanic Street Bridge
1895 Hamlin Lake Spillway
Mechanic Street Carriage Repair Shops
Brastad Bakery