1909: Fire Department with New Pumper
"The Henry Hamlin"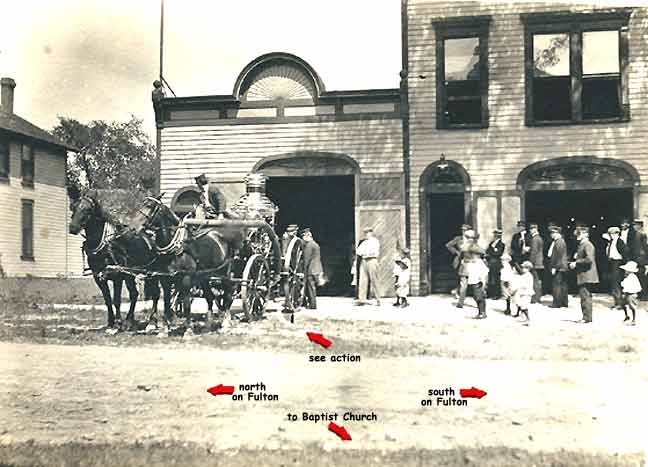 photo credit: Smethport Fire Department Archives
The first piece of equipment was a two wheel, hand drawn, hand pumped, hose cart that was capable of carrying 500 feet of hose on a reel. In 1882, this cart was used on the fire of Jacob Winsor's residence, and later the Borough of Smethport bought another cart with 1000 feet of hose on a reel. Also, a hood and ladder crt was added to the department's equipment. The hook ladder required a huge amount of strength to control it for the ladders were heavy and had to be stacked on one another. It took about eight men to do this. In August 1886, when the hose company went to the convention in Meadville, the company used its parade cart with mirrors mounted on a revolving wheel, which was used at the convention.

The department then had bought 3 Model T Ford Chassis in the 1920s. They then loaded tanks from the chemical wagons onto two trucks. The trucks that they used then are still intact today.

In the late 1920s, a Packard automobile chassis was given to the department. The Hale Company of Buffalo outfitted the one with 500 gpm pumps on the chassis. Then a Stewart Chassis was added to the equipment of the fire department. When the new department was built, the newer equipment was GMC-American La France 759 gpm pumper, a Chevrolet 750 gpm front mounted pumper, and a Ford front mounted 750 gpm pumper. Also they owned a Ford 4 wheel drive minipumper and a Ford tanker.

In 1910, Henry Hamlin and other citizens presented the fire department with a fancy brass and nickel trimmed steam pumper. Later that same year the steamer was credited with "saving Main Street" when the D. C. Young General Store burned to the ground.

Click on the steam pumper to visit the Smethport Fairgrounds.
Click on the building to go to the next site for the department.
Click to return to South Fulton Street