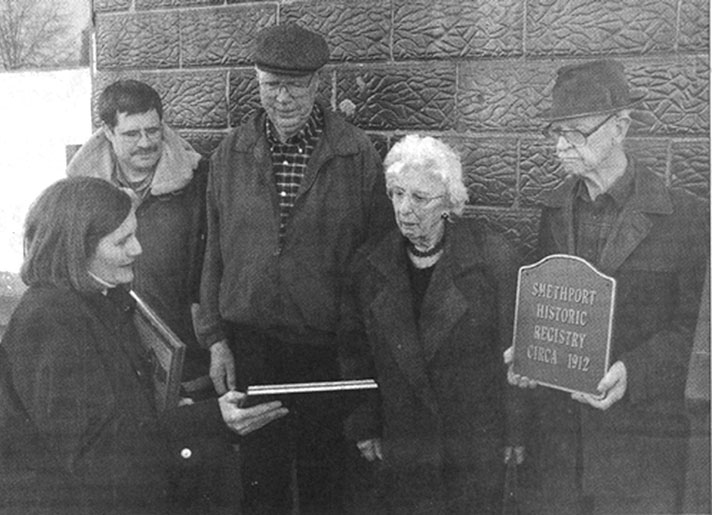 Mary Pierotti, Smethport Historic Registry Chair, makes presenation of the historic registry plaque while Rob Daggett, James R. Herzog, and Menford and Maxine Tenglund.
Building, once home to Wooly Willy, added to Smethport Historic Registry
Bradford Era March 8, 2008

304 Fulton St., a building originally constructed as the print shop for Boy's Magazine and later the birthplace of famous magnetic toy "Wooly Willy," is now on the Smethport Historic Registry.
A brief ceremony commemorating the 30th property to be placed on the registry was held Thursday afternoon at the building, which is located behind Olson & Tenglund Auto Parts.

Mayor Ross Porter, also a local historian, provided some background on the building that was constructed as the print shop for Boy's Magazine, published from 1910 to 1920.

"This building, constructed with clay tiles from nearby Clermont, represents a major part of Smethport in a number or ways," said Porter, as he noted the entrepreneurial contributions of Scott Redfield, Ralph Herzog and Menford Tenglund.

Attending the ceremony were Herzog's son, Jim; Tenglund and his wife, Maxine; and Rob Daggett, who, along with his partner, Scott Cavagnaro, purchased Smethport Specialty in 1993.

Redfield published Boy's Magazine, which pre-dated Boy's Life, a publication of the Boy Scouts of America and included stories of interest to boys and scouts. Holding up the June 1914 issue, one of three original copies of Boy's Magazine that were on display, Porter noted that the cover boasted 100,000-plus circulation.

"During the height of its popularity in 1916, 200,000 monthly copies were shipped to readers, making Smethport one of the major post offices in Pennsylvania," Porter said.

From 1931 to 1965, the building was the office and factory of Smethport Specialty. Herzog became sole owner of the company in 1932.
His son, Jim, who still resides in Smethport, invented "Wooly Willy" in 1955. According to an historic account, he noticed "that dust from magnetic grinding could be used for magnetic drawing and patented the first workable "Wooly Willy' Magnetic Drawing Set."

The toy proved to be so successful that it earned honors as the top toy nationally during 1955 and one of the 40 most popular toys during 1950 to 1980.

The Herzog family moved the business from Fulton Street to its present location on Magnetic Avenue, west of Smethport, in 1965.

The Tenglunds now own the building.

Porter said, "Mr. Tenglund began his career in the auto parts business in 1946 and is an entrepreneurial leader in the region." Then, speaking to Tenglund and his wife, Porter said, "We are honored to have you as owners of the building."

The proceedings then moved outside. Mary Pierotti, chairman of the SHR, presented a cast plaque to Menford Tenglund that reads, "Smethport Historic Registry Circa 1912." It will be attached to the buildings exterior.

Pierotti also presented presented framed copies of the buildings history to Maxine Tunglund and Jim Herzog.
DOWNLOAD the plaque awarded to this property!