Go to the Holley Carborator Company's webpage
Read articles about George Holley: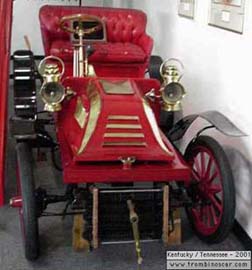 The exact origins of the original Holley factory are rather unclear. One paper says that George Holley's workshop was located "across the street" from the Holley Hotel in the Bovaird & Seyfang Building. However the B&S Building takes up an entire city block. We are unsure where exactly in this building George Holley's workshop was. This photograph is part of the building during the time period that George Holley would have been working inside.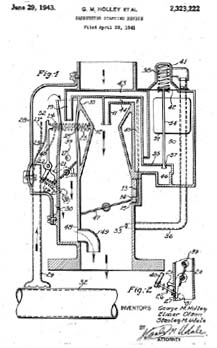 It does however make sense that Holley would be working in this building because his good friend J. E. Cochran was the President and General Manager of the Bovaird and Seyfang Manufacturing Company. Mr. Cochran hleped finance the original automotive.
George Holley was 19 when he designed and built a three-wheeled single-cylinder buggy which hit an impressive speed of 30 miles per hour in 1897. The car weighed 306 pounds, had a 60-inch wheelbase and a two-cylinder, nine-horse-power engine with 2 speeds forward and no reverse.
Later on, George and his brother, Earl, decided to form a company to manufacture motorcycle engines and motorcycles in Bradford, Pa. George became the chairman of the board along with engineer and salesman. Earl handled the business and finance part of the company as the president since he was once a bank teller.

In 1901, after a visit to Paris, France, the Holley brothers obtained a license to produce and sell the French Longuemare Carburator in the United States, also known as the "iron pot." That same year, George built his first motorbicycle that ran about 25 mph.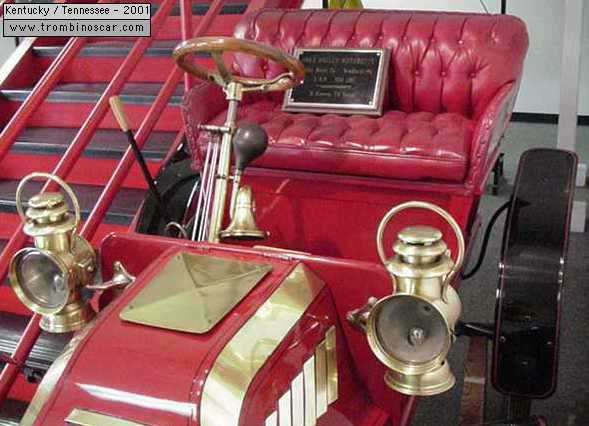 George enjoyed racing and in 1902, he won a motorycle endurance contest from Boston to New York and set world speed records at the Pan American races too. Read more about George Holley's motorcyle and races.
In 1903, Henry Ford asked George Holley to make a carburetor for the Model T. This is how George recalls his meeting with Henry Ford. "I first met Mr. Henry Ford, Sr., early in 1903. The Ford Motor Company wired asking me to come to Detroit. I went out to the Ford Motor company, on Kercheval Avenue, which was then an old frame building belonging to Mr. Malcomson, and had been used as a coal yard. I found Mr. Ford with Mr. C.H. Wills, sitting in the pattern shop on a bench, and they told me that they would like to have me design a carburetor for their new car. As I remember it, they were not actually in production, but were getting ready; and at that time, Dodge Brothers were turning out the chassis, and they were putting on the wheels and the body, assembling the car, and setting it up. Mr. J.C. Couzens was the only man who had a office which was located out front on the second floor. I was to go back to Bradford, Pennsylvania, and design this new carburetor for them. The Model A carburetor I designed and brought back to Mr. Ford has a threaded outlet instead of a flange. Through the years we produced many different carburetors and ignition devices for Mr. Ford and Ford Motor Company."
Because the Holley brothers sensed a trend in industrial specialization, they decided to concentrate on designing and building carburetors and ignition-system components for car makers such as Pierce-Arrow, Winston, Buick, and Ford. George and Earl along with George Welch decided to incoporate under the name of "Holley Brothers Company.
In 1904, their original "iron pot" carburetor was introduced for application on Oldsmobile and Ford Motor Cars.
In 1907, George and Earl Holley moved their company to Detriot and later supported the war effort by producing automotive, marine, and aviationary units.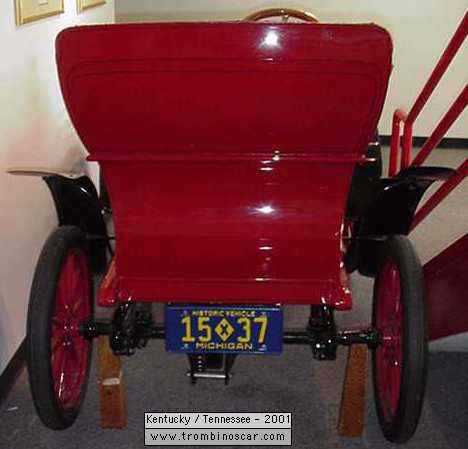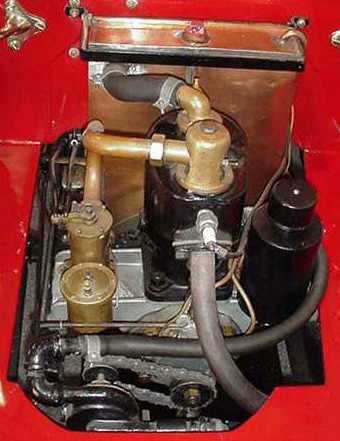 Photo Credit for all "Runabout" Photos: www.trombinscar.com
Return to Top

The only drawing that a accompanied a Holley Chassis, the rest was left to the imagination of the buyer.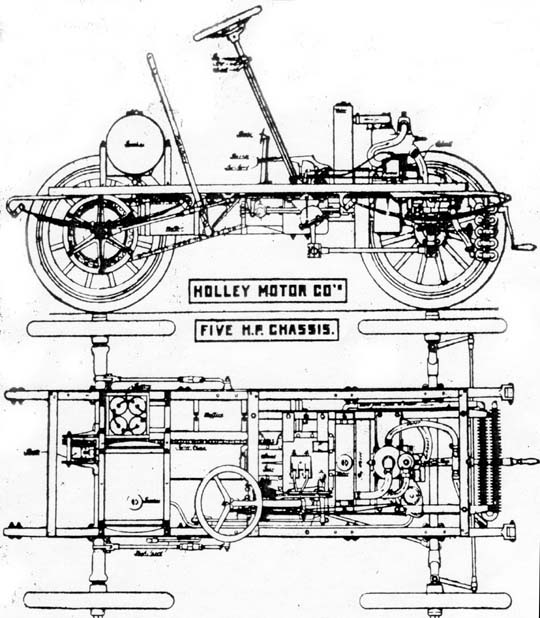 As can be imagined, assembling the chassis was a slow and laborious process, even with the aid of the solitary blue print supplied. The angle iron frame was drilled for spring hangers, shackle brakets, radius rod anchors, engine, transmission and all other component parts, witha hand operated thrust drill.
Return to Top
GEORGE HOLLEY, FORMER LOCAL RESIDENT, NAMED TO HALL OF FAME OF AUTOMOTIVE INDUSTRY
The Era, Bradford, PA,
Saturday May 4, 1946

George Holley, a former resident of Bradford, will be one of ten persons, pioneers of the motor industry, who have been selected for the Automotive Hall of Fame by the Automotive Manufacturers Association and the National Automotive Golden Jubilee Committee, according to announcement by Lt. Gen. William S. Knudsen, chairman of the industry committee for the celebration.

Marketed Carburetors
Mr. Holley is the son of the late Frank Holley who built and for many years conducted the Holley hotel here. Shortly after the turn of the century George and his brother Earl, left Bradford and went to Detroit where they manufactured the Holley carburetor which was used in the Fords and other makes of cars.
Before leaving for Detroit, George Holley built an automobile in the basement of the hotel and later put the vehicle on the market. The car, remembered for its oddity, was a three-wheel affair, one in front and two in the rear.
The car was built at Holley Motor Works now the site of Bradford Motor Works. The Holley brothers also were among the first to go into the motor bike industry in the United States and their product sold extensively.

Other Pioneers Named
During the Pan-American Exposition in Buffalo in the early 1900's, George Holley took the bike to Buffalo and set numerous records for two-wheel vehicles.

After moving to Detroit the two brothers invented a carburetor and George proceeded to make one which proved a success and also marked the rise in the industry of the Holley Carburetor Company in the Motor City.

The men who will be honored during the Automotive Golden Jubilee, May 29 to June 9, besides Mr. Holley, will be Edgar Apperson, pioneer builder and designer; William C. Durant, automotive empire builder; J. Frank Duryea, surviving member of the Duryea Brothers, makers of early gasoline motor wagons; Henry Ford, father of the assembly line; Charles B. King, who built and drove the first car in Detroit; Charles W. Nash, who headed some of the industry's largest companies; Barney Oldfield, speed driver; Ransom E. Olds, pioneer of mass production, and Alfred P. Sloan Jr., pioneer maker of auto parts.
Holley: A Century of Automotive Performance Progress
National Dragster Magazine
December 3, 2003
With a 100-year heritage of automotive history and a half century as a major corporation in Bowling Green, Ky., it was only natural that Holley was the enthusiastic sponsor of this year's inaugural Holley NHRA National Hot Rod Reunion presented by DuPont Automotive Finishes in Bowling Green. Holley has enjoyed decades of woking with NHRA and the sport's many hot rodding fans to further the advancement of high-performance drag racing.

It all began in Bradford, Pa., in 1896 when brothers George and Earl Holley took and intense interest in motorcyle racing and buldt a three-wheel vehicle powered by a single-cylinder engine. The vehicle was able to reach impressive speeds of 30 mph to earn its nickname, "the Runabout."

After a visit to Paris in 1901, the Holley brothers (now the Holley Motor Co.) obtained a license to produce and sell the Fench Longuemare carburetor in the United States. This decision redircted their focus toward the emerging automotive industry, and in 1903, the brothers began producing a car called the Holley Motorette, of which more than 600 were sold.

The business was incorporated under the name Holley Brothers Co., and its first original carburetor, called the iron pot, debuted in 1904. Designed for application on the curved-dash Oldsmobile, it later became standeard equipment on Ford vehicles as well.

The first Holley plant in Detroit opened in 1907, and following additional growth brought on by the burgeoning car industry and diversified industrial production as a result of World War I, the name of the business was changed to Holley Carburetor Co. in January 1918.

After developing carburetors used by such venerable names as Curtiss-Wright, American Airlines, Pan American Airlines, and the U.S. armed forces, Holley produced approximately half of all the military carburetors used in World War II.

Holley entered the automotive aftermarket in 1948, supplying carburetor repair kits and genuine Holley parts to garages and service stations. In 1952, a new 250,000-square-foot manufacturing plant was opened in Bowling Green, and product development continued with the first Holley modular carburetor, the mode 4150 that was made standard on the '57 Ford Thunderbird.

After a merger with Colt Industries in 1968, the Holley Replacement Parts Division was formed in 1979 to offer such parts as electrical and ignition components, intake manifolds, fuel pumps, and Mickey Thompson performance products, later followed by fuel-injection systems. In the early 1980s, a carburetor remanufacturing plant was opened in Springfield, Tenn.

When the Holley original-equipment division was purchased bu Borg-Warmer in 1994, Holley Replacement Parts was relocated to Bowling Green and the company name was changed to Holley Performance Products.

In May 1998, the senior management team purchased Holley from Coltec Industries Inc.; the transaction involved the acquisition of the administrative office building, manufacturing plant, distribution center, and the Springfield remanufacturing facilty. Holley enacted plans to became a larger, more aggressive company with several strategically important company buyouts that included Hirel Technologies Fuel Injections, Weiand Automotive Industries, Lunati, Hooker Headers, Flow Tech and Amass exhaust products, NOS nitrous systems, and Earl's plumbing.

To support this broad ranged of performance and remanufactured products, Holley employs approcimately 475 people at its world headquarters and manufacturing complex in Bowling Green. Holley has long been an NHR major sponsor and has a major presence along the Manufacturers Midway at NHRA national events.

Having recently celebrated its 50th anniversary as a major employer in Bowling Green, Holley takes its corporate responsibility seriosly and donates thousands of dolars yearly to such causes as the American Cancer Society's Relay for Life, Special Olympics, Pregnancy Support Center, United Way, the fight against multiple sclerosis, and a multitude of local charity organizations.

With its 100 years of manufacturing heritage, Holley is stronger than ever in product offering, engineering capability, marketing expertise, and manufacturing efficiency, and its modern distribution facilty can support continued growth. Holley enters the 21st century as an aftermarket performance industry leader with excellent future prospects, and the city and citizens of Bowling Green will be the primary beneficiaries of Holley's future growth.
George Holley, Bradford Automotive Pioneer Is Dead
McKean County Democrat
Thursday July 4,1963

DETROIT- Funeral services were held Monday at Grosse Point Mich., Memorial Church, for
George Malvin Holley, pioneer automotive engineer who built his first car in Bradford, Pa., and later developed the "iron pot" carburetor for the first Model T. Ford. He died Thursday at a local hospital at the age of 85.

He was chairman of the board of the Holley Carburetor Co., and bearing his name in Bradford is the Holley Hotel and Holley Ave. in East Bradford, believed to be the site of one of his first plants. A native of Port Jervis, N.Y., Mr. Holley's family came to Bradford in the late 19th century. His father owned the Riddell House in that city, which later became the Holley Hotel.

George Holley established the Holley Motor Co. about 1900 for the manufacture of a motorcycle known as "Autobike." His first motor car developed in Bradford was an experimental three-wheeler which did 30 miles an hour.

Mr. Holley resided in the Detroit suburb of Grosse Point for many years, and was awarded the Charles Clifton trophy as a pioneer manufacturer of auto accessories. In 1902, Mr. Holley and his late brother, Earl, put out their first marketable automobile, The Motorette, which sold for $550. They built more than 600 vehicles in Detroit. In the same year, they were approached by Henry Ford about making a carburetor for the Model T, and the "iron pot" resulted, leading to a succession of carburetor and ignition devices designated and built by the Holley brothers for the Ford Motor Co.

They opened their Detroit plant in 1907 and also manufactured carburetors for E. R. Thomas, Pierce Arrow, Winton, Oldsmobile and Buick. Later, the firm entered the aviation field and in 1935 developed the carburetor that overcame icing. During Its history, the Holley Carburetor Co. has produced more than 15 million units for automotive, aviation and marine use.

Surviving are his widow, the former Margery Corliss; a daughter, Mrs. Philip Gregg Kuhen of Milwaukee; two sons, George M. Holley Jr., of Detroit and John
Holley of Chicago, and 11 grandchildren.
Special thanks to the Bradford Landmark Society, the Bradford Public Library, and Mary Pierotti for all their time and hard work.