1895 Mechanic Street, Smethport, PA
Looking South from the top of the Opera Building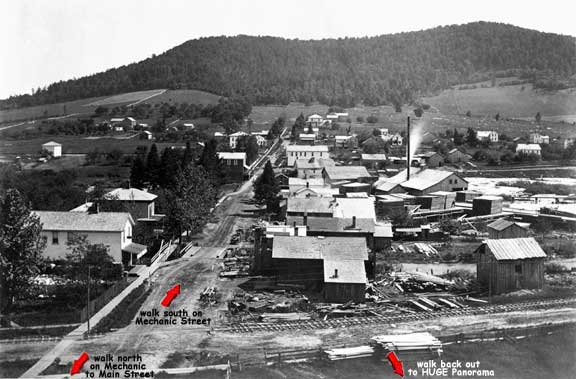 photo credit: McKean County Historical Society Collection
Move cursor to various parts of photo to zoom in on that location!
Mechanic Street in 1895 was the center of industry in Smethport. The several railroads all serviced the area as did many related service industries thus giving "Mechanic Street" its name. In the foreground is the railroad running down the present day Water Street. To the left is a bakery that was supported largely by the workers of the area industries. Several carriage shops and mechanic garages are in the center foreground just in front of the railroad tracks. Beyond the carriage shops toward the dam are the lumber mills followed by Barrett's Grist Mill just beyond the present Mechanic Street Bridge.
To find out more about the buildings along this street click on the links below. If you would like to come back to this page, just click on the pictures.



1895 Mechanic Street looking North
1895 Mechanic Lumber Industry
Mechanic Street Bridge
Hamlin Mill Pond Lake Spillway
Mechanic Street Carriage Repair Shops
Brastad Bakery
P. D. Hopkins General Store
BACK TO 1895 VIRTUAL MAINSTREET