The Paradoxical Joseph Kallus
By Jean Cantwell
August/September 1984 DOLL READER

return to Cameo Doll Factory Home Page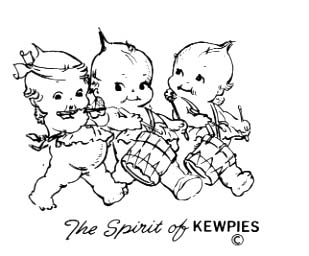 In my acquaintance with Mr. Joseph L. Kallus, he seemed to be a paradox, a man who stated his philosophy strongly but did not appear to carry through by his own personal action, although it would seem that he had as a younger man. His doll factory, the Cameo Doll Company, was located in Port Allegeny, Pennsylvania, but he lived in New York, New York, and Miami, Florida. I could not understand how he could uphold the standards of being at the plant to oversee the work.
Having met Margaret Burgess, a supervisor at the Kallus Cameo Doll Company, it is evident Mr. Kallus could rely on her and her co-workers to uphold the standards he demanded.
Mrs. Burgess was the honored guest at the Mo-Kewp Breakfast, which was sponsored by the Missouri State Affiliate at KEWPIESTA 1983, the annual celebration of the International Rose O'Neill Club in Branson, Missouri. She spoke about her years as an employee of Joseph L. Kallus at the Cameo Doll Company. In many ways, her remarks corroborated my opinion that Joseph Kallus was a paradox.
Mrs. Burgess was not surprised when I told her most of my conversations with Mr. Kallus were on the telephone about midnight. The shortest calls lasted about an hour. She laughed and nodded her head. Yes we were talking about the same man. She said,"His ideas would come to him at night, and he would go right to work on them. Those dolls were his life interest , and he would talk over an hour of what he wanted and his dreams." She said he had remarked that his wife was disturbed by his late night business calls, but he wanted to make the most of his time when he could not sleep.
Margaret grew up in Canada, and her lively speech bears just enough accent to call for a question about her place of birth. When she came to Port Allegeny, Pennsylvania, a job at the Cameo Doll Company, even though the wages were low, was attractive to a woman, because the hours fit into a schedule she could manage. The woman who worked at the factory were dedicated to doing a good job, but it was difficult to find young men to do the heavier work jobs. They never had enough steady reliable men. They could not afford to stay on the low compensation.
Margaret said Mr. Kallus stressed quality constantly. "He did not want a pull mark on bodies and always wanted the parts to be even." At the same time, the equipment was old. He did not invest in updating it, but he did expect his employees to work out the problems. The women did, and in a switch on the more common practice of the men complaining about the incompetence of women, the women complained about the lack of good male workers.
Margaret Burgess went to work in June and did not meet Mr. Kallus until November. The first time Mr. Kallus came to the factory after Margaret was hired, he talked with her at her work station. Her first impression of Mr. Kallus was a from-the-floor view of his skinny legs. She was setting eyes in the dolls when she spilled a tray of speed nuts. She was on the floor, picking them up, when he walked in. Because she continued to work throughout their conversation, he was impressed with her, and he put her in as assistant. It was then, too, that he decided to call her Marge, and he always did. No one else is permitted the privilege of calling Margaret Burgess, Marge.
She worked from 1960 through 1970. Although the factory closed in 1969, she assisted in the closing out activities, such as packing up the old equipment for Strombecker, Inc., the company with whom Mr. Kallus had negotiated to continue production of the Rose O'Neill Kewpies.
Through that period of time, details of running the shop were left to Mary Farnum. He had great confidence in her and depended on her very heavily. He came to Port Allegeny only two or three times a year, and he went first to talk with Mary, even before discussing the business with the girl in the office, Bessie Painter.
When any problems arose, it was Mary and Marge who were left to solve the problems. Because the equipment was in need of repair, there were many. When a flange did not fit or a frayed edge developed on coming out of the molds, the women took the responsibility for correcting the defect. Vinyl is not supposed to develop bubbles, but when it did, they searched out the solution. Throughout the 1960s, Mr. Kallus functioned as an absentee owner.
The image of Mr. Kallus as an absentee landlord contrasts strongly with what I would have expected. Because of our lengthy telephone calls and my visits with him in person, my memory of his strongest attribute was his constant requirement for "quality." To me, the word "quality" is synonymous with Mr. Kallus. He used it repeatedly in referring to his products. I would have expected him to have an office adjacent to the workshop, and I envision him standing at the shoulder of the painters as Miss Peeps and the Kewpies come down the production line. The fact that he did not, speaks for the reliability and efficiency of Mary Farnum and Margaret Burgess.
Margaret said Mary Farnum could paint her quota of four hundred faces a day, be finished by 4:00 p.m., and she would have taken her due share of coffee breaks. Her replacement found it necessary to work through several hours longer with constant attention to painting throughout the day.
Margaret had the opportunity to be a painter and tried it but found the job to be distasteful. A stencil ws placed over the head of the doll, and it was painted with a spray gun. The molds were washed in a 505 solution, and she did not care to work with the messy solution. She preferred to set eyes.
Although the wages were low, Mr. Kallus did not stint for the annual Christmas party. He did not observe Christmas himself, but he went all out for his employees' celebration . He would call to see how the plans were moving along. Then he would come by train from New York and take the employees to Olean, New York, 23 miles away, for the Christmas party. "Nothing was too special for the party."
On one occasion, Mr. Kallus gave Margaret a $200 bonus for her vacation. He never let anyone in the entire factory forget it. His implication was - his gift to cause in making Miss Peeps the best seller.
Miss Peeps was a baby character in the first Kewpie page created by Rose O'Neill for the December 1909 issue of the Ladies' Home Journal. Her full name was Miss Gwendolyn Van Schuyler Peeps. She never appeared in any more of the Kewpie stories. Perhaps the molds for the Miss Peeps dolls were produced by him without collaboration with Miss O'Neill. Mrs. Burgess said he did give Rose O'Neill a lot of credit in the creation of the dolls, but she said he did go into hospitals and sketched Miss Peeps from the newborn babies.
Mrs. Burgess added information about a little known fact. The design, which Mr. Kallus carved for the Abraham Lincoln penny, is on display in the Smithsonian Institution.
Pierce Glass Company bought the Cameo factory property in order to expand their plant, which was adjacent to the Cameo plant. Mr. Kallus retained his company and sought a company to produce dolls from his molds. He negotiated with two individuals in Kewpie Kountry, Dr. M. Graham Clark, President of the College of the Ozarks and Mr. Joe Buzan in Branson, Missouri, but they did not reach an agreement.
There are two reasons for calling the Branson Missouri, area Kewpie Kountry.
Rose O'Neill lived at Bonniebrook, her country home located nine miles north of Branson, Missouri, when she drew the first Kewpie page featuring Miss Peeps. Much of the inspiration for her work came to her Missouri Ozarks home.
In 1968 pearl Hodges founded the International Rose O'Neill Club with Branson, Missouri, as the headquarters. Each year, in April, members come from all over the country to Branson for Kewpies. Even though the Cameo Doll Company is not located in Branson, Kewpies of all kinds, antique originals to the Trade Korner, Kewpie Auction and many shops.
Mr. Kallus gave many of his original models of Kewpie related items to the College of the School of the Ozarks. They are on display in the Ralph Foster Museum at the school along with a wide variety of Kewpies, some of which are gifts from other donors and others which belong to the Bonniebrook Historical Society.
Many personal belongings of Rose O'Neill and dolls collected by Mary Trimble are on display at the Shepherd of the Hills Farm, west of Branson, Missouri.
After the Cameo factory land was sold in 1969, the dolls were marketed by Remco Company. They were produced by Strombecker from 1971 to 1973. By 1974, Mr. Kallus was working with the Amsco Division. Currently, the Cameo dolls are being produced by the Jesco Company.
Mr. Joseph L. Kallus died from a hit and run accident in New York, New York, in 1982.
He is remembered with respect by the Kewpie enthusiasts who met him at Kewpiesta. He was always generous in bringing or sending treasured Cameo Kewpie products as favors for collectors at Kewpiesta.
His devotion to quality production and his admiration for Rose O'Neill continue to bring joy to children and collectors who adore Kewpies.