Raymond Viner Hall
Architecture
Raymond Viner Hall, son of famed Port Allegany builder of Falling Water Walter J. Hall, was a master builder who believed that an embryonic architect should enjoy direct acquaintanceship with plane and wood, trowell and mortar, pliers and wire. His youthful but assiduous excursions into the exciting philosophies of Wright, Sullivan, Ruskin, Locke, Whitman, and the spiritual Prophets were complemented by basic apprenticeships in the major building trades. This atypical exposure to both the poetic and prosaic conditioned his building concepts. Raymond Viner's practice on an individual basis has required a staff varying from three to nine, supplemented by outside consultants, as required by work in hand. His isolated office location dictated an unusually complete complement of office equipment and machines; including a private aircraft for speed and flexibility of transportation. The principal areas he served include Pennsylvania, New York, and the U. S. Virgin Islands. Since 1939, the beginning of his architectural career, Raymond Viner used Radiant Panel Heating. Although it was relatively unknown in 1939, panel heating was intriguing and the installation of 36 of the first 54 systems in this country involved an emperical approach and a resolution of required design formulae. These were followed by some enthusiastic additions to the literature, including two technical manuals on panel heating and one on snow melting. Ray's similar protestant attitude toward public school buildings resulted in membership on a Governor's Advisory Committee for revising the obsolete school planning code. He was involved with a wide variety of building types with the major occupancy classifications of 121 residential, 27 educational, 23 commercial, and so on. His concepts and designs are original and admired, while remaining subtly natural and prove the wealth of environmental variety that is properly integrated with the broad stream of Man's effort in this direction.

To view Ray Viner's work in Pennsylvania, click on any of the following cities:
To view other areas of his work, scroll down and click on the link.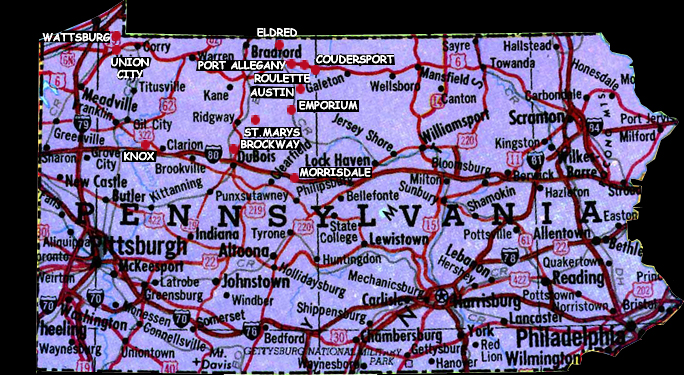 Map Graphic By Melissa Hall

PROJECTS

RESIDENCIES