DR. WILLIAM YOUNG McCOY
Doctor's office upstairs in Corner Drug Store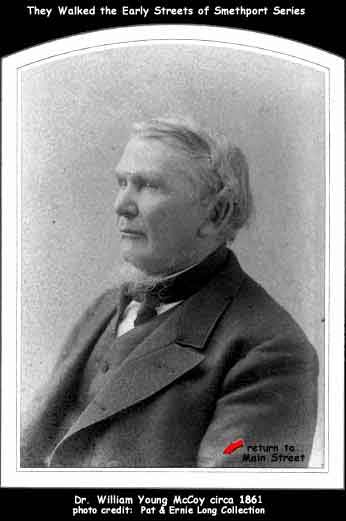 DR. WILLIAM YOUNG McCOY, second son of John and Hannah (Beach) McCoy, born at the old McCoy home in Somerset county, New Jersey, February 24, 1809. His childhood and early life were spent in his native region, and it was there that he received the elementary portion of his education, attending the local public schools for this purpose. While still very young he decided upon the medical profession as a career in life, and entered the Cincinnati Medical College at Cincinniti, Ohio. His career at this institution maintained the reputation that he hid already established as an intelligent and industrious student, and he was eventually graduated with the classof 1831, taking the degree of Doctor of Medicine. Immediately after graduation, Dr. McCoy removed to Smethport, Pennsylvania, where he was one of the first, if not the very first physician to settle. Dr. McCoy was not only a successful physician in Smethport, but engaged in many of the activities of the region, and became the owner of a sawmill and was interested in several other enterprises here. The region about Smethport was covered with abundant forests of pine and hemlock, and drawing upon this supply he manufactured at his sawmill a great quantity of various types of lunber which he sold not only in the local market but at Pittsburgh and other distant points where it was shipped. He also gave a great deal of his time and attention to the public affairs of McKean county, and became a recognized 1eader therein while still comparativelya young man. He was a lifelong Democrat, and was elected on his party's ticket treasurer of the county, in which capacity he served for one term, and latercounty commissioner, serving also one term each in both these ffices. He was very popular both as a man and physician, and there were few figures so well known as his in that region at that time.

Dr. McCoy was united in marriage, December 13, 1832, with Charlotte, Augusta Darling, a native of Gill, Massachusetts, born August 8, 1813. Her death occurred at Smethport, May 22, 1897, while Dr. McCoy died January 4, 1886. Both were members of St. Luke's Episcopal Church, of which Dr. McCoy was senior warden for many years. Mrs. McCoy was a daughter of Dr. George Darling, also a native of Gill, Massachusetts, having been born there November 22, 1785.
| | | | | | |
| --- | --- | --- | --- | --- | --- |
| Medbury Residence | | | | | B D Hamlin House |